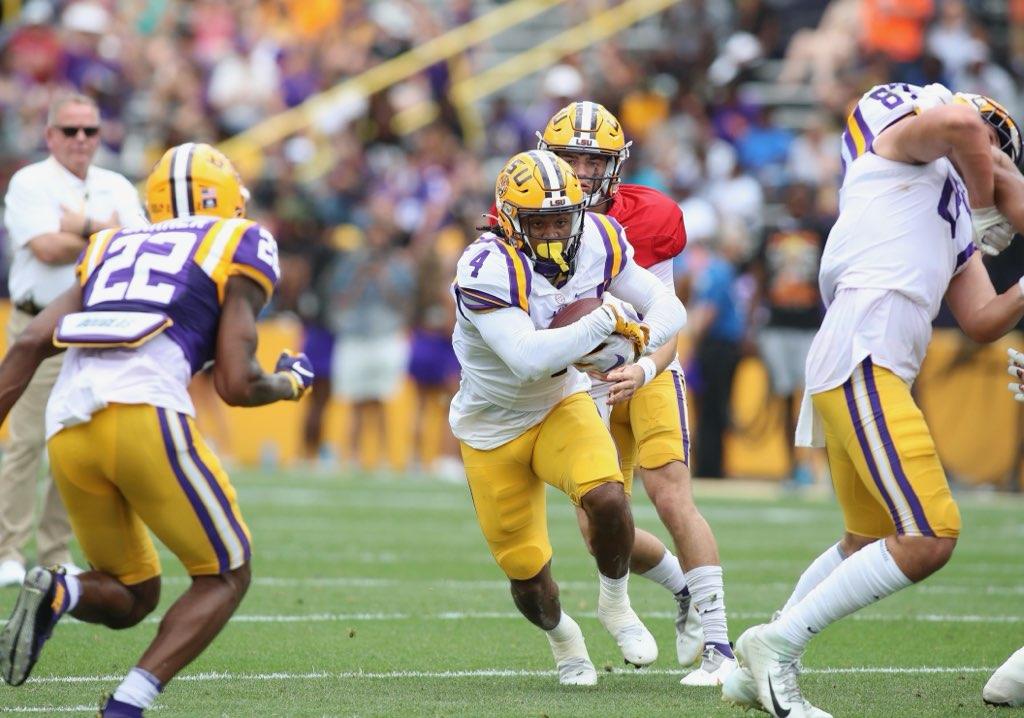 Running back John Emery Jr. was a heralded four-star recruit out of Destrehan High that rescinded a commitment to Georgia four years ago to remain in his native state and one day star for LSU.
While there have been moments that have made LSU fans gasp in excitement Emery's career in purple and gold has been less than stellar. It reached a new low point last season when he wasn't academically eligible to play.
Fast-forward more than a week after suffering an ankle injury during the first spring football camp under Brian Kelly and instead of choosing to sit out Saturday's spring scrimmage, Emery recovered sufficiently enough to rush four times for 24 yards with a touchdown in the Offense's 59-31 'win' Saturday over the Defense in Tiger Stadium.
"I was really impressed with him today," Kelly said. "He was less than healthy. Most would have said, 'why would you play him day'? He wanted to go. He was, 'I'm going to get banged up during the season. I want to know what it's like to play not 100% because I'm not going to be 100%'. Just that mindset says a little about him. He wanted to get out there. I was proud of him. He fought through not being 100% and we saw what kind of back he is banged up."
Kelly said among his priorities after taking the LSU job in December was to address a depleted offensive line that graduated four seniors from a year ago. He was well schooled enough that in order for his Tigers to experience any level success in the Southeastern Conference, improved offensive line play would be of paramount importance to pave the way for a better running game which was something he felt the team did in its scrimmage.
Without Penn State transfer Noah Cain, who is expected to push for extensive playing time this season, the Tigers relied on a revolving door of running backs throughout the controlled scrimmage where Kelly handed the ball to running backs Tre Bradford, Josh Williams, Armoni Goodwin and Emery in his team's spread offense.
"When we came in here, I think we all knew one of the areas that was a must was if you're going to have any success you have to strengthen the offensive line here," Kelly said. "It's been a point of emphasis. We have to run the football. If you're going to win the SEC West, you have to be able to be able to run the football. Today we're not here to bang the drum and say we've arrived.
"There had to be at least some semblance of we've made progress in that end, and I think we can say that we did," Kelly said. "We emphasized it. Now I think we can go and look at what are the things that we do well and what do we need to do better? That's the exam. What did we do well and what can we do better?"
Williams scored a pair of touchdowns on runs of 7 and 1 yards, respectively, with the latter coming with 2:20 remaining before halftime to give the Offense the lead for good at 31-28.
With the second 30-minute half played with a running clock, Kelly said there was an additional emphasis placed on running the ball with a 12-carry, 133-yard performance taking its toll on a weary defense in the second half.
The offense rushed 47 times for 214 yards overall.
Bradford had the scrimmage's longest carry of 37 yards on his first attempt of the second half and wound up with nine carries for 85 yards to lead all ball carriers. Goodwin added 71 yards on nine carries and Williams 51 yards on 10 attempts.
Goodwin bounced a 10-yard run to the outside for a TD late in the first quarter and the combination of Bradford and Williams worked the middle of the field in the second half to set up short scoring passes of 8, 20 and 11 yards in the third quarter, resulting in a 52-28 lead.
Each running back showed the ability the catch the ball out of the backfield with junior Corren Norman taking a pass from quarterback Walker Howard and scoring untouched from 46 yards for the game's final score.
"Those backs run really hard," Kelly said. "You better tackle them. You better get our backs on the ground. You saw that. They can catch and come out of the backfield."