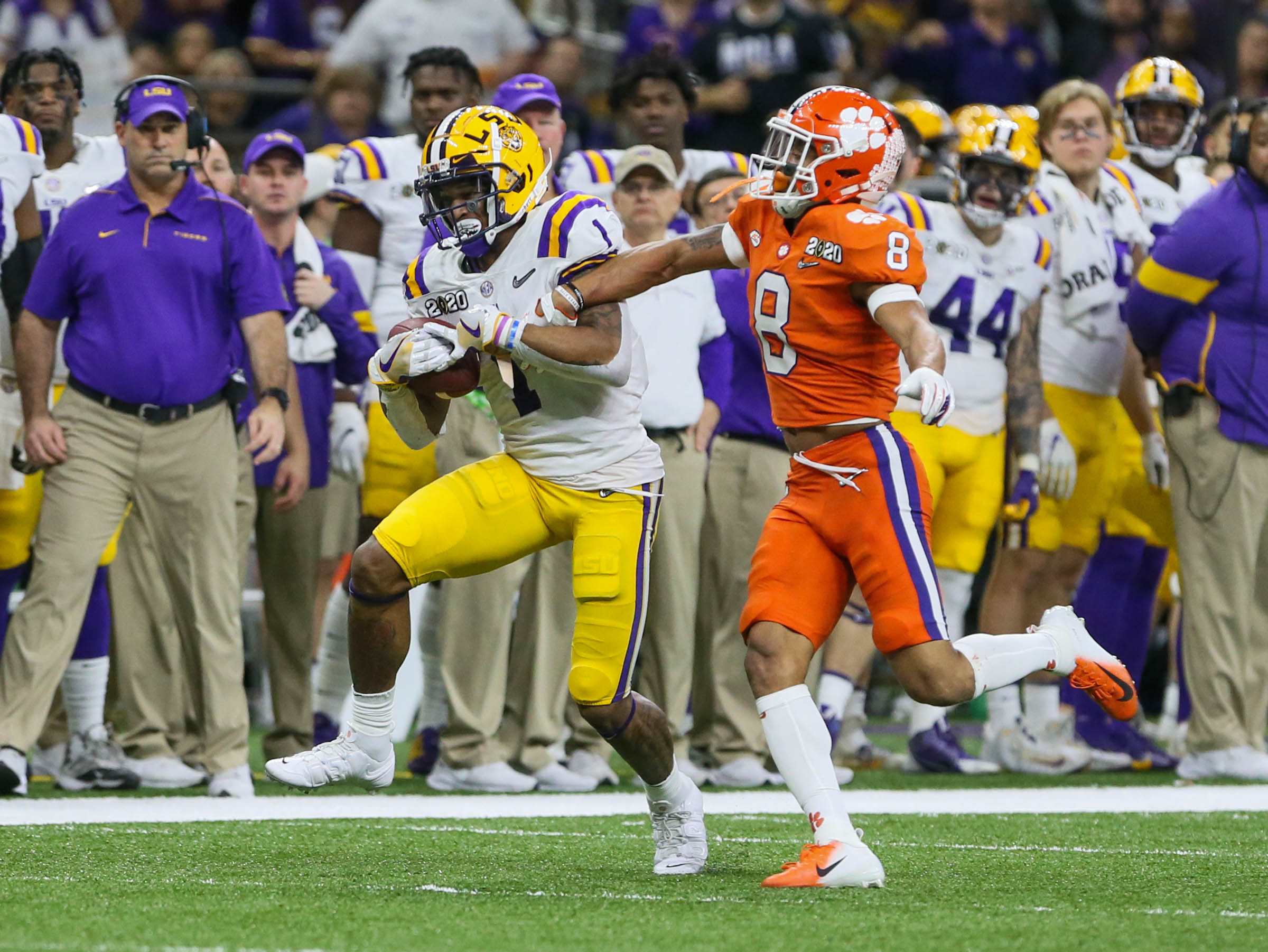 If it seemed like LSU cornerback Kristian Fulton played like his hair was on fire the last two years, well, he did.
He figured a couple of great seasons would erase the stigma of being suspended by the NCAA for two years (appealed to one) for tampering with a random drugs test in February 2017 administered for performance enhancing drugs.
Fulton, who was ranked as the No. 1 prospect in Louisiana in the recruiting class of 2016 and the No. 3 rated cornerback nationally, learned a harsh lesson sitting out the 2017 season that has stuck with him.
"I learned how to do the right thing the first time," he said. "The fact that to be a pro, you have to learn early and fight through adversity."
After not being selected in Thursday night's first round of the NFL draft, Fulton is now officially a pro as he was taken as the No. 61 overall pick in Friday's second round by the Tennessee Titans.
It's the fourth straight year and the 12th time in the last 15 drafts LSU has at had at least one defensive back selected.
Two years ago, he teamed with consensus All-American cornerback Greedy Williams ( a 2019 NFL draft round two choice No. 46 overall by Cleveland) to give LSU one of the best pair of starting cornerbacks in the college football. Fulton had 25 tackles including one for loss, nine pass breakups, an interception and a forced fumble.
Then last season, he paired with freshman All-American Derek Stingley Jr. to form another formidable cornerback duo. He had 38 tackles including 15 pass breakups.
In LSU's national championship game win over Clemson, he had a career-high six tackles, including a tackle for a 6-yard loss.
"Look and tell who's put numbers on me," Fulton said in February when he met the media at the NFL combine. "I feel that's what separates me. I don't think anybody's technique is as sound as mine. I just get the job done."
Fulton has the highest two-year coverage grade (92 percent) among Power 5 conference cornerbacks in this draft, according to Pro Football Focus.
The PFF also noted that Fulton is the only draft eligible corner who last season didn't allow more first downs (20) than he had forced incompletions (20). He also allowed just 26 first downs and forced 34 incompletions in his Tigers' career.
It was anybody's guess which NFL team would select Fulton.
"What's interesting is the wide array of opinions on who's the No. 3 and 4 cornerback in this draft," NFL draft expert Mike Detillier said. "I think he's the third best."
As it turned out, Detillier's usual consistent assessment accuracy missed the mark on Fulton.