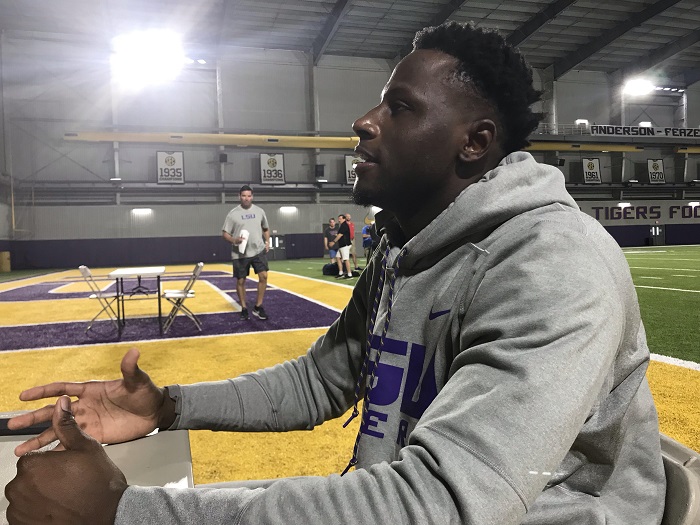 Typically speaking, it's not a great idea for a football player to be tweeting while the rest of his team is on the practice field. Especially when it's only the first day of Fall Camp.
Stephen Sullivan is the rare exception to that rule.
Sullivan became the first member of his family to graduate when he received his interdisciplinary studies degree from LSU on Friday. The senior asked Ed Orgeron for extra time to celebrate with his family, a request the coach gladly granted.
Graduating college is a huge moment in anyone's life, but the achievement meant more to Sullivan than most. It's not something he could've imagined accomplishing in his wildest childhood dreams. The reasons why were hinted at in the caption that accompanied the picture of him with his diploma.
"First in my family to do it," Sullivan wrote. "I remember living outside. Now look, I beat the odds. Blessing man."
Most of the Sullivan family made the trek in from Dallas to see Stephen walk across that stage. The youngest of four brothers doesn't get home much to visit these days, hence the request to spend the day with his family.
The family went out to eat at Mike Anderson's, a famous seafood restaurant not too far from campus. Stephen ordered a bowl of Cajun seafood pasta that was so deep the 6-foot-6, 250-pound newly-converted tight end couldn't even finish it.
"That was like the best day ever, to be honest with you," Sullivan said.
Times have certainly changed since the days that Sullivan didn't know where his next meal would come from or where he'd lay his head down at night. His rise from abject poverty to being a Jimmy Graham replication in LSU's new offense is a true underdog story.
It's a story that many of Sullivan's current teammates don't even know, and graduating from college brought some painful memories flooding back.
But it's a story that Sullivan now shares in hopes that it can inspire others going through tough times.
"I don't really try to remind myself what I went through," Sullivan said. "I try to block it out. So me telling people and me talking about it, it still hurts a little bit. It's just something I overcame. A lot of people don't know that.
"I just really wanted to get it out there to be honest. I want to motivate people, to let people know that if I could do it, you can do it. Something like that."
THE SULLIVAN SONS grew up rough in Dallas, Texas. The youngest of four boys, Stephen knew full well his mother couldn't provide for them all. That's why he tried to separate himself from the household from an early age.
He bounced back and forth between staying with family in Texas and Louisiana for most of his childhood. A lot of the time he'd have to stay with coaches or family friends just to have someplace to sleep at night.
Stephen, a middle schooler at the time, remembers essentially living in a hotel in Irving with the next-youngest brother. They were kicked out after both of his parents got incarcerated. He's still not sure why they got locked up, but it put the two youngest sons out on the street.
Left with nowhere else to go, the two brothers took shelter under a highway bridge near the hotel. They stayed there for two-or-three days, as he recalls, before his little league coach came and picked them up. His family gave them a place to stay until the parents were released.
"Growing up, I really didn't have too much to look up to man," Sullivan said. "I grew up in real life poverty. I was back and forth between Texas and Louisiana. I stayed under a bridge before. I stayed in a hotel before. The school bus used to pick me and my brothers up from the hotel. That was the most embarrassing thing of my life."
Things didn't change much until Sullivan moved to Donaldsonville. He moved in with the family of his quarterback, Tyler Brown, and attended Donaldsonville High School.
He'd eventually blossom into a star receiver at Donaldsonville, but the thought of going to college never entered his mind until his sophomore year. A librarian named Michelle McCloud began to push him to take his education seriously. She's still a big figure in his life today.
Enrolling at LSU was a true culture shock. Sullivan, a four-star recruit, joined the program as a mid-year enrollee.
The new $28 million football ops renovation hadn't yet begun, but the facilities still felt like a castle compared to what Sullivan grew up with. The small stipend given to student athletes was the most money he'd ever had in his pockets to that point in life.
"I had my own room," Sullivan explained. "I'd never had my own room before. Like I never had my own room before I went to college. So that was big for me. And we had our own apartment, so we had to get groceries. All that was new to me. Me having my own room and a little money in my pocket, I thought I was rich!"
The extra money went toward the kind of purchases that most people take for granted, but Sullivan couldn't have imagined as a kid. He bought shoes — Nike's and Jordan's, mostly — for the first time in a long time.
"Growing up, I couldn't afford none of that," Sullivan said. "So I just like to spend some money on myself sometimes because my mom couldn't really do it."
School didn't come easy to Sullivan by his own admission. Exams were hard at LSU, but he liked to learn about people. He became interested in social work, particularly studying how different people grew up and how their situations played out.
Perhaps one day students will read about the kid who spent two-or-three nights under a bridge in Irving, Texas, and then went on to graduate from LSU. It's not a story Sullivan has ever felt comfortable sharing until now.
"Me walking across that stage, it brought back a lot of memories," Sullivan said. "From staying under that bridge to not knowing when my next meal is going to come from or where I'm going to get a shirt to put on my back. It just brings back a lot of memories, and I'm so proud of myself."
SULLIVAN HAS BEEN a reasonably productive player at LSU. He finished second on the team in receptions (23) and yards (363) with a pair of touchdowns last season. Along from Justin Jefferson, Sullivan was Joe Burrow's go-to target when LSU needed to pick up a crucial third down.
LSU toyed with the idea of moving him to tight end last season, but the idea never stuck. Tight ends had always been glorified tackles at LSU, and that just didn't excite a wide receiver who grew up idolizing the way Calvin Johnson use to jump over defensive backs to haul in go routes.
"They moved me around a lot last year, but I wasn't really bought into it last year," Sullivan admitted. "I wasn't bought into the position. I wasn't really confident at it. I really wasn't feeling it."
That's no longer the case. Sullivan spent most of his summer meeting up with Burrow to run routes from his new position and getting a feel for life on the line of scrimmage.
"He's always hitting me up wanting to throw routes," Burrow said. "Even if he tweaked a hamstring or something, he was always there, even if he couldn't run. So he's completely bought into this thing."
"At first he denied going to tight end," Justin Jefferson added. "At first he was saying 'Of course not, I'm not going to tight end.' But now he sees how it would help this offense and how he would pick teams apart, so he finally put away his pride and he switched to tight end."
The difference between this year and last boils down to the hiring of Joe Brady as passing game coordinator and the changes being made to LSU's passing game.
Orgeron has made several public declarations that the days of tight ends being a sixth offensive lineman are over at LSU. But it was Brady who finally got through to Sullivan by showing him film of a tight end who is quite well known around these parts.
Jimmy Graham racked up 386 catches for 4,752 yards with 51 touchdowns during his prolific five-year run with the New Orleans Saints. He averaged 11.5 touchdowns per season over his final four years in the Big Easy.
Brady wasn't on the staff then, but he brought plenty of Graham film with him to sell Sullivan on the move. The point was simple: his massive frame and receiving skills could be a matchup nightmare in the middle of the field as LSU goes to more of a spread attack.
"I watch a lot of Jimmy Graham film," Sullivan said. "Try to see how he moves. Try to see how he's blocking. At the end of the day, they want me to be something like that. Not really him, but something like that in this offense. I'm trying to get a little feel for him."
Sullivan's blocking still needs some work. It was easy for him to smoother smaller defensive backs at wide receiver, but figuring out what linebacker or defensive end to block requires an ability to read the defense. And as big as he is, it still takes technique to block defenders in the front seven.
The other part of the job has come pretty naturally to Sullivan, it seems. He said the route tree is pretty simple compared to what he's done at wide receiver throughout his college career. Even the new stuff can be picked up relatively quickly.
Getting to work against linebackers and safeties in the middle of the field is pretty enticing, too. Even in the SEC, there aren't many linebackers fast enough to stay with the converted wideout nor safeties big enough to check him in the red zone.
"He brings a lot of versatility there," Burrow said. "He's going to be a matchup issue for a lot of people this year. I'm excited to see what he's going to do in camp and this season."
Being the tight end to finally break the stigma at LSU would be quite the accomplishment, but it would still pale in comparison to what it took for him to walk across that stage on Friday.