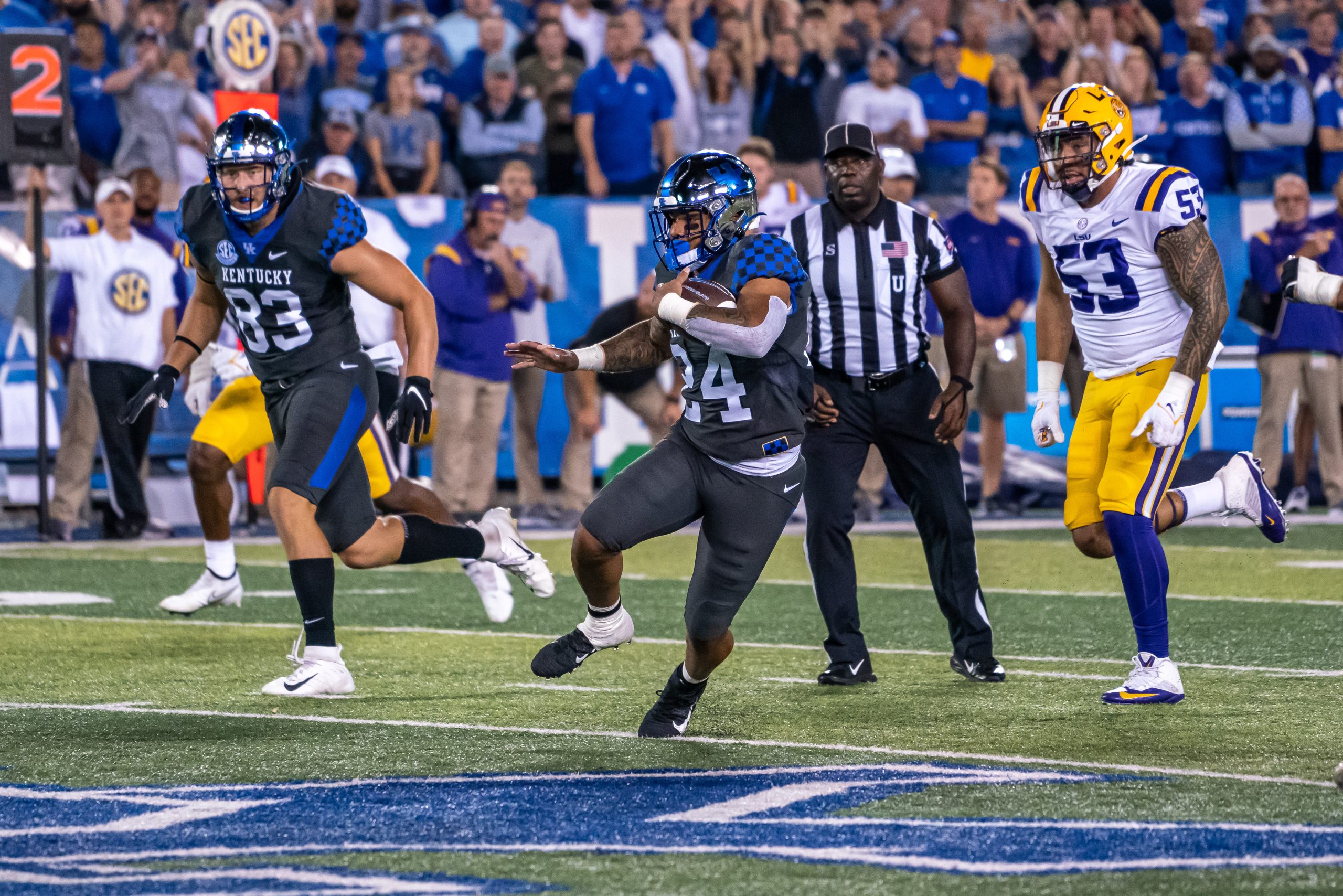 It was a keeper to the left side that had all the earmarks of a pedestrian gain.
Instead, through his own balance and determination Kentucky quarterback Will Levis turned his first-down carry into a statement that punctuated the Wildcats' ability to impose their will against LSU's beleaguered defense.
Levis kept to his left, broke out of a tackle, spun away from another defender and pulled LSU's 6-foot-6 defensive Ali Gaye for an additional five yards en route to a 33-yard gain to the Tigers' 6-yard line. Two plays later, he scored from a yard out to make it 21-0 four minutes into the third quarter, a moment the Tigers never seemed to recover from in a 42-21 loss Saturday at Kroger Field in Lexington, Ky.
No. 16 Kentucky (6-0 overall, 4-0) came into the game averaging 190 yards rushing but didn't have any problems surpassing that total with 27 carries for 212 yards (7.8 yards per carry) in the second half. The Wildcats wound up with 45 attempts for 330 yards (7.3 yards per carry) and four touchdowns, their second-best effort of the season behind 341 yards on 52 carries against Missouri.
"The telltale of the game was 330 yards rushing," LSU head football coach Ed Orgeron said. "Give Kentucky credit. They're an excellent rushing team. We knew coming into the game we had to be gap sound, we had to tackle and make plays. That was the difference in the game."
LSU didn't make any defensive players available for postgame interviews.
Their performance spoke volumes against a Kentucky team that moved the ball almost exclusively on the ground in the second half to take their biggest win over LSU since a 33-13 win over the Tigers since 1977 in a game also played in Lexington.
The Wildcats had a pair of running backs that gained more than 100 yards with the SEC's leading rusher, Christopher Rodriguez Jr., leading the way with 16 carries for 147 yards and a TD. Kavosley Smoke had 12 attempts for 104 yards, while Levin accounted for 250 yards – 75 on the ground – and five touchdowns.
It was the fourth career 100-yard game for Rodriguez, the nation's sixth-leading rusher averaging 124 yards per game. He also surpassed the 2,000-yard rushing mark in his career with 2,129 yards.
"Yeah, we felt like, again, with that run game, some misdirection, some of the play-actions off of that run game was good," said Kentucky head football coach Mark Stoops, whose team had 475 total yards. "You know, created some explosive plays. It still comes down to being able to run the ball and sets those plays up."
Levis threw a pair of first-half touchdowns to Rodriguez and Wan'Dale Robinson for a 14-0 halftime lead.
Levis' 33-yard gain – the second longest play of the game for Kentucky – served as a catalyst in a rushing attack that was prevalent over the last 30 minutes of play.
When LSU's offense got untracked, Kentucky had just the answer and there seemingly wasn't anything the Tigers, who were allowing 119 yards rushing, could do about it.
It was a season-high rushing total allowed by LSU which was gashed for 210 yards and 2 TDs on 47 carries in a season-opening loss at UCLA.
The Wildcats ran the ball six of seven plays for 71 yards on the drive where Levis' long run helped set up his own 1-yard score. They added a series that covered 75 yards and lasted 10 plays and consumed for than five minutes off the clock with Levis scoring from five yards out on the ninth running play of the drive which 68 of those yards derived on the ground.
"I think it's a matter of missed tackles," Orgeron said. "It was a matter of us getting out of our gaps. Give them some credit. I knew they were a good zone (blocking) team coming in. I think sometimes we were out of our gaps and that was giving them the cutback lane or a lane right in the gap right where we needed to be."
LSU scored twice in the fourth quarter to reduce Kentucky's lead to 35-21 when Rodriguez helped the Wildcats extend their lead back to 21 points to account for the final score. He carried on all four plays on the drive covering 44 yards, the last 18 coming up the middle with 4:23 remaining in the game.
It was Kentucky's 13th rushing play for 10 yards with Rodriguez having three of the game's longest carries of 22, 21 and yards, while Smoke added a 32-yarder that rivaled Levis' 33-yard gain.
"I think that some of the times at the point of attack we've just got to be more physical," Orgeron said. "I thought last week (vs. Auburn) we tackled very well against the running back. Not against their quarterbacks. This week we had some missed tackles. We're not the only team to miss some tackles against these guys. They're very good but doesn't mean that we should be missing tackles. We've got to be more physical at the point of attack and get more hats to the football."