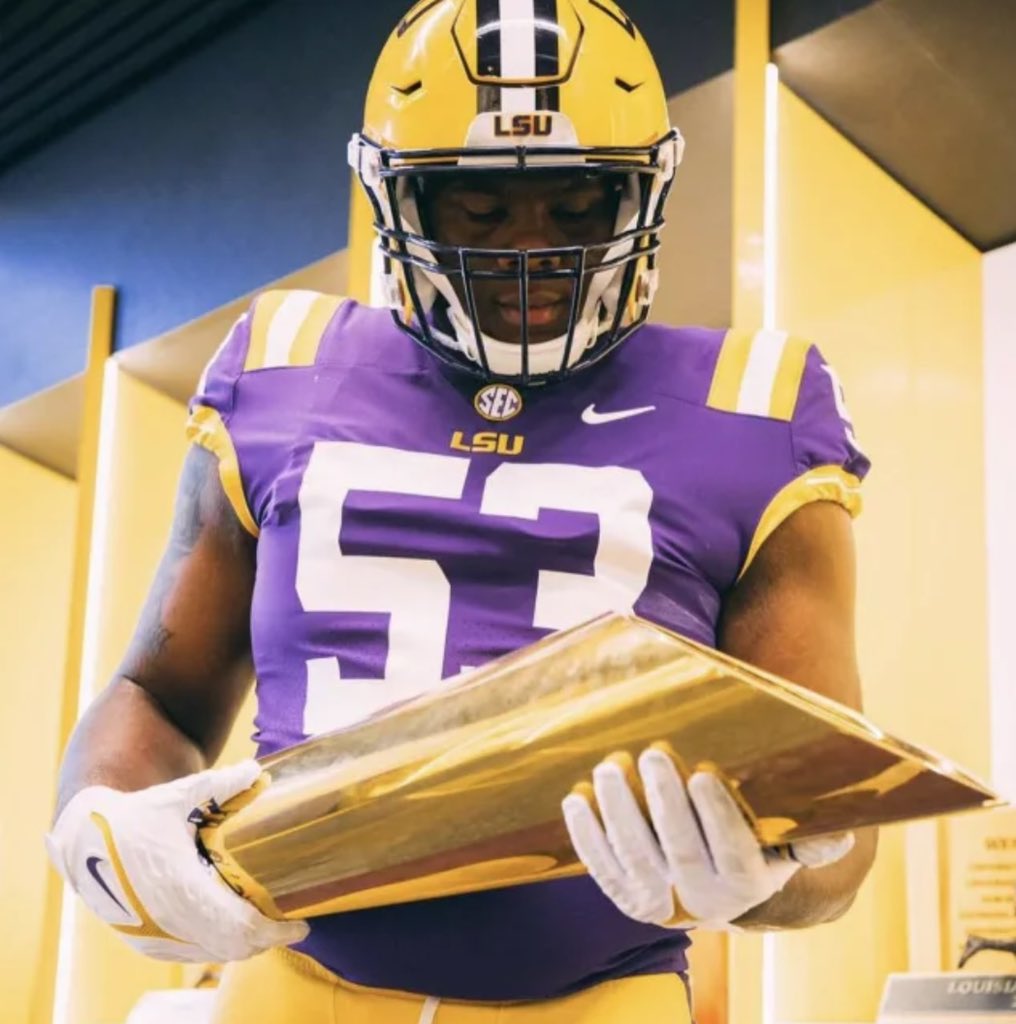 Against a top 10 team in Florida State, LSU football coach Brian Kelly didn't feel the opportunity was there to experiment with younger players.
Especially in the offensive line where the Tigers returned four of five starters from a year ago to combat the Seminoles' experienced defensive front.
With No. 14 LSU (0-1) set to open the home portion of its 2023 schedule against HBCU opponent Grambling State (0-1), Kelly's more open to giving playing opportunities to deserving players.
Kickoff is set for 6:30 p.m. in Tiger Stadium.
Once such player will be true freshman offensive tackle Lance Heard who received first team repetitions during the team's first major scrimmage. He lined up at right tackle for a series and sophomore Emery Jones Jr., the team's starting tackle, moved inside to right guard.
Kelly expects Heard to get time with the team's first team offensive unit.
"I think the plan is to get him in certainly with the first unit and see how that mix goes as well," Kelly said after Thursday's practice. "I think part of it was to take an offensive tackle going against Florida State's defensive ends didn't seem to be the smartest thing to do in Week 1. But I think in Week 2, I think this is a good opportunity to get him in and give him an opportunity to play a little bit. So, excited about getting the chance to see him play."
Kelly expects redshirt sophomore wide receiver Chris Hilton Jr. to additional playing time after seeing time in last week's game against Florida State but didn't record any statistics. He said Notre Dame transfer running back Logan Diggs has looked better in practice and that both wide receiver Armoni Goodwin and wide receiver/kick returner Aaron Anderson are both listed as probable.
"I think Chris has deserved the opportunity to play some more, regardless of who we're playing," Kelly said. "Grambling is going to present a great challenge for us. I think, Chris, regardless of the competition, regardless of who we're playing, has put himself in a position in the way he's practiced to get more reps. So, Chris is going to be in the mix and getting out there. He's shown enough to me and the way he's handled himself, that he deserves it.
"(With Shelton Sampson) There's still learning, it's still a process with him and he's getting there," Kelly added. "There's a lot of freshmen that traveled and we took them on this trip because we wanted them to get that experience. And a lot of these guys will get there, but they're still cooking. They're still in the oven. I think we'd be a little early to take them out, but they're going to start popping and start playing this year and he's certainly one of them."
Here's what else Kelly had to say:
Concerns with Jayden being a little reckless?
"I think he needs to be a little more smarter in the things that he does. We don't want him to be anybody else but Jayden, but I think he can be a little bit more prudent in some of the decisions he makes. But he's always run that way. So, we're not going to change them too much, but trying to jump over the pile? I think we can tamp that down a little bit."
Excited about Bradyn Swinson's effort Sunday?
"I think it was what we were hoping for. He brought a lot of energy. You know I wasn't pleased with the energy and that falls on me, but he brought a lot of energy. You know, it's nice to see that and certainly his ability to rush the passer, so we hope to continue to build on that."
Will Logan Diggs play this week? Thoughts on Maason Smith's first game back?
"Logan Diggs has been getting quite a bit of work. He feels healthy and I think a lot of the hesitation was that he wasn't full speed and to put them in a game against a top 10 opponent Florida State, (running backs coach) Frank (Wilson) just didn't feel comfortable in doing so. He's (Smith) had a great week of practice, but I think the reality of the situation is the average number of plays defended are in the mid-60s. It'd be great if we can get him in the 30-play range in his first game and up that to 40-45 to where he can play a full game and maybe his third second third game. He'll tell you otherwise that he can play every play, but it's fatigue that definitely sets in."
Any particular scheduling philosophy in future?
"My philosophy has been that I want to play as many SEC schools as we can play within the conference setup that everybody else plays. Obviously, I don't want to play more SEC schools if somebody else is not playing them. If I had a choice between eight and nine, I wanted to play nine. Your schedule should reflect the balance necessary to play a nine-game SEC schedule. You don't want to go out and play murderer's row. So, you then look to, can you play teams in the state of Louisiana? I think that should be your vision, right? Are there schools that you can play and of course, the last two years HBCU schools makes awesome sense in terms of being able to do that with Southern and Grambling. We'll continue to look at options and I know Verge (Ausberry) who does the scheduling for us, and I think he looks in that respect as well."
Any comparisons between offensive lineman Lance Heard and Emery Jones Jr.?
"They're a little bit different in the sense that Emery is much more suited probably to play multiple positions when he moves on. A guy that could play center, guard, or you could probably get out of trouble playing him at tackle at the next level. Lance is a tackle with his length. So, they're a little bit different, but I would say that they're very similar in terms of their demeanor. The way they approach things on a day-to-day basis. They're great workers, they're great in the classroom. They take their work very seriously. I think that there's a lot of traits that are similar that allow freshmen to compete for starting positions, and he's (Heard) got that kind of makeup. But I think in terms of the physical traits that they bring there, there is a little bit of a difference between the two."
Is the team's mindset better this week?
"I think we've reached the level of preparation that I'm much more comfortable with this week. The intensity level is what I was looking for, and we seem to have reached the level that I'm much more comfortable with. I've got to take full responsibility for not getting it there and I feel good about where we are, and where we need to continue to go. Because then you've got to go, and it takes that from your preparation to performance. The next challenge will be finishing up here Friday, our walk-through on Saturday and then playing Saturday night and performing with an intensity and an emotional control that gives you that competitive edge that we lacked. That's what we're looking for from this team. We've got to play with a competitive edge that we lacked, and I didn't do a good enough job of creating that. I've seen it this week from our guys."
Were the downfield throws available to Jayden last week?
"I think when we look at big plays, I think we had about 11 big plays in the passing game. They're 20-yard plus, that's going to get it done for you. So, you know, a drop here and there. I'm sure there's some plays that we would have liked to see him connect on. I think at the end of the day, we're calling the plays necessary for us to be explosive offensively. We have to execute at a higher level, both a quarterback wide receiver and from a protection standpoint."
Update on development of freshman Javien Toviano?
"We like Javien and we're trying to bring him along at the nickel position. I think it's a process that we're involved in and trying to figure out these are the tough decisions that you're trying to make. Is he somebody that can play more than four games at a high level for you and contribute? Or do redshirt him? He's going to get right to that threshold and maybe a couple of special teams performances. So, we're not going to do anything until he's ready and he's not quite ready yet. But we really liked his upside and when he's ready, we're going to play him. If there's four games left in the season, we're in good shape. The question will be, if it's like right now. We don't want to put him out there until he's absolutely ready to play."
What's significance of playing a second straight HBCU school in Grambling?
"I think it speaks to the proud tradition of college football in the state of Louisiana. To have a national championship team in LSU and another (Black national) championship team at the FBS level in Grambling and the great history of Grambling. For those two teams playing in the state of Louisiana, I think it says a lot about the state of football in Louisiana. I mean you can argue about all the different rivalries and state rivalries you have in the state of Louisiana. You feel a sense of pride when it comes to college football in the state of Louisiana."