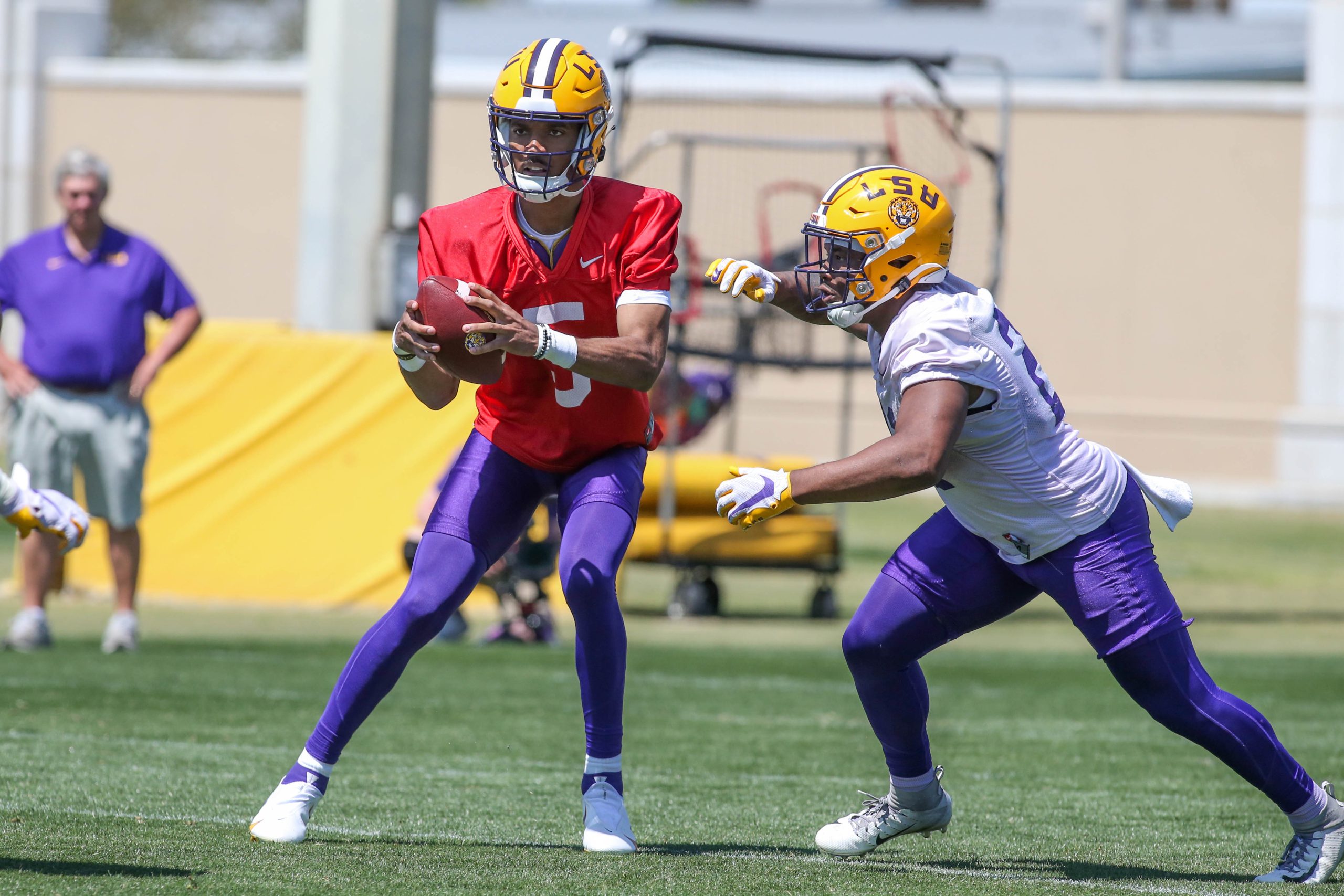 It's not often that a team's starting quarterback from the season before can transfer while fans and coaches hardly bat an eye. But that defines the LSU offensive situation going into the 2022 season.

With a new coach and nearly whole new staff taking over, it might as well happen this year. Offensive coordinator Mike Denbrock has a lot of questions to answer but the cupboard isn't bare and whoever comes out on top in the quarterback derby could improve on last year's production.

Max Johnson will be missed after throwing for 2,815 yards and 27 touchdowns, then transferring to Texas A&M. But, then again, maybe not.
Johnson shouldn't have been the quarterback last year but was pressed into full-time service when hard-luck Myles Brennan hurt his left arm in the offseason. Brennan was primed for his coming out season and may get that chance this year.

Maybe.

Brennan will have to fend off Arizona State transfer Jayden Daniels, who brings a completely opposite vibe: Brennan is a drop-back, stand-and-deliver type to Daniels' dual-threat talent. It's not to say Brennan can't move but Daniels will force defenses to play less compactly and could raise LSU up if he can replicate his freshman 2019 season (2,943 yards, 17 TDs, 2 interceptions).

Still, Brennan, with his experience in Baton Rouge, gets a slight edge with the distinct possibility both will play and maybe even share starts.

Throughout the Les Miles era, LSU never seemed to have an SEC level quarterback. Now it has four with Garrett Nussmeier and freshman Walker Howard. Nussmeier looked good in the spring game and coaches have said he shouldn't be counted out. The future looks bright.
Of course, the LSU offense won't be all about the quarterback. The running back and wide receiver groups have one standout on top of some decent secondary talent.

Perhaps the biggest move in the offseason was keeping wide receiver Kayshon Boutte from transferring. A freshman All-American, he's caught 83 balls for 1,244 yards and 14 TDs despite missing half of last season and starting slowly in 2020. He'll draw double teams on a regular basis to help out his teammates.

There are plenty of others. Jack Bech, Jaray Jenkins, and Brian Thomas Jr. combined for 105 catches last season. Louisiana Ragin' Cajuns transfer Kyren Lacy brings FBS experience to the fold after the Tigers lost Deion Smith, and Malik Nabers could also step up into the opening.

Whoever wins the quarterback job won't have a shortage of targets.

The running backs room also has a headliner in John Emery Jr., who was ineligible last season but apparently is ready for a final go. A five-star recruit, he's waiting to realize his immense and diverse skills as a runner and receiver.

Penn State transfer Noah Cain was a great pickup. He rushed for 777 yards and 12 TDs in the two seasons he played full time and gives LSU a physical runner who can catch the ball. He also caught 17 passes last season.

If those two stay healthy, LSU should have no trouble improving on last year's dismal attack, which was second-to-last in the SEC (114 yards per game and 3.3 yards per carry.)

Outside of quarterback, the offensive line is the most crucial position and here is the biggest question mark because this one is being piece-mealed with talented, though unproven, hopefuls.

Will Campbell has looked like a freshman who can step in and start after a good spring showing. Easier said than done. Cameron Wire and Garrett Dellinger have more experience and the tackle combination will likely include two of those three.

FCS All-American Tre'Mond Shorts was big transfer portal acquisition and will battle with Anthony Bradford and Marcus Dumervil for the two guard spots. Charles Turner got a shot at center in the spring, but that spot is still up for grabs as the offensive staff cross-trained several players for multiple positions.