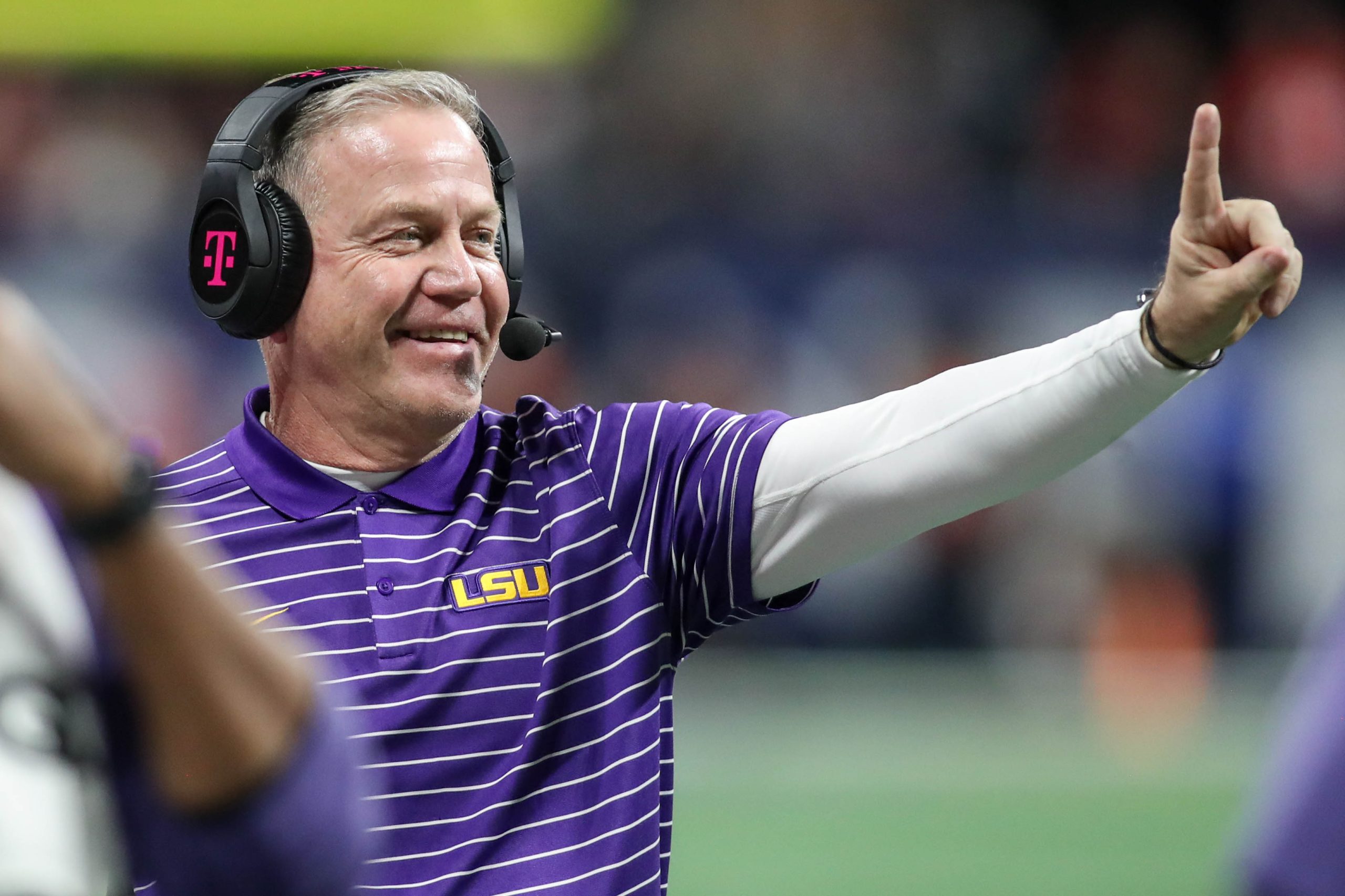 Georgia's first touchdown in its 50-30 SEC Championship Game victory Saturday will someday be part of a 'Top 10 Goofiest Plays in LSU history' list.
If you had to pick some kind of silly play to happen in this improbable game of this improbable season, put it on special teams, where LSU has not been its best. It may have been less goofy than the ol' interception-off-the-helmet play, but it hurt a lot more.
It really didn't cause anything to happen that wouldn't have eventually happened. The situation LSU was in was similar to 2001 when a three-loss LSU team – the only three-loss SEC team to make the championship game – upset Tennessee to win the conference title.
But that Tennessee team wasn't a reigning national champion. LSU entered the game a highly-flawed West Division champion that beat the right teams at the right times and enjoyed a place among the nation's elite for 2022, and that is worth the disappointment of losing the last two games.
Now the Tigers' mission is not to finish with a three-game losing streak. A victory against Purdue in the Citrus Bowl will be a huge boost.
How much better will 10-4 look than 9-5? It will kick-start Brian Kelly's second season in Tigertown and for a coach who put together one of the more memorable seasons in LSU history, he's already shown the magic he can work with limited resources.
Give him credit for one thing, the man can see the big picture as evidenced by this quote: "The divide is not huge, but we've got work to do."
That should be salve for the hurt feelings of those Tiger fans, who hoped against hope for a repeat of the 2001 miracle. The chance for a College Football Playoff spot went up in smoke a week before and an SEC title that would be a mote in the conference's eye was a little too much to ask for.
Any fan who watched LSU stagger and stumble through the Texas Bowl loss to Kansas State last January should feel like even on a two-game losing streak, the Tigers are still playing with house money.
When you go against a team like Georgia, you have to avoid the goofy and the not-so-goofy, like converting on fourth down near your goal line and stopping teams on third down to get your defense off the field.
"Unfortunately, we were not clean enough in some of those areas against the No. 1 team in the country," Kelly said. "When you're playing the best team in the country for an SEC championship, those things are going to come back and affect the outcome."
But all of that can be chalked up to first-season liabilities. The Tigers have a good core of players returning that already know how to win big games and the recruiting prospects – high school and transfer portal – appear to be on the plus side.
Kelly showed last year LSU is a desirable destination for transfers and its likely he will hit the transfer portal hard again, although probably fewer than the 16 he reeled in. LSU must also take into account not every LSU player will want to stay. There's going to be a logjam at quarterback with all three expected back and that's just one position.
But the most important learning curve is Kelly's. He came to LSU much colder than Saban, who was 48 when he arrived and who was just beginning his climb to greatness.
Kelly, at 60, is well past the midpoint of his career and probably had to do some unlearning as well as
learning when he got here. Learning how to be the coach at LSU takes time and he'll be so much wiser next season.
Like every other coach, the game has shifted tremendously under his feet in recent years. Some of the precepts he learned on the way up aren't relevant. It's not always easy to know which ones to cast aside and which ones to embrace.
One good change for all coaches is the shift to the 12-team playoff for the 2024 season. It's going to make it easier to get in, which takes a lot more pressure off builders and rebuilders. But at LSU getting in isn't going to be enough and Kelly surely knows that. It comes through in what he tells the media after games and after practices.
It should be comforting for Tiger fans to have an older head coach who says all the right things and
earned credibility with his fan base for the way this season unfolded. LSU fans will always keep an eye on how Billy Napier is doing at Florida in comparison but few of them would trade Kelly for him right now.
A bowl game against a school LSU has never played in football is coming. There will be players opting out. Jayden Daniels' ankle will be healed, and LSU will likely be favored.
It's an important game for the program going forward and for Brian Kelly specifically. Keeping a team focused for a bowl game is an underappreciated skill for a college football coach and fans will learn a lot about their coach.
Kelly knows that game will hold a lot of meaning. It's the first game of the rest of his career.