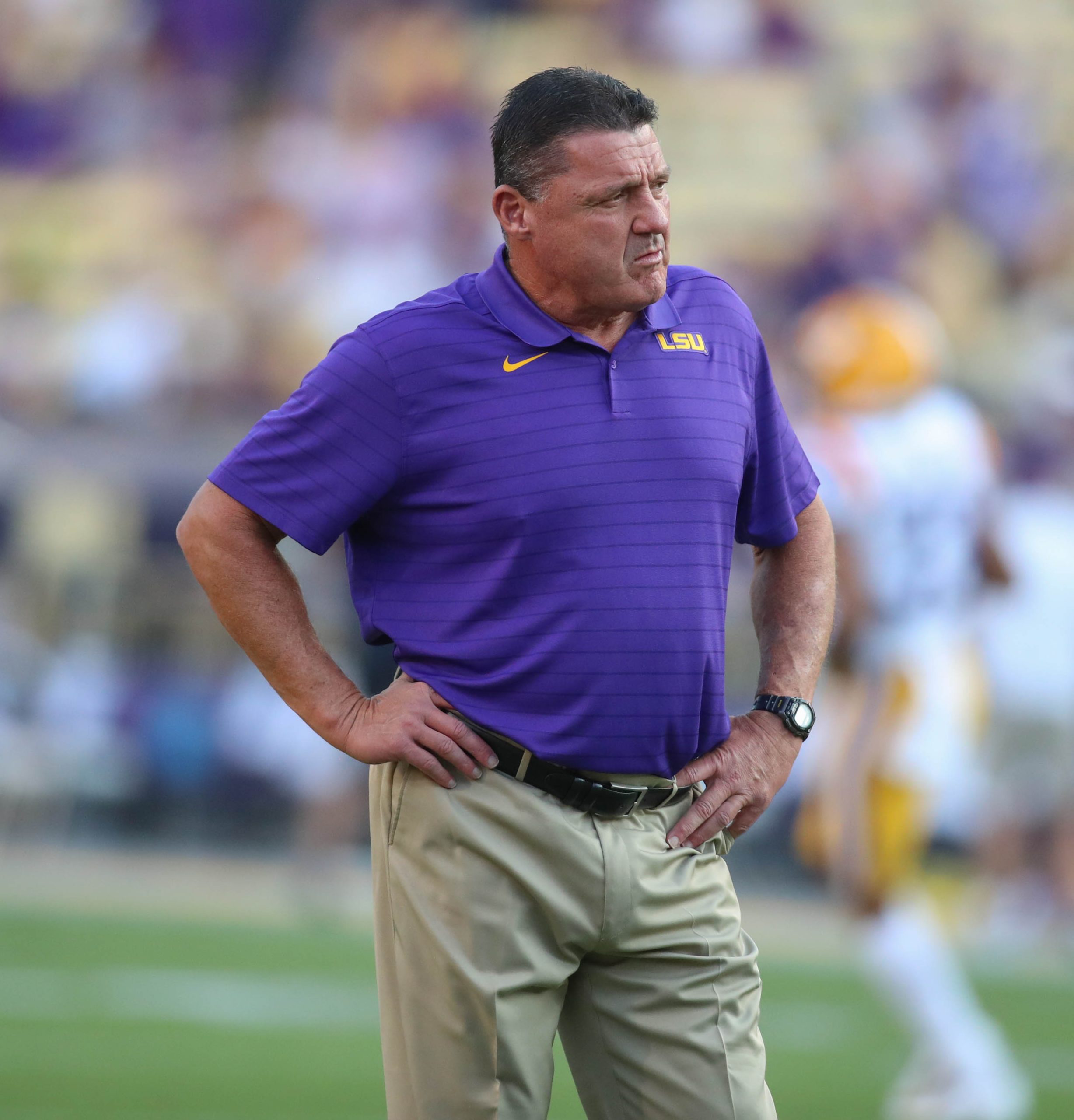 As "Not So Easy" Ed Orgeron strives to navigate a ship to nowhere as a lame duck river pilot, LSU watchers are witnessing the most protracted hunt for coaching treasure since 1979 when Paul Dietzel selected 34-year-old Bo Rein to succeed 56-year-old Charles McClendon after a year-long search.
The LSU job is considered a plum even though the next hire becomes the 12th head coach LSU has employed in its signature program since Mac was packing in '79. When Rein, who died 42 days after taking the job, and Hal Hunter, who lasted one game as interim coach, are removed from the equation, the average tenure for the highest paid Louisiana servant is five years. Coach O has learned that five lucrative years and a heavy buyout turn the recipient into the equivalent of a Powerball winner in the worst case scenario.
The 60 years since Paul Dietzel defected to West Point at the close of the 1961 season have provided humility to those who dare to lead the program. As Tiger Rag founder Steve Myers once noted, "Nobody leaves LSU happy."
Here is a list of LSU coaches and how they left Death Valley.
Year, Coach, Reason for leaving
1979 Charles McClendon Fired after 18 seasons
1980 Bo Rein Died in plane crash
1983 Jerry Stovall Fired after 4 seasons
1986 Bill Arnsparger Became Florida AD
1990 Mike Archer Fired after 4 seasons
1994 Curley Hallman Fired after 4 seasons
1999 Gerry Dinardo Fired after 5 seasons
1999 Hal Hunter Interim for 1 game
2004 Nick Saban Became Dolphins Coach
2016 Les Miles Fired in 12 th season
2021 Ed Orgeron Fired in 6th season
Of the last 11 occupants of the Tiger War Room, only Saban and Arnsparger escaped firing squads, proving that great hires are inexact.
Saban was 48 years old with a career record of 43-26-1 when he dashed into Tigertown at the close of the last century. He was hired for the then-unheard of sum of $1.2 million per season and was known primarily by LSU followers as the guy who lost a head-to-head match in the Independence Bowl with Dinardo, his predecessor, by 19 points.
Arnsparger arrived in Baton Rouge after a respected run as Miami Dolphins defensive coordinator, but his only head coaching assignment produced a 7-28 record with the New York Giants, the worst winning clip at 20 percent in NFL history.
To make matters worse, Arnspager's last stint in the college ranks was as top assistant to Tommy O'Boyle of Tulane in 1962-63 when the Greenies went 1-18-1 and were outscored 484-119, making the Wave the worst team in college football for those tortured years.
Arnsparger evolved into a capable head coach although his recruiting results failed to reach the crescendo of the man he replaced, Jerry Stovall. In three years LSU was 26-8-2 under Arnsparger, giving him a winning percentage of 76.5.
Only Les Miles, who was 114-34 with a 77 percent winning average, won more frequently than Arnsparger did at LSU. Saban was successful in 75 percent of his games at LSU, but inherited a program that had won 58 of its preceding 125 games. By contrast, Orgeron took over a program that had won 95 of its preceding 125 games under Miles.
At press time, Orgeron is 49-18 as LSU coach for a 73.1 winning percentage. O was 40-9 when he left the Superdome 22 months ago and is 9-9 since conquering the world on Jan. 13, 2020.
When judging the quality of LSU coaches, the SEC record is the gold standard. Including stints at other conference schools, here are the 10 most successful LSU coaches in league play.
1. Nick Saban 159-28 85.0 percent
2. Biff Jones 11-2-2 84.6 percent
3. Bill Arnsparger 13-3-2 81.3 percent
4. Les Miles 62-28 68.9 percent
5. Paul DIetzel 26-16-2 61.9 percent
6. Bernie Moore 43-28-4 60.6 percent
7. Charles McClendon 60-41-3 59.4 percent
8. Mike Archer 15-12 55.6 percent
9. Ed Orgeron 33-36 47.8 percent
10. Gerry Dinardo 18-20-1 47.4 percent
Orgeron is 30-15 in the conference during his LSU stint and was 3-21 at Ole Miss. His record vs. Alabama is 1-7. Subtracting games vs. the Crimson Tide, O has a winning record of 32-29 in league play.
Athletic Director Scott Woodward is expected to amass sufficient resources to sign a clearly better candidate. This may prove difficult with only four other current college coaches around who have won national titles.
If the championship achievement is a requirement for any successor to O, the possibilities are finite with Saban, Jimbo Fisher, Dabo Swinney and Mack Brown the only reigning college practitioners other than Orgeron to capture national crowns in the 21st Century. Of the four, Swinney is the outlier with no LSU experience in his career.
Brown is 70 and will finish at North Carolina, not LSU where he ran the offense for the 1982 Bengals who beat Alabama, Florida and Florida State. Fisher and Swinney remain possible hires, and then there is Saban, who turned 70 on Halloween.
Woodward is the consummate big game hunter and Saban is a mercenary who loves to be courted and relishes his role as the highest coach in the industry. If Woodward secures enough Sugar Daddies and Sugar Mamas, Saban is a worthy target. He almost left Tuscaloosa in 2012 for the University of Texas.
It would take a large fortune to get another audience with the Great One in Jimmy Sexton's living room in Memphis, the site of the 1999 Deal of the Century between Saban, Sexton, Joe Dean and Mark Emmert.
Negotiations would start with a 10-year contract and a sticker price reaching or exceeding $200 million. This is a big number, but it might be the best money LSU ever invested. Saban was 4-1 vs. Alabama when he was here and is 11-4 at Alabama vs. LSU.
In a series in which Alabama and LSU have combined for nine of the last 18 national titles, LSU is 10-12 vs. Bama in the last 22 games. Saban's record in the series is 15-5, evidence the school that employees him is poised to win the rivalry 75 percent of the time.
If Saban is off limits, Woodward might venture to his old turf of College Station in pursuit of the 56-year-old Fisher, but don't bet on it. The time to hire Fisher was in 2015 when Miles was punch drunk and reeling in the 15th round of his LSU assignment. Swinney is a mere child at 51 and has two national titles to his credit at Clemson. He would be a popular hire despite his Tigers being knocked out 42-25 by O's Tigers in the national championship game in the Superdome. Sounds similar to the comparison between Saban and Dinardo in 1999.
Woodward will aim high with the choice likely a client of Sexton, who represents 11 of 14 SEC coaches. Woodward has told friends, "I signed up for it."
Woodward's future and his legacy ride on this selection. His pattern is that he seeks the most qualified coach available. And a blockbuster name is probable.
It should come as no shock if Saban or Swinney, who have combined for eight of the last 12 national championships, land at LSU as the highest paid coach in college history.
When Saban migrated to Alabama, Paul Finebaum mused that LSU fans acted as though their manhood was at stake when LSU faced the Tide in 2007. It would be delightful to see Alabama fans react accordingly in 2022.
This delicious development would provide a publicity bonanza of epic proportion for the SEC, cement Saban as "The Greatest" and boost the salary of every other Sexton client.
Go Jimmy, go.