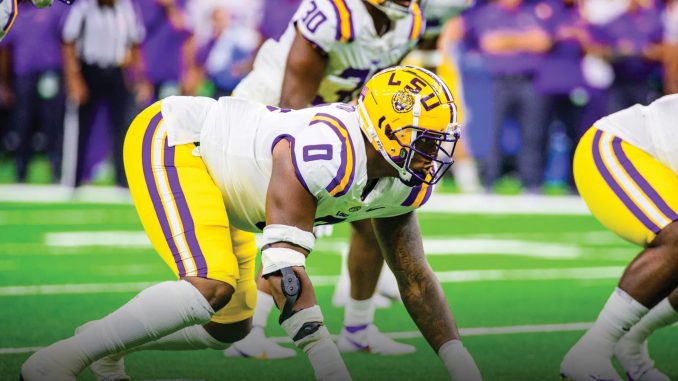 It was a year and two days. LSU defensive tackle Maason Smith's been keeping a tally and knew the exact score.
That's the length of time Smith spent since tearing his ACL in the 2022 opener against Florida State until meeting with reporters following Wednesday's practice in preparation for Saturday's 6:30 p.m. home opener with Grambling State.
"It feels fine," Smith said of his knee.
Smith hobbled off the field at the Superdome seven plays into his sophomore season. He was innocently celebrating a tackle by teammate Major Burns when he felt pain in his knee and crumbled to the turf.
It was a worst-case scenario that took the hulking 6-foot-6, 315-pound Smith off the field for the entire season. While the Tigers were experiencing a rebirth under coach Brian Kelly with a 10-4 season, complete with a Citrus Bowl win over Purdue, Smith was diligently grinding behind the scenes with his rehabilitation process.
The intent was to return to LSU's starting lineup for this year's season opener against Florida State in Orlando when Smith was dealt another setback that kept him off the field once again.
He received a one-game suspension when the NCAA determined the Houma native had received an impermissible benefit from a pre-NIL era autograph signing last July.
"I didn't really know too much about the whole NIL space," Smith said Wednesday. "Coming to school at the time there was so much talk about NIL supposed to drop on January 1st, February 1st. It was month after month they were saying it was supposed to launch. With the lack of knowledge, I had on the subject, I made a decision with a couple of my former teammates, and I did sign it. Looking back on it I didn't really know that was a thing. That's not what I was thinking about when I did it. I was thinking that it was good. Looking back, I wish I had more knowledge on the NIL space."
The world of name, image and likeness, that's monetarily benefitted student athletes for the first time, was enacted shortly after Smith's autograph session. The NCAA didn't relent and despite LSU even considering moving up its game with Grambling to a Week 0 contest so that Smith could serve his suspension and play against Florida State, he was a spectator in last week's 45-24 setback against the Seminoles.
Smith, who cooperated with the NCAA's investigation, learned of his fate several weeks before the FSU game. He would have served the suspension at some point last season if he hadn't been injured.
"I was so focused on playing them and getting the game against them and getting my revenge with them," he said of FSU. 'I wasn't really worried about it, but it's been a possibility for some time.
"I definitely wasn't happy," Smith said. "But at the end of the day I'm a firm believer in faith … and God. I just let him take care of everything I had going on. I'd been through a lot of stuff in the last year of my life. I've always had faith in him and God didn't want me to play in that game and there's a reason for that. That's all I can believe and follow. I try not to dwell on it."
Part of the motivation that led to the drive Smith took into his rehab process was running onto the field at Camping World Stadium to face FSU. While he was around the team last year in spirit, there was nothing to replace the void of missing the entire season and playing with his teammates.
"I had visions of playing against the Florida States, I had visions of playing against Alabama, all these teams because unfortunately I didn't get to play them last year," Smith said. "Knowing the things I had going on and how I was playing, I had visions of me dominating and doing my thing. Just playing ball."
Smith, who missed all of spring, was cleared for all football-related activities this summer. He arrived for the start of fall practice on Aug. 3 with a renewed sense of enthusiasm to return to his once dominating style that earned him the nation's No. 1 defensive lineman ranking out of Terrebonne High School.
The respect for Smith's talent was evident in his selection to the preseason All-SEC first team defensive line. He's also a projected first round NFL Draft choice in 2024 for a player with 19 tackles in 10 career games.
"I've thought about it for a whole year," he said. "There's no words to explain how I feel about getting back in the game. I've been waiting for so long. I'm ready to get in there and erupt."
Even before the NCAA's announcement, Smith was hobbled in practice with an ankle injury that kept him out of the team's first major scrimmage and made him questionable for the team's opener.
Then the NCAA dropped its hammer and took out all of the guess work.
Kelly said during Wednesday's SEC Coaches Teleconference he was excited to get Smith back for the team's home opener but would set a 30-play parameter for him in the game.
"I think we have to be realistic that when you haven't played in over a year, he's not going to be able to play the duration of the game," Kelly said. "We're looking, if we can get somewhere near 30 snaps, we'd be really excited about that. He's practicing for us but it's going to take a little bit of time. Hopefully we can get somewhere in that range of quality snaps from him and give him a chance to impact the game."
Smith said he's regained all of the range of motion in his knee and has used practice for not only conditioning, but to get down the kind of timing that results in split-second decisions when it comes to rushing the passer or tracking down a ball carrier.
He smiled at Kelly's suggestion for trying to lessen his workload in his first game back since Sept. 4, 2022.
"We'll have to just see how everything goes," he said. "They want to make my workload as normal as possible, just not throwing me out there for 50-60 snaps. … Just progressing in. With a game like Grambling, I've got opportunities to get the other guys some playing time and move on to the next upcoming weeks. As times goes my play load will get higher and higher.
"I'd love to play the full game. … 50 snaps is a lot for a defensive lineman in a game," Smith added. "30's around the spot I'll be comfortable. I'm just trying to get back into it."