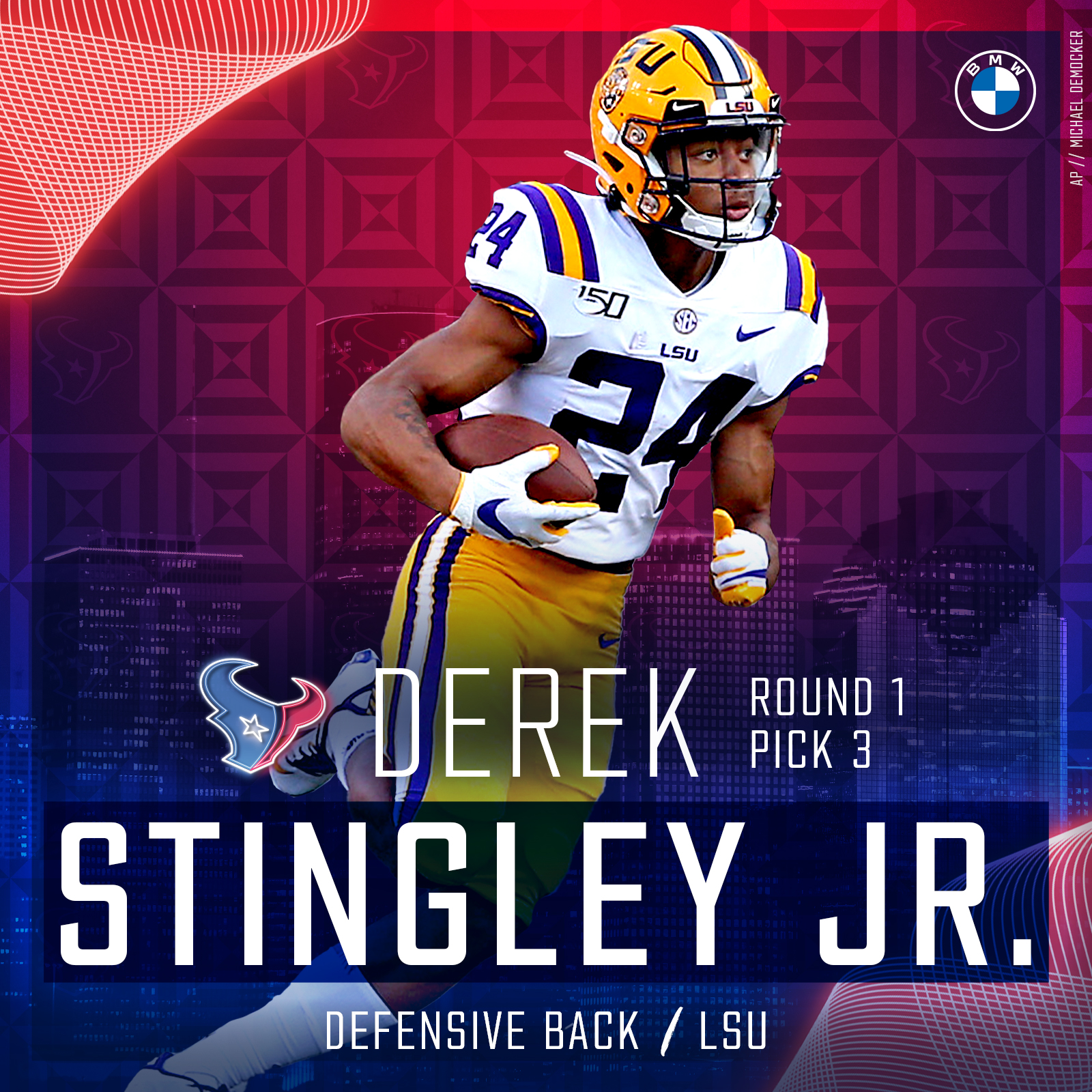 Cornerback Derek Stingley Jr., as fully expected, is the first former LSU player off the board in the 2022 NFL Draft.
The Houston Texans took Stingley No. 3 overall in the first round of the draft Thursday night in Las Vegas, becoming the school's 49th first-round selection. He was the first cornerback taken and was selected behind Michigan defensive end Aidan Hutchinson of the Detroit Lions.
Houston's third-overall choice of Stingley at cornerback equals an NFL high matched by three other teams, the most recent by the Detroit Lions' selection of Jeff Okudah at that spot in the 2020 draft.
Stingley was exactly what Houston and its defensive-minded first-year head coach Lovie Smith were looking for following a meeting during the pre-draft process.
"That's probably the perfect situation for a corner, when the higher up knows how it is out there in the secondary especially on defense," Stingley said. "I'm excited and whenever I was out there, he (Smith) was excited too. You could just see during the conversation that we had that he was really excited and ready to get to work."
Stingley was a consensus All-American as a freshman in 2019, LSU's 15-0 national championship season.
He started all 15 games at cornerback that year, leading the SEC in interceptions with six and finishing No. 2 nationally in passes defended (21). According to LSU, he became the 10th player that played a primary role on that unit to be drafted.
But Stingley missed LSU's 2020 season-opening loss to Mississippi State with what LSU called an "illness," then missed the last two games that year with an ankle injury.
He missed all but the first three games of LSU's 6-7 2021 season with a foot injury, and – after going surgery to repair a Lisfranc fracture in the foot – missed the 2022 NFL Combine in Indianapolis.
But Stingley completed his rehab and got back to 100% in time to take part in LSU's Pro Day, where he assured scouts of his fitness with a first 40-yards-dash clocked at 4.37 seconds.
"Organizationally, coaching staff, scouting staff, I'd say we put as much time and effort into Derek as any player," Texans general manager Nick Caserio said. "I'd say our scouts did a phenomenal job to continue to research to make sure we were comfortable.
"He's been a productive player. Had some bumps in the road there in '20 and '21, but in the end we felt comfortable. He fits the profile of what we are trying to do defensively and how we are building the program, so that's the rationale behind the pick there."
A product of The Dunham School in Baton Rouge, Stingley is the son of 1993 Philadelphia Phillies draft pick Derek Stingley, a longtime former Arena Football League player and coach, and a grandson of late New England Patriots receiver Darryl Stingley, who was tragically left paralyzed in 1978 after a vicious preseason game hit delivered by Jack Tatum of the Oakland Raiders.
The seven-round draft continues Friday with the second and third rounds and runs through Saturday.