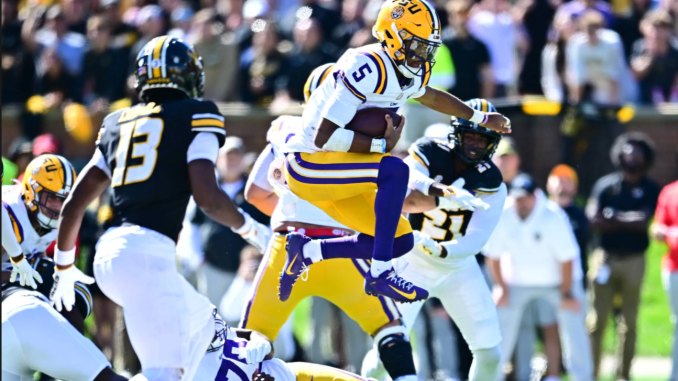 The promise of an LSU defensive line that would put pressure on the opposing quarterback, win the line of scrimmage, be strong against the run and help the second and third levels of LSU's defense – the linebackers and the secondary – be in better position to tackle the ball more effectively didn't happen often enough on Saturday to win a game.
To win any game. Anywhere.
It simply did not.
That's the truth. The whole truth. And nothing but the truth.
The other part of the whole truth is LSU quarterback Jayden Daniels is a special player and would win the Heisman Trophy if it is an award that truly is given to the player who proves to be the most valuable player to their team.
Daniels also is one of – if not the greatest quarterback – to ever wear an LSU uniform.
Downright blasphemy – I know.
I'm not a Catholic, but I will pay penance and say three Joe Burrows every night the rest of this season before I go to bed.
Hopefully, in exchange, Daniels can somehow stay healthy.
If Daniels does stay healthy, regardless of who LSU plays, and how inept it remains defensively, LSU has a chance.
As a matter of fact, I'm finished listening to LSU coach Brian Kelly talk about how confident he is this defense can come around and get better, no matter how many coaches like 82-year-old Pete Jenkins he adds to the staff moving forward.
This defense may gradually get better as the season continues to progress. But it could improve 1000 percent from where it is now and still not be very good by the time the postseason rolls around.
Obviously, having great players on it like Harold Perkins, Maason Smith, Mekhi Wingo and others simply is not enough of a quotient to field a defense that is good at stopping today's offenses in college football.
Admittedly, there were a handful of spotty good defensive plays that helped LSU at least stay in a position where it had a chance to capture a must-win Saturday morning in Columbia, Missouri.
But there were not enough good plays to win a game no matter where it was being played.
LSU had to depend on its offense – again – to pull out a must-win and remain in contention for the SEC West championship.
More specifically, LSU had to depend on Daniels.
Not taking anything away from Logan Diggs and his 134 yards rushing, or Malik Nabers and his 146 yards receiving, or Brian Thomas, or Mason Taylor or the LSU offensive line. It takes more than even a great quarterback to win at a high level, especially when you're playing without a defense more than 85 percent of the time.
But having a quarterback like Daniels – who Kelly said afterward has the "the heart of a champion" – simply is not something this LSU can win without.
"If you haven't watched Jayden Daniels play," Kelly said after LSU snuck out of Columbia on Saturday with its dreams of an SEC Championship still hanging by a thread, "you need to get out and watch him. He's a pretty amazing football player."
"I mean, I don't know what else you can say about what he's meant to our team. I mean, he's been inspirational, he's shown toughness at the quarterback position. He's just a game-wrecker. I'm glad he's on our team, because he just does so many things to hurt defenses, whether it's running, throwing, checking, getting in the right place. He's a fierce competitor," Kelly said.
Not taking anything at all from these other guys but talk to me about Perkins' interception in the first half against Missouri all you want. It was huge. It marked the first time in the game Saturday LSU's defense actually stopped the other team – in this case Missouri. It was important.
Or, talk to me about Bradyn Swinson's late fourth-quarter sack of Missouri quarterback Brady Cook and the forced fumble he caused on that play, or Smith's fourth-quarter, third-down sack of Cook with 17 yards to go for a first down. Smith's sack – which could have been easily negated by a face-mask penalty that was not called – was huge and it forced Missouri to punt from its own 11.
Or, talk to me about Major Burns' pick-six interception with less than 40 seconds to play that "sealed" the win for the Fighting Tigers all you want.
Those were all indeed big plays.
Those plays were much needed.
Those plays were also interspersed between other plays that saw previously unbeaten Missouri rack up 527 total yards – 395 through the air and 132 yards on the ground.
Missouri scored touchdowns the first three times it touched the ball and led LSU 25-17 at halftime while creaming LSU's non-defense for 271 yards total offense in the first 30 minutes of play on a total of 32 plays.
That's a not-so measly 8.5 yards per play.
Somehow, someway, LSU was able to hold Missouri to only 14 points in the second half – even though the yardage production from the Show-Me state Tigers was about the same in the second half as it was in the first half.
But even when LSU was down 22-7 in the first half and opting to hand the ball off more to Diggs than play shoot-em-up through the air with Cook and Co. (at one point in the first half, LSU had run the ball 23 times to only nine pass attempts – probably in an effort to try to slow the game down and keep its non-defense off the field as much as it possibly could) you still knew that as long as Daniels was taking the snap – whether it was from Charles Turner III, LSU's starting center, or Marlon Martinez, who replaced Turner when he got hurt in the first half, then LSU still had a prayer.
With LSU trailing, 32-27, early in the fourth quarter, Daniels appeared to score a go-ahead touchdown for LSU from two yards out after making a circus catch on a wild snap from backup center Marlon Martinez, shaking and baking a Mizzou defender in the backfield, and swimming through another tackler or two into the endzone for the TD.
Daniels probably relaxed for a millisecond or so once he crossed the goal line to put LSU back in the lead, but then he was hit, after the play, in the back by a Missouri defender.
Daniels was hurt.
All the air in LSU's lungs could be heard gasping everywhere.
A flag was thrown. But not for the late hit.
The penalty was on Martinez for holding.
The go-ahead touchdown Daniels had sacrificed himself for was negated.
Daniels headed first to one knee. Then he headed to the medical tent. Garrett Nussmeier headed into the game. And LSU fans everywhere headed to their respective knees, in prayer. LSU's backup quarterback is really good. But there's nobody like Jayden Daniels, not anymore.
Nussmeier tried his best to field wild snaps and get LSU back into the endzone. He could not, through no fault of his own.
LSU had to resort to a field goal attempt from Damian Ramos from 29 yards out. Ramos earlier had hit a career-long 48-yarder and has been pretty much a model of consistency so far this season. LSU was already adding the three points to its scoring sheet when the kick from Ramos – which appeared to just slide in over the right upright was ruled wide right, and not good.
LSU had come up empty. And worse even, Daniels was in the medical tent.
But miracles do happen. And proof of that came on the next possession.
On first down, Cook overthrew a wide-open receiver in the flats, which is akin to the Red Sea parting in a lot of ways. But then something else happened that was extremely unpredictable: Missouri slot receiver Luther Burden III, who terrorized LSU the entire first half, dropped a wide-open pass from Cook in the flats. Then, on a third-and-13, which honestly isn't that difficult to navigate against an LSU defense this season, Smith bull-rushed the SEC passing-ratings leader and threw him to the ground without the referee seeing Smith grab Cook's facemask. LSU had pressured Cook. LSU had sacked Cook. LSU had forced Missouri to punt. All extreme rarities this season.
Meanwhile, on the sideline, with an ESPN reporter watching his every move, Daniels winced as he threw warmup passes.
"He appears to be in great pain," ESPN reported.
Missouri punted from its own 11 and LSU's designated fair-catcher, er, punt returner Gregory Clayton, Jr opted to not field the punt. It bounced for a few days, it seemed, once it hit the ground, and in trotted Daniels, wincing and all, to start an LSU drive from the Tigers' own eight-yard line, down 32-27, with less than 12 minutes to play.
Missouri's punt was a 73-yarder, and LSU was called for holding about the time Clayton decided to not field it. Consequently, Daniels, hurt ribs and all, only needed to take LSU 92 yards to put the Tigers in the lead more than halfway through the fourth quarter.
No one wearing any shade of purple and gold doubted Daniels would do it. He's that inspirational of a quarterback. And that consistently productive. In the clutch, too. People no longer doubt Daniels.
Seven plays later, on a third-down-and-three from the Missouri 35-yard line, after Daniels had completed a 35-yard pass to Nabers, followed by a seven-yard completion to Taylor, Daniels kept the ball on a quarterback draw and read a DJ Chester block perfectly right in the A gap, and then did his patented "I look like I'm barely running as I glide past everyone at excessively high speeds" 35 yards into the end zone for a touchdown to put LSU up 33-32. Daniels then hit Nabers square in the gut on a look-in for the successful two-point conversion, and LSU led, 35-32, with 7:54 left to play in the game.
Seven minutes and 54 seconds left in the game. Remember when that used to seem like the game was almost over?
Well, these days that's an eternity.
Two minutes and 14 seconds later, a total of five plays, and Missouri had reassumed the lead, 39-35, with only 5:40 left in the game.
Three plays later, Daniels played freeze tag with Missouri defenders on another read option and gained another 31 yards with his legs, before hitting Nabers for a 29-yard scoring strike on the next play to give LSU the lead again, this time for good, 42-39.
Burns' pick-six a few minutes later sealed the win, they say.
Preserved the win, I believe, would be the more accurate description.
Daniels did all of the sealing for LSU on Saturday, just like he does every game.
Whether he's LSU's best quarterback ever or not is debatable for many. What's not debatable, though, is LSU has never had a quarterback that can do it all – run, pass, read, and be the team's rock and its roll, too – at the levels Daniels is doing it now.