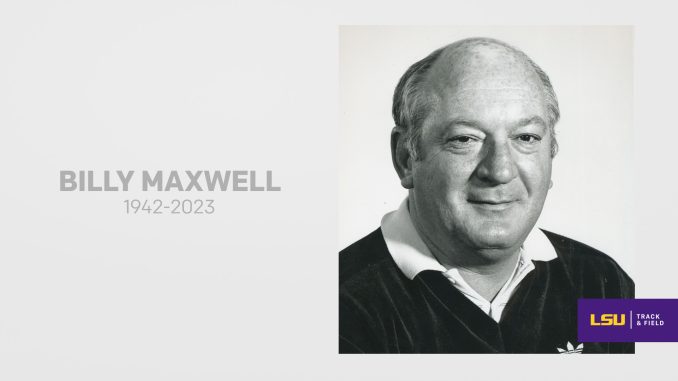 Former successful LSU track & field coach Billy Maxwell, a USTFCCCA Hall of Famer, passed away Monday. He was 80.
During a 50-year career that dates to 1970 Maxwell coached 28 NCAA champions and more than 350 All-Americans. He also coached at Tennessee, Texas and Nebraska.
In five years at LSU, Maxwell coached both the men's and women's track teams to 26 NCAA event championships and had 189 athletes earn All-America honors.
"Coach Maxwell was the engineer behind leading the women's program to a long streak of dominance at the NCAA Championships," LSU track & field Head Coach Dennis Shaver said. "He was a great recruiter and hired outstanding assistant coaches to produce championships. Coach Maxwell was a great storyteller and admired by all who knew him. The sport will certainly miss his presence."
Maxwell helped ignite an era of dominance for the LSU women's program, leading them to their first national championship at the 1987 NCAA Indoor Championships. The Lady Tigers were the national runners-up at the NCAA Outdoor Championships in 1985 and were third and fifth, respectively, in the '85 and '86 NCAA Indoor meets.
The LSU women won its first SEC title under Maxwell at the league's indoor meet in '85. They swept the SEC Indoor and Outdoor titles in '85 and '87.
Maxwell, a native of Cairo, Ga., Maxwell who graduated from Florida State, was named to the U.S. Track & Field and Cross-Country Coaches Association Hall of Fame in 2015.