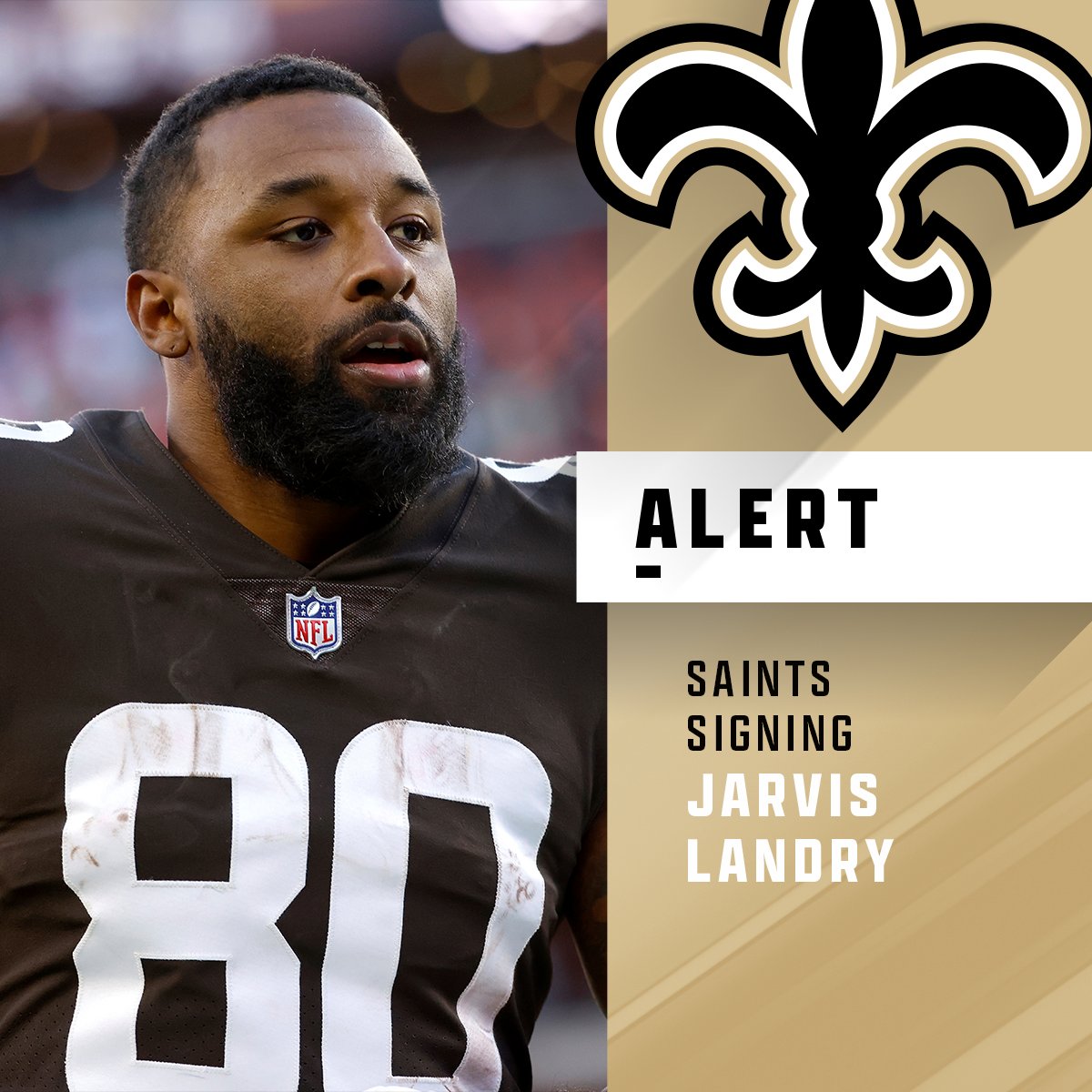 The New Orleans Saints were criticized for years by ardent LSU fans of skipping on some of the best players the program had produced.
Within the span of a week the Saints are making up for lost time by striking (purple and) gold during the NFL's free agency period with the signings of safety Tyrann Mathieu and wide receiver Jarvis Landry.
The 29-year-old Landry, a native of Convent who enjoyed a spectacular career at Lutcher High and LSU, confirmed the news Friday on his own Twitter account. He spliced a montage of video of some of his football highlights from Lutcher, LSU as well as places along his eight-year NFL journey that also included signature moments in Saints history.
One of more surreal moments was a quick cut away to a New Orleans fans in the stands with a sign that read: 'Welcome Home'.
The 5-foot-11, 203-pound Landry will continue his career approximately 60 miles from his home when New Orleans will feature a revamped wide receiver position. The Saints are scheduled to return the 2021 NFL Offensive Player of the Year in Michael Thomas from injury, first-round draft choice Chris Olave of Ohio State and Landry.
The Saints are also return leading receiver Marquez Callaway, Deonte Hardy and Tre'Quan Smith.
Landry's a five-time Pro Bowl selection where he's amassed career numbers of 688 catches for 7,598 yards and 37 touchdowns. He was a second-round selection of the Miami Dolphins in 2014 and averaged 86 catches for 950 yards despite two injury-related seasons the past two years with the Cleveland Browns.
He earned three trips in four years to the Pro Bowl in Miami where he led the NFL in receptions with 112 catches in 2017. He was the NFL's most productive receiver in history through six years with 564 catches.
Landry spent four years in Cleveland where he received two Pro Bowl bids. He enjoyed a career-high 1,174 yards in '19 with the Browns who released him March 14, 2021, where a knee sprain resulted in a career-low 12 games with 52 catches for 570 yards and 2 TDs.
Landry was an all-state receiver at Lutcher where he finished with 4,777 yards of total offense and 64 touchdowns. He caught 241 passes for 3,902 yards and 50 TDs and was one of the most heavily recruited players that decided to sign with LSU where in three years, the second team All-SEC selection, had 137 catches for 1,809 yards and 15 TDs in three seasons.
Landry, who shared the spotlight with Odell Beckham Jr., led the Tigers in receiving in '13 with 77 receptions to 1,193 yards and 10 TDs.