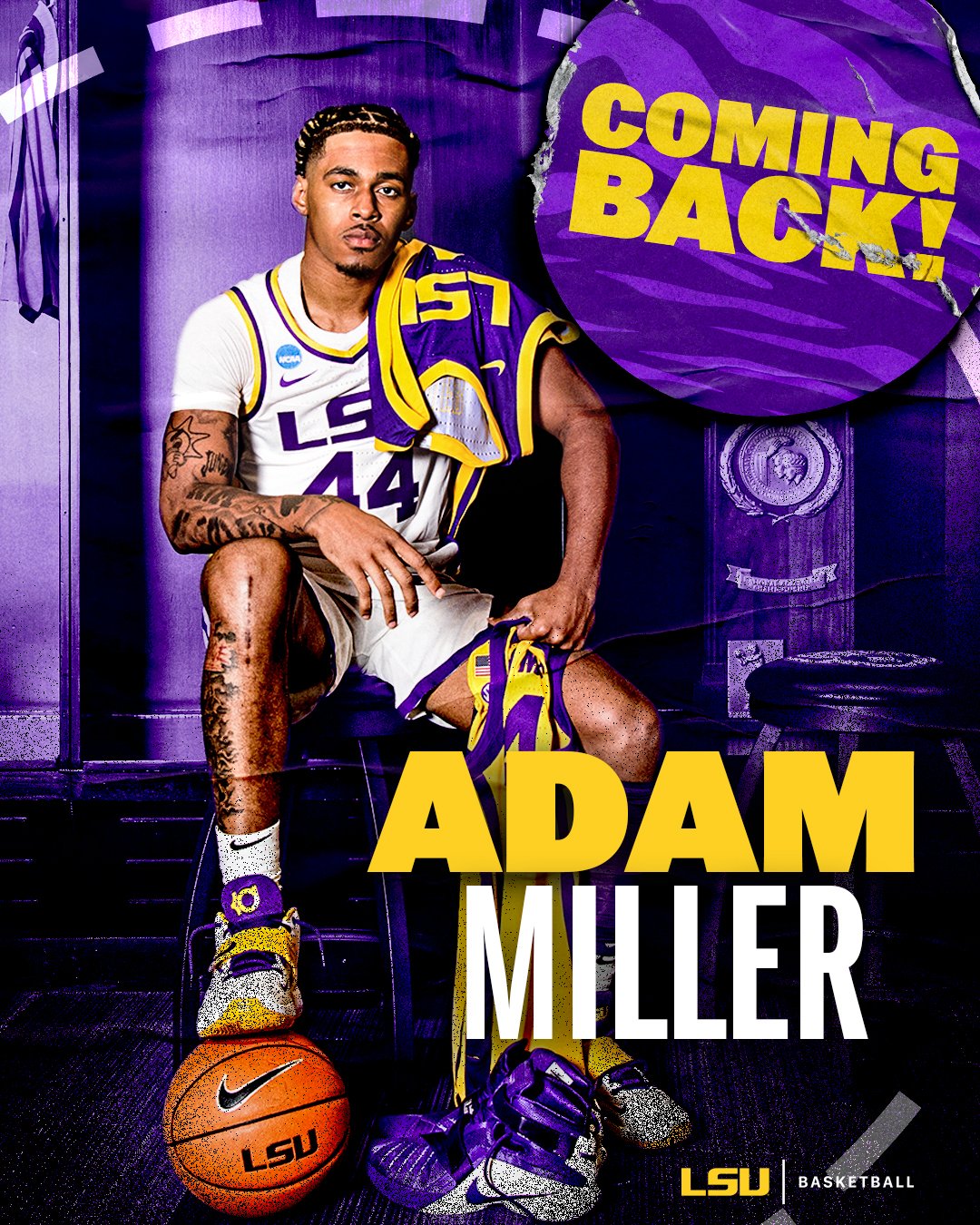 LSU guard Adam Miller has his plan for the 2022-23 season.
Miller indicated Friday that he will remain at LSU, becoming the third former Tiger to do so. He did it with a post on Twitter, writing "Stay golden pony boy" along with four pictures of himself in an LSU uniform.
Miller had also been considering a transfer to TCU, which he visited last weekend.
Miller said on his personal Twitter account that the decision "was hard".
"Both situations," he wrote with reference to TCU and LSU, "from staff to fans to players were great honestly." But Miller said he "just had that foundation here" at LSU. That, according to Miller, was "the turning point for me."
"Love the frogs," he wrote, "but ima always GEAUX tigaaas.
A product of Chicago's Morgan Park High, Miller averaged 8.3 points while starting all 31 games as a freshman at Illinois in 2020-21.
He transferred to LSU for the 2021-22 season but didn't play due to a preseason knee injury sustained in October.
Before tearing an ACL, Miller – Illinois' 2020 Mr. Basketball – played last offseason on USA Basketball's gold medal-winning Under-19 World Cup team.
Earlier this week, Miller wrote on Twitter that he had been "cleared" by a doctor.
Last week, he wrote on Twitter that "The fact to maybe even have the chance to suit up next season just makes me so happy(.)"
Miller was one of 11 scholarship Tigers to enter the NCAA transfer portal following the firing late last season of coach Will Wade due to alleged NCAA rules violations.
Two others, Tari Eason and Darius Days, declared for the upcoming 2022 NBA Draft.
New LSU coach Matt McMahon previously got two of the 11, starting forward Mwani Wilkinson and reserve guard Justice Williams, to remove their names from the portal and stay with the program.
Prior to Friday, six Tigers from last season's team had found new homes: starting guard Brandon Murray and forward Bradley Ezewiro (Georgetown), starting center Efton Reid III (Gonzaga), center Jerrell Colbert (Kansas State), guard Eric Gaines (UAB) and forward Alex Fudge (Florida).
Starting point guard Xavier Pinson reportedly has narrowed his list of potential new programs to Georgia Tech, Mississippi State and New Mexico State, and reserve forward Shareef O'Neal plans to take part in next week's NBA G League Elite Camp in Chicago before deciding whether to turn pro or play college basketball again next season.
In addition to the Tigers he's retained, McMahon has gotten three of his former Murray State players (Justice Hill, Trae Bradford and 2022 Ohio Valley Conference Player of the Year KJ Williams) to transfer to LSU.
He also added transfers Kendal Coleman (Northwestern State), Cam Hayes (North Carolina State) and Derek Fountain (Mississippi State), signed former Murray State signee Corneilous Williams and signed Top 50 high school recruits Jalen Reed, a former Florida signee, and Tyrell Ward.