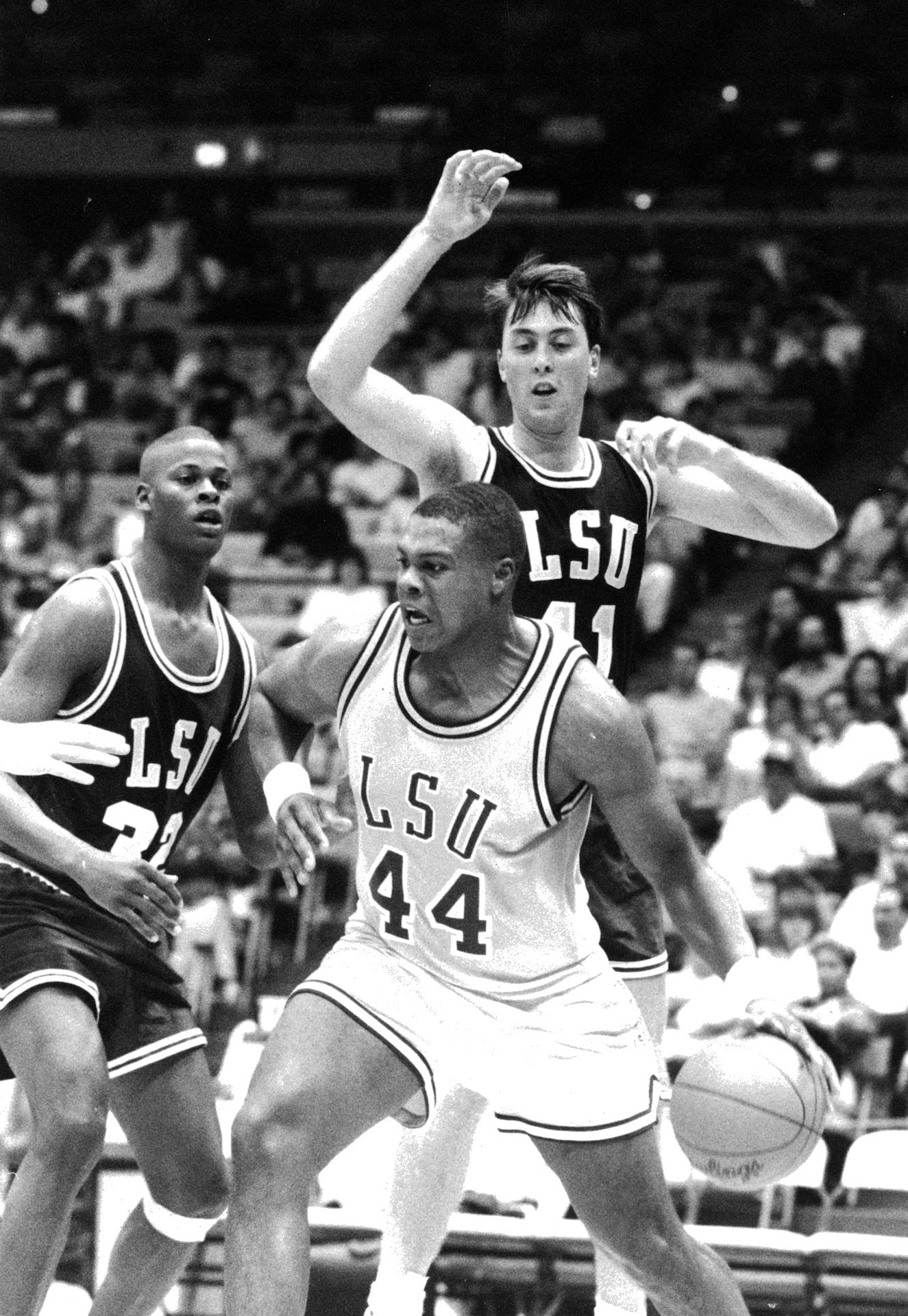 Forever In Our Hearts. pic.twitter.com/yzRJ29BmRi

— LSU Basketball (@LSUBasketball) April 12, 2023
Former LSU basketball player Wayne Sims, who played for the Tigers from 1987-1991, passed away on Wednesday at the age of 54.
Sims played for Coach Dale Brown and played alongside such players as Mahmoud Abdul-Rauf, Vernel Singleton and Shaquille O'Neal as the Tigers appeared in the NCAA Tournament every year Sims played for LSU and won the Southeastern Conference championship in 1991, his senior season.
Wayne's son Wayde, also played for two seasons for the Tigers before being tragically killed in an off-campus incident in the early morning hours before the opening of practice for the 2018-19 season. Wayne and his wife Fay set up the Wayde Sims Foundation which since Wayde's death has raised considerable money for projects in the Baton Rouge area.
The Sims were invited to join the Tiger team on the floor at the Pete Maravich Assembly Center and join in cutting down the nets after the Tigers clinched the 2019 SEC regular season championship.
Current LSU men's basketball head coach Matt McMahon this past season posted a permanent tribute to the Sims family legacy on the balcony of the LSU men's practice facility.
Wayne Sims played in 117 games over four seasons with 74 starts and is one of 21 players at LSU to post 1,000 career points (1,107) and 500 rebounds (603). His best season was his sophomore season of 1988-89 when he started all 32 games and averaged 13.3 points and 7.6 rebounds.
His career high in points of 25 came against Vanderbilt in February 1988 and his high of 14 rebounds came against Ole Miss in March 1989.
Sims' four NCAA Tournament appearances makes him one of just nine players in LSU history to appear in four NCAA events.
Sims, who carried the nickname "Big Daddy," also played in one of the great games LSU had in the then Louisiana Superdome on Jan. 28, 1989, when 54,321, the largest actual crowd at that time to see a regular season basketball game, saw the underdog Tigers upset No. 2 Georgetown, 82-80. Sims scored 24 points in that victory.
Sims hailed from Deridder where he was a two-time All-State selection at Deridder, averaging 21.9 points and nine rebounds as a senior. He was ranked No. 24 among the nation's Top 100 seniors by Cage Scope in 1986.
Funeral arraignments are pending.
—
Quotes from members of the LSU Basketball Family –
Former LSU men's basketball coach Dale Brown —
"Wayne was always yes sir, no sir. He had a good sense of humor. He brought the best out in players, and everyone liked him. He was a team player. Didn't get the credit maybe he deserved for the great run they had, but he was a wonderful person … He was never a flashy guy that needed stardom, but he was the base to our team. He loved and embraced everybody. I think the biggest thing about him, we had a shy 6'9′ kid from North Dakota, Richard Krajewski, stayed with us all four years and graduated. Wayne and him became inseparable, Wayne made him feel at home. Nothing was flashy, but Wayne was very solid. To give you an idea of how loved he was, one of the very first calls I got today was from Shaq. He was all broken up because he loved Wayne so much. I don't know anybody that didn't love Wayne Sims. Walk-ons and some of the best stars have all called me. He was loved by everybody."
Former teammate Ricky Blanton –
"I was very sad to hear of the passing of my good friend, Wayne Sims. He was a great teammate and even better person. If you knew Wayne, you could not help but be embraced by his extreme kindness. He will be missed by everyone who knew him."
Current LSU men's basketball coach Matt McMahon –
"The entire LSU Basketball family is heartbroken at the loss of Wayne Sims. Wayne was a true Tiger whose life and legacy made a lasting impact on our program and our community. All our thoughts, prayers, and support go toward his wife, Fay, and their family and friends at this difficult time."
Former LSU men's basketball coach, current Texas Southern coach Johnny Jones (Wayne Sims' cousin, assistant coach when Wayne played and coach of Wayde Sims during his first year at LSU) –
"Wayne had a heart of gold and never met a stranger. His ability to comfort others at the toughest times, that radiant smile and hearty laughter will all be certainly missed. As a relative, I will always cherish and remember our times together."
Former LSU men's basketball coach, current McNeese coach Will Wade (coach of Wayde Sims at LSU) –
"It's always hard to lose a member of the LSU Basketball family, but losing Wayne is especially difficult. Wayne was a man of few words but incredibly strong faith. He and Fay worked tirelessly to keep Wayde's memory alive. Personally, I'll never forget Wayne and Fay saying that God will find a way to save lives through Wayde's death. I have no doubt the same will happen through Wayde and Wayne now. My family and I are keeping Fay and his family in our prayers."