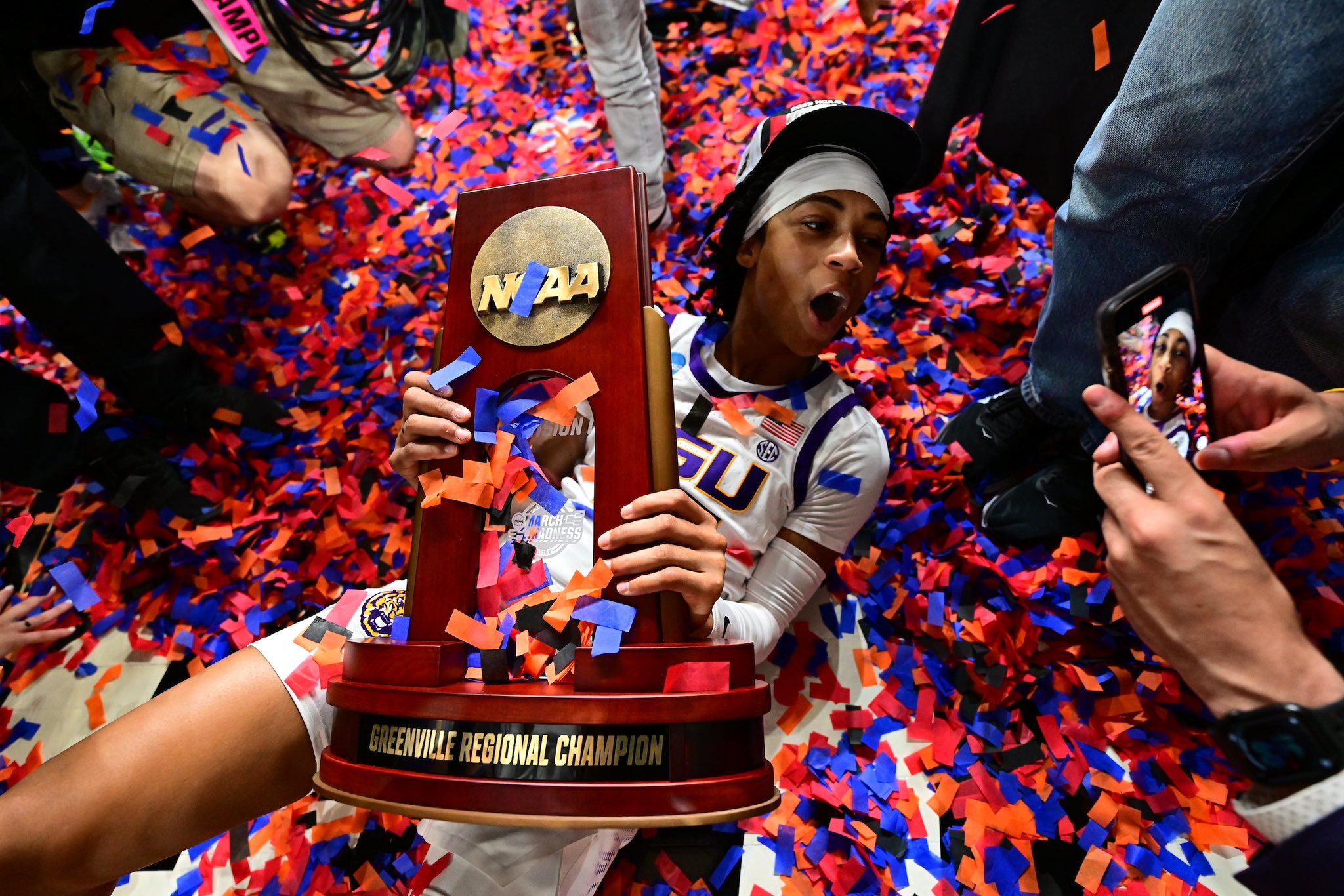 With its first trip to the Women's Final Four in 15 years on the line, LSU's defensive effort was at its stifling best.
The Tigers also regained the offensive swagger of their senior point guard when it needed it most.
Third-seeded LSU administered a methodical 54-42 victory Sunday over ninth-seeded Miami, claiming the Greenville Regional 2 championship at Bon Secours Wellness Arena in Greenville, South Carolina.
The Tigers (32-2) advance to Friday's Final Four at Dallas' American Airlines Center at 6 p.m. against either No. 1 Virginia Tech or No. 3 Ohio State which play in Monday's regional championship.
"But what really makes me smile is not cutting that net down, it's looking around out there at all those LSU people, looking at that team I get to coach experience it for the first time," LSU second-year coach Kim Mulkey said. "This is the first time any of them have ever been to a Final Four, unless Lex went during her journey. I can't remember, but none of the others have been. That's what it means to me is to do things that you're not supposed to do as quickly as you're supposed to do them."
It's the sixth trip overall trip for LSU's program which appeared in five consecutive Final Fours, the last being in 2008.
With LSU struggling from the field, shooting just 30.6% (19 of 62) and finishing with a season-low point total, the Tigers turned up the defensive heat and limited Miami (22-13) to 30.3% (17 of 56) shooting. The Hurricanes missed all 15 of their 3-point attempts and were outrebounded by the Tigers, 49-34.
LSU also compensated with 15 second-chance points and 18 points off of turnovers.
Fifth-year senior guard Alexis Morris, who averaged 10.6 points in three NCAA games, helped to keep her team afloat during a first-half offensive malaise. She scored 10 of her 21 points in the first half and added four steals and was the named the region's Mos Outstanding Player.
First team All-American Angel Reese battled through a 3 of 15 shooting night to register her SEC record 32nd double-double with 13 points and 18 rebounds. She also dished out four assists.
"I just think we needed to just relax and calm down and just let the game come to us," Morris said. "We wanted to win so bad. We've dreamed about cutting the nets and I think at first we were just anxious, everybody just wanted to win.
"I mean we didn't shoot the ball well," Morris added. "We haven't been shooting the ball well in our last two games, but only thing we can control is our defense and our effort. And that's what we did tonight and we let that dictate our game."
Miami, which upset three higher-seeded teams to reach its first Elite 8, was led by a game-high 22 points from Jasyme Roberts. No other player had more than four points for the Hurricanes, who finished with their second-fewest points in a game this season.
"That's how gritty they are and that's how gritty we are," Miami coach Katie Meier said. ""And I'm so impressed with the job that Kim has done in two years there, revamping this roster and having these amazing players."
LSU opened a 43-27 lead with 7:17 remaining on Kateri Poole's corner 3-pointer – the only trifecta of the game for either team – before Miami climbed back into contention during a five-minute scoring drought by the Tigers.
La'Shae Dwyer was part of her team's best run of the game with a pair of driving layups to fuel a 8-0 run, drawing the Hurricanes to 43-35 with 4:24 remaining. She then injured her ankle with 4:02 showing going for a loose ball on the defensive end against Reese, forcing her from the game and to the locker room.
LSU regained control with Morris scoring on a drive and with 1.2 seconds left on the shot clock, Poole lobbed an inbound pass that Reese scored on in the lane for a 47-35 lead with 2:11 to go. With Miami applying full-court pressure, the Tigers beat it with a court-length pass to LaDazhia Williams for a layup and 49-36 lead.
Morris then scored her team's last five points over the last 1:16, helping the Tigers secure the victory and begin packing their bags for the Final Four.
"I've got to credit LSU's defense," Meier said. "I know we were exhausted because we were pouring our heart and soul into the defensive end and the rebounding effort. So, on the offensive end, unfortunately you get a little bit of like, 'Oh, my God, I can rest a little', and I think that got us a little bit. And that's all the credit to LSU for being so hard to guard inside and for taking our legs out so much."
A layup from Reese in the first minute of the third quarter represented her first field goal in 10 attempts for a 28-22 lead.
The Tigers built their first double-digit lead, taking a 34-23 advantage on Morris' 15-footer at the 4:36 mark, and maintained such a margin over the remainder of the quarter when Morris' free throw made it 38-27.
With Reese struggling from the field, missing all nine of her attempts, and Williams on the bench with foul trouble, LSU received an added bonus from Sa'Myah Smith with six points in the last 3 ½ minutes of the second quarter for a 26-20 halftime lead.
The game was tied five times through the first 14 minutes when LSU went on an 8-0 run, sparked by six points from Smith and Morris' fastbreak layup off a feed from Reese, for their biggest lead of the first half at 26-18 with 1:17 to go before halftime.
Roberts single-handedly kept Miami, which shot 35.7% (10 of 26) in the game with 16 of her team's 20 points in the first half.
LSU rallied from a four-point deficit in the first quarter when Reese and Last-Tear Poa combined to make 4 of 6 foul shots over the last 2:05 to make it 10-8 going into the second quarter.
"At halftime, we all just talked to each other and just said we've got to believe," Morris said. "Keep believing, keep fighting. We felt like we were destined to be where we are today. It was all about our energy and coming together and being on one accord.