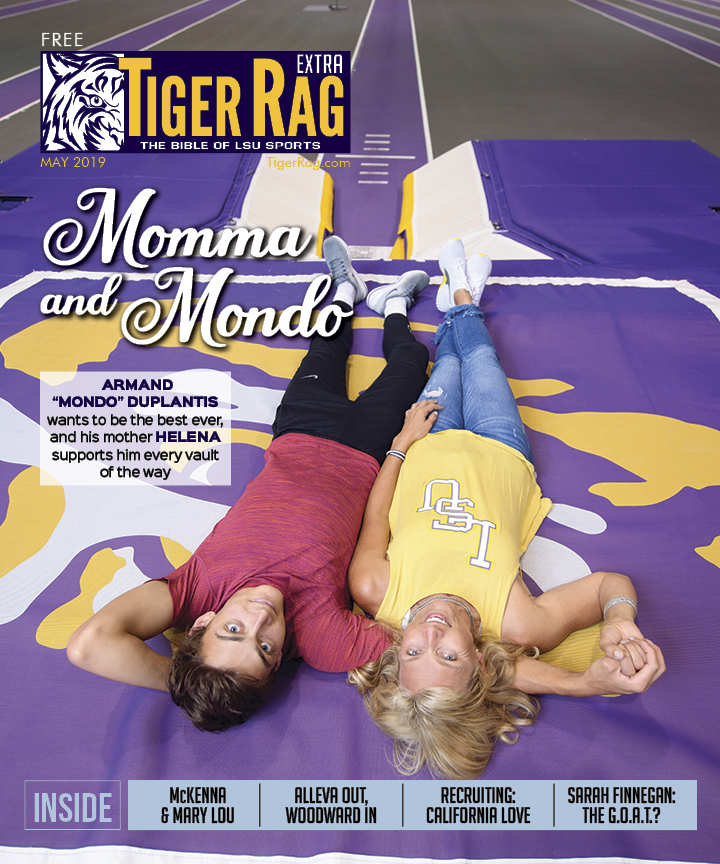 Editor's Note: This is the cover story from our 2019 Mother's Day Issue, which is available on newsstands around Baton Rouge now. Click here to order your own copy online or find a newsstand location near you.  
On a campus housing some of the best athletes in the country with a top-tier football program, a basketball team that just reached the Sweet 16 and a one of the most storied baseball programs in the country, arguably LSU's best and most world-renowned athlete competes in a sport most people have little understanding of.
LSU pole vaulter Armand "Mondo" Duplantis has spent his teen years climbing the international ranks and becoming a world-renowned athlete before even stepping foot on LSU's campus.
Yet when asked if he ever considered taking an insurance policy out on himself the way other NCAA athletes in other, more-popular sports have begun doing, he looks confused.
"They probably wouldn't even know how to calculate the risk," Mondo says after pondering it for a few seconds. "It's such an obscure sport."
His vault of 6.05 meters (19 feet, 10.2 inches) during the 2018 European Championships sent shockwaves around the international track and field committee as it broke the Under-20 world record, the Swedish national record and the United States record (despite a bit of controversy considering he was wearing a Swedish uniform at a European event).
His success has continued into his collegiate career. In February he broke the NCAA indoor record with 5.92 meters (19'5") at the SEC Championship Meet en route to his first collegiate national title, and after interviews for this story were conducted, he broke LSU's record with a vault of 5.94 meters (19'5.75"), the second-highest vault in NCAA history.
So how does a kid from Lafayette, La., become one of the best pole vaulters in the world? Why does he compete for Sweden? And why did he choose to come to LSU when the door to go pro was wide open?
A lot of factors could serve as an adequate answer to one or all of these questions, but perhaps the most influential factor in all of these decisions: his mother, personal trainer and coach Helena Duplantis.
THE PATH THAT LED MONDO TO LSU began being paved long before he became a world-renowned athlete. In reality, it began before he was even born.
Helena arrived in Baton Rouge in 1986 when she enrolled at LSU with a scholarship to compete on the track and field team as a heptathlete as well as join the volleyball team.
"It was actually kind of a fluke," she says. "A lot of my friends in Sweden had gone and tried track in the United States. They gave me a list of like seven universities and I just wrote to those universities. The only ones I actually had contact with were (Alabama) and LSU."
And she chose LSU over the Crimson Tide for a pretty simple reason.
"Because they gave me more scholarship money," she laughs. "It's expensive."
While in Baton Rouge, she met former All-American LSU pole vaulter Greg Duplantis, whom she married in 1987.
Together, the duo created a local athletic power couple who went on to create a family of great athletes, starting with their oldest son Andreas "Dre" Duplantis.
Dre was the first to follow in Greg's footsteps, vaulting for LSU from 2012-15, during which time he established himself as a Top 10 pole vaulter in school history with a personal best of 5.42 meters (17'9.25"). Dre also competed for Sweden, opening the door for Mondo to do the same years later.
Next came Antoine "Twanny" Duplantis, who currently plays right field for LSU's baseball team.
One of the more consistent hitters in LSU history with a chance of breaking the program's career hits record, Twanny turned down an offer to join the Cleveland Indians organization after getting drafted in the 19th round of the 2018 MLB Draft.
This has allowed Mondo and Twanny to get an extra year together living in the same city, an experience Mondo says has been invaluable.
"I'm very grateful to catch one more year with "Twanny" because I think it would have been a little more tough if I wouldn't have had him," Mondo says. "Me and Twanny have always been very close. To live in the same city as him for maybe one last year for a while is really nice. I try to cherish every moment of it because we know we might not be together much all that often anymore after this. I'm just enjoying the moment."
Mondo also has a younger sister, Johanna "Yo" Duplantis, who became a state champion in her own right with a vault of 3.65 meters (11' 11.75") at the LHSAA State Indoor Track and Field Meet.
Helena and Greg Duplantis have done virtually everything in their power to set their children up for athletic success, from providing technical coaching (usually from Greg) to personal training (Helena's forte).
After struggling to find a consistent place to practice and coach pole vaulting in Lafayette, the pair jumped on an opportunity to put a runway and pole vault pit in their own backyard, giving the kids an opportunity to practice whenever they wanted, provided the weather allowed it.
"Somebody actually donated the pit to us," Helena says. "We made a handmade runway, and it wasn't the best condition as far as the pit was concerned, but it was so hard to find time and any place to practice."
Helena called the pit "the perfect gift that turned into a necessity," due to a lack of consistent options for practice locations.
"At (Lafayette) High School, the pit wasn't out all year," she says. "It was only out for like three months because it would go into the football field, then we'd try to go on the weekend and they didn't want you there because of liability. Greg used to help out at (Louisiana-Lafayette), so he had a key. A couple times we worked out there, but then the soccer coach got all mad, so we got kicked out of there."
THE HOME PIT COMBINED WITH the instruction from both of his parents provided Mondo with the perfect conditions to hone his craft and ultimately become one of the greatest pole vaulters in the world before reaching his 20's.
The athletic success of Dre and Twanny gave Mondo a lot to live up to, but it didn't take long before he began establishing himself as a uniquely gifted vaulter.
During his freshman season he broke the LHSAA Indoor Meet record with a vault of 16' 9.5 inches, beating the mark set by his brother as a senior by 8.5 inches. And he only improved from there.
The summer following his freshman year, he made his Swedish National Team debut, representing his mother's native nation in the 2015 World Youth Championship in Athletics.
Helena says the decision was a difficult one for Mondo, who seriously considered attempting to compete for the United States until Sweden offered to bring Greg on as the team's pole vault coach, allowing him to be with Mondo throughout the competition.
"It felt right, it was a good opportunity, and I know my parents wanted me to do it, also," Mondo says. "I usually go by what my parents say for the most part because I trust their judgment and I trust that they will bring me along the right path to success."
While he spent most of his time growing up in the United States, Mondo and his siblings are no strangers to Sweden. The family would often take lengthy trips to Helena's home nation to visit family, something Mondo says played into his decision to compete as a Swede.
"My mom plays as much as anybody into that decision because it's the motherland," Mondo says. "Every summer we'd go up there and I would hang out with my mother's side: my grandparents, my cousins, my aunts and uncles. It was always just a second home for me. I just always had two homes where I would either be in Sweden or I'd be here in Louisiana."
He says a lot of people ask him why he doesn't compete for the United States, a dream for plenty of athletes who aren't fortunate enough to be in his position.
A primary benefit of competing for Sweden is that he doesn't have to go through the grueling qualifications and Olympic trials United States athletes must endure to earn a spot on the team.
He has already qualified for the 2020 Olympics as a member of the Swedish national team, meaning he can focus on his upcoming Southeastern Conference and NCAA competitions, where he hopes to break more records, win another national championship and, most importantly, earn 10 much-needed points for an LSU squad with national championship ambitions.
"He can already plan his next year and a half, the road to Tokyo," Helena says. "Right now, NCAA is the biggest goal right now. He wants to finish off with a good outdoor meet.
"It's just a different situation. The US is so big. The whole system is different the way they have to pick the team for international meets."
But Mondo doesn't resent or shy away from questions about why he chose Sweden over the United States. In fact, he embraces them.
"If they didn't ask me I think that it would mean I'm not worth talking about. I understand, of course, why they think I should. If there weren't people that wanted me to compete for the USA then I think it would be a problem for me because then I guess it would mean nobody cared. It's a good thing."
THROUGHOUT THE EARLY PART OF his high school career, Mondo continuously broke records at the state, national and even international levels for his respective age groups, but the regular competition that kept him busy through the summer began to take a toll on his body.
To that point he had largely let his busy sports schedule in which he played soccer and baseball dictate his strength and conditioning routine.
But after choosing to focus solely on pole vaulting he grew into his body a bit more, and Helena came into the picture in a major way.
A former heptathlete and certified personal trainer, there were fewer people more equipped to get Mondo in peak shape for the sport he's dedicated his life to becoming the best at than his own mother.
"She knew a lot about how to get somebody fit, fast and strong: everything I would need to be a good pole vaulter," Mondo says.
The impact of the new routine clearly proved beneficial as Mondo transitioned from one of the best pole vaulters in his age group to one of the best in the world as he continued to improve in ways unseen at his age.
While Helena played a vital role in convincing Mondo to compete for Sweden over the United States, she also helped pave the way for him to enroll at LSU despite a very real option to go pro straight out of high school.
The Duplantis family is an LSU household, going three generations deep on Greg's side, and as Mondo's coach, she felt LSU's facilities provided him with the best options to train for the 2020 Olympics.
"He seems to fit in perfectly, and he seems to enjoy the staff, the teammates and the whole experience," Helena says. "It's so nice to have indoor facilities and top-notch facilities. Everything is just top-notch."
A LOT OF KIDS GO TO COLLEGE with the hope of getting away from their parents for the first time. Mondo brought his mother with him as a volunteer assistant coach because he feels she can help him become the best pole vaulter in the world.
Helena makes multiple trips to Baton Rouge from Lafayette per week to work with Mondo, and sometimes pulls double duty seeing Twanny play at Alex Box Stadium when she can.
"It was something where everything was working out really well, so we didn't want to change anything," Mondo says. "I didn't want to fix something that wasn't broken. I was jumping great, I was getting faster and stronger and everything was healthy. I saw no reason to change anything."
Helena loves being back at LSU with frequency more than 30 years after competing as a Tiger herself.
Though she has to admit, a lot has changed since her days on campus.
"It's a perfect situation because he's away, but he is still kind of home," Helena says. "He's on his own and independent, but then we see him and we can be a part of his continued track and field career.
"I feel right at home. It's great. It's a lot fancier than when I was here. The buildings, the study hall, the academic center; we actually didn't even have an academic center. We just had one classroom in Boyd Hall or something."
It takes a village to raise a child, and few athletes personify that more than Mondo. He credits his success to everything and everyone from the influence of his siblings, the guidance of his parents and the competition from the neighborhood friends he grew up with.
Few people reach the pinnacles of success the way Mondo has in less than 20 years of life, and even fewer get to do so with their family right beside them every step of the way.
Helena says the sense of pride any parent would feel about their child's success is greatly amplified by the fact she and Greg have played such a vital role in Mondo's training.
"Since I'm part of it, his success feels like I'm a part of it, like I did something right, too," Helena says. "It's teamwork that's actually working. It feels good accomplishing what you've worked toward."
As for Mondo, he can't imagine it any other way. He views his successes as the family success, because without them, none of his accomplishments would be possible.
"I get asked that one a lot, and I don't know how to explain it because I don't know anything different," Mondo says. "Ever since I was a young kid when I first started off pole vaulting, my parents were involved. Sports have been a big part of our lives growing up, whatever sport we were doing."