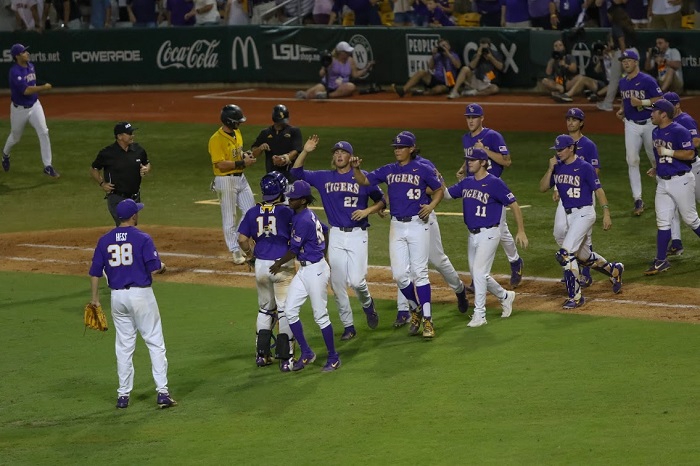 Paul Mainieri never gave up hope.
Hope that his injury-riddled pitching staff could get healthy in time for the postseason. Hope that an inconsistent team could get hot at the right time if enough of those talented arms came back into the fold. Hope that sky-high preseason expectations could be met after all.
The regular season as a whole was a slog for LSU, but here the Tigers stand on the eve of the Baton Rouge Super Regional just two wins from advancing to the College World Series. A red-hot Florida State team stands in their way, but LSU feels confident with Cole Henry and Landon Marceaux back at the head of its starting rotation and a deep bullpen ready to back them up.
"Privately I have to deal with it like any human being would deal with it," Mainieri says. "But in front of the players, you can't show them your frustration. You just can't. You have to make them believe that things are going to be ok."
That was the message Mainieri preached down the stretch as LSU and its shorthanded staff scratched and clawed on a weekly basis to stay in the conversation to host an NCAA Regional.
Returns to form from Marceaux and Eric Walker helped secure hosting duties. Henry's brilliance was pivotal in sweeping through the Baton Rouge Regional.
As the head coach, it was part of Mainieri's job to espouse that optimistic vision of the future to the group at large when times were tough. The season could've went off the rails a long time ago if he'd allowed all the injuries and rough nights to fracture his team.
Alan Dunn shared in that belief, but LSU's pitching coach couldn't afford to take such a big-picture view in the heat of the season. All he could do was keep his nose to the grindstone and prepare whatever pitchers he had available on a given day as best he possibly could.
"I have to," Dunn says. "All I can do is go out with the guys that are able to take the ball. I understand that we could be so much stronger if guys got healthier and came back, but I couldn't let that be the focus because they may or may not come back.
"We've got these guys, and it's my job to figure out how they can be successful. Who do we have, and what do they need to do to help us win baseball games? I've got a job to do to make that happen."
Painting with broad strokes, LSU's month-long run from a team on the brink of disaster to being two games away from Omaha can be summed up in the return of horses like Henry and Marceaux to a talented team that began the season at or near the top of every preseason poll.
The story of how Dunn and LSU's oft-injured staff kept things from falling apart through the long, adversity-filled season is a much more complicated tale.
It starts with an unwavering belief in the process, avoiding a certain "W" word and a group of hurlers buying in to a dump-truck mentality.
LONG BEFORE DAVE Aranda stepped foot on campus, Dunn was considered the resident guru assistant of LSU athletics.
Hired before the 2012 season, Dunn oversaw pitching staffs that helps LSU secure national seeds a record-tying six straight years, including the 2017 club that came within two games of a national championship. He was named the National Pitching Coach of the Year in 2015.
LSU's staff never pitched to an ERA north of 4.00 during any of those six seasons. LSU averaged an ERA of 3.13 during those years, including marks of 2.40, 2.60 and 2.98 in 2013, 2014 and 2015, respectively. Dunn helped mold first-round picks in Kevin Gausman, Aaron Nola and Alex Lange.
But the bloom had seemingly come off the rose these past two campaigns as LSU pitched to bloated ERAs of 4.87 and 4.66. The revelation that Walker would require Tommy John Surgery after the 2017 College World Series began an avalanche of injuries that never truly let up.
This season critics on the periphery of the program questioned if Dunn's old-school approach was to blame for both the constant bouts of "arm soreness" and LSU's overall lack of consistency on the mound.
Fortunately for LSU, Dunn doesn't read the paper, listen to sports radio or frequent the kind of message boards that openly wondered if the game had suddenly passed him by.
"What good does it do me? Whether somebody is praising us or killing us, that's not going to help me either way," Dunn says. "I'm not naïve to what's been said and where we've been, but it's still about those guys. When you grind through the mountaintop, it's about that unit. That's what we stress every day. It doesn't matter if you lose 14-0 or you win 2-1, you've got to stay the course."
LSU conducted a self-assessment of their own practices when the arm injuries hit a fever pitcher toward the middle of the season. Dunn has worked closely with LSU trainer Cory Couture to individualize throwing programs more tailored to the needs of specific arms.
Critical self-assessment has always been part of the process, but doubt couldn't be.
Everything that could be done to combat the arm injuries has been done, in LSU's estimation. But what's happened the past two seasons is actually emblematic of a more widespread issue plaguing the game at every level.
"We're not the only ones dealing with injuries," Dunn says. "Turn on the TV and you can see every Big League team in America going through the same thing. It just happens. College it's a little more devastating because you can't just call down and get a new guy. You've got to get these guys to do it. That changes, but the philosophy doesn't."
Indeed, there's no minor league system, free agency pool or trade mechanism to turn to for reinforcements when injuries hit a staff. Being deep on the mound is never a permanent state.
There's no recourse except to go forward and make the best of what you've got. At times this season that's meant going into a hostile SEC environment knowing full well that the starting rotation could produce at most one start beyond the fifth inning.
Of course this concerned Dunn in private moments, but he couldn't let his guys see that. So he went about his business exactly the same way and demanded the same things he would have had Henry, Marceaux, Jaden Hill, Nick Storz and the rest of them all been available to pitch in.
"The big thing with him is he's not an excuse makes and he doesn't allow his guys to be excuse makers either," Zack Hess says. "So when we've had these injuries, it's been the next-man-up mentality. We've had to find a way to make it work. One guy goes down, somebody is going to have to step up and fill that role. He's great at that. He inspires a lot of confidence in his guys."
In Dunn's mind, the only thing to do was stick to what he's always done. Assess and adjust as necessary, of course, but in terms of the things he preaches and the accountability he demands from his staff, his dedication to the process was unwavering.
Whether LSU had its big guys available or not, his approach stayed the same. Map out how to get 27 outs in a given game — some days that required more creativity than others — and wore tirelessly to make whoever was getting the ball that day believe that they were good enough to do it.
Sometimes that means diving into the film to show a pitcher what it looked like when things were going well. Sometimes it means bringing a player out to right field for a heart-to-heart over a game of catch.
Either way, he tends to circle back to the same point: if you weren't good enough to pitch at LSU, you wouldn't be here.
"There's a lot of people who can teach mechanics," says former Tiger Alden Cartwright. "I think his biggest asset is the way he coaches the mindset of pitching because pitching is way more mental than it is mechanics. If you're good enough to get to LSU, you have good enough mechanics, but the mental part of pitching in the SEC is brutal. Pitching in general is a lot of ups and downs, and he stays there with us and keeps us focused."
"He's as good as it gets," adds Jared Poche'. "The best pitching coach I've ever had. When things are hitting the fan, he'll come visit. He's never going to come up there and tell you how bad you are or how bad you're doing. He's just got a way about him that gets the most out of his pitchers."
It's been that way since Dunn left minor league baseball and joined Mainieri's staff heading in 2012. Dunn has always been a big believer in using catchphrases and motivational sayings to get his point across.
One of his favorites this season, especially when things looked bleak: don't jump ship.
"He just stays the course," Mainieri says. "AD is a very principled guy, probably the most principled person I've ever met in my life. He believes in certain things and he just stays the course, and he knows that eventually it's going to turn right. I think he's right. I think he's great. We all believe in AD and his methods, and I think the proof is in the pudding."
IT'S A LONEY feeling.
Standing on the mound at Alex Box Stadium in a late-inning situation, you're handed the ball and instructed to safeguard a five-run lead. All you've got to do is throw strikes and let the defense work, but the wheels are spinning after you issue a four-pitch walk to open the inning.
Here comes Dunn making that long walk from the dugout to the bump. He moves a lot quicker since getting both of his knees replaced, and it's not a painful stroll anymore, but the look on his face has never changed.
It's at that exact moment whatever poor soul who just had a lapse in concentration is about to catch an earful.
"He's very supportive, especially about things that are out of our control. Injuries, pitches that just get hit," Cartwright says. "But if you're walking people, he gets very upset because command is a controllable thing. This is one of his big sayings: 'I don't care if you throw 82 or 102. If you don't throw across the 17-inch white thing, you will not pitch for me.'"
"He doesn't like walks," Walker adds. "At the beginning of the season I think we had a big problem with that."
Early-season command problems aren't an issue unique to LSU by any stretch, but the free passes were piling up at an alarming rate through the first month of the season. As a result, LSU entered Southeastern Conference play sporting the worst ERA in the league.
Dunn is a big believer in addressing such issues head on, so LSU held not one, but two intense pitcher meetings in the early going. Players were called out by name in what teammates described as a "Come to Jesus" gathering for the whole staff.
When it comes to something as mental as pitching, sometimes hammering away on what not to do can only make things worse. Instead of attacking hitters, some of the pitchers simply tried to not walk people.
The distinction may seem subtle, but the difference in results was cavernous. Some pitchers were just aiming the ball down the middle instead of cutting it loose, according to Dunn, which isn't any better.
So he had an idea: institute a staff-wide moratorium on the word "walks." Reframe the conversation into something more positive instead of continuing to harp on the negative, as personally frustrating as the free passes were.
"There's a fine line between pitching to not walk guys and pitching to get guys out," Dunn says. "It becomes something where you're trying to not do something instead of doing something. It's about mindset.
"I'd like to say we didn't walk anybody after that. Of course that's not that case, but our mindset after that has gotten more along the lines of what I want to see as a coach."
LSU finished the season averaging about 4.0 walks per game, which is still higher than Dunn would like, but the staff has issued 3.5 walks per game since the start of the Auburn series, a marked improvement.
The Tigers issued 11 walks during the Baton Rouge Regional, but a chunk of those came in two disastrous innings against Southern Miss. LSU has largely cut down on the free passes as the seasons gone on and the "W" word has been absent from their vocabulary.
"I think the stats kind of speak for themselves," Walker says.
THE TEAM MEETING room inside Alex Box Stadium isn't meant to be subtle. The letters O-M-A-H-A are front and center above the podium, and the other walls are adorned with the program's various accomplishments.
There's one bulletin board specifically reserved for Dunn and his pitchers. There's always at least two pieces of paper posted: a statistical print out on every pitcher's success in stranding inherited runners and a dump truck with Dunn photo shopped in the driver's seat and everyone else in the back.
The second one may seem a bit funny, but together these two bits of signage represent the core of Dunn's philosophy for running a staff.
"The whole year we preach ITT, In the Truck," Walker explains. "He's driving the truck and we've all got to pick each other up. There will be injuries and struggles, but that's what a pitching staff does. When one guy is struggling, another one picks him up."
In professional baseball, pitchers tend to be loaners. They're independent contractors, as Dunn explains it, and while there may be friendships within the group, it isn't always a cohesive unit.
In Dunn's mind, that can't be the case at LSU. The staff meets as a whole for the first time in August, and he begins preaching unity from that meeting on.
Cartwright recalls one August meeting when Dunn read from a book explaining why geese fly in a V formation: If one gets tired it would fall back and catch the drift from the other ones while another would move up and take the lead.
The exact origins of the "wheel barrel" and "dump truck" mentalities that Dunn preaches are best left unexplained, but it dates back to a top-10 road series that LSU won during the 2013 season.
Both catchphrases emphasize pitchers picking each other up, and that mindset is critical to understanding how LSU weathered a storm of injuries and inconsistency this season. LSU wouldn't have had much of a season left when Henry and Marceaux returned had guys not stepped up along the way.
"We start laying the foundation that first time we're all together," Dunn says. "The philosophy is laid, and then it's about building that philosophy, building that plan. There will be ebbs and flows through the course of the season, and you just can't jump ship. You can't! It's too hard! You grind through the tough times, and listen, I don't know how this thing is going to go, but we've got some of our guys back and we feel really comfortable."
But it can't be Dunn alone working to foster that group dynamic. Players don't spend enough time at the field under his supervision for it to truly take hold. That responsibility falls to the players, and veterans in every group have taken their dual role seriously.
For years the entire staff would have dinner at Mr. Gatti's Pizza on Essen the night before any home series. And when LSU played on the road, the entire staff would order Poppa John's pizza and meet up in someone's hotel room to chow down.
"We were closer than the position players were," Cartwright says. "There were pockets of them that were really close, but as a whole, say we had 18 pitchers; we'd have at least 90 percent attendance at every staff dinner. We packed Gatti's every Thursday night during the season."
The current staff hasn't been to Gatti's since the early part of the season, which is sure to disappoint some of the notable alums, but they spend just as much time together. Clay Moffitt typically plays host to staff bonding nights, according to current pitchers.
"Sometimes we even hang out as an entire team," Walker says. "That's something this team has done well, stay close throughout our ups and downs."
It doesn't matter if the group comes together over pizza, video games or ping pong, the bond is what matters. That's what helped LSU stay together through the dark times until it got healthy for a postseason run.