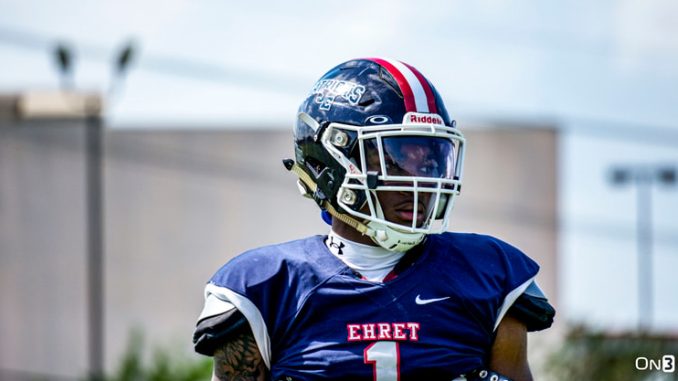 It's expected to an LSU-Texas battle for the Tigers to be able to keep prized four-star cornerback Wardell Mack of John Ehret High within his state's boundaries.
The 6-foot-1, 180-pound Mack, a consensus top five pick in Louisiana in the Class of 2024, revealed LSU and Texas were among his top four schools along with Florida and Florida State.
Recruiting analysts at two of the biggest online sites – 247Sports and On3Sports – were divided on the eventual destination of Mack with each giving a nod for the Tigers and Longhorns.
Mack, who made official visits last month to Florida State, Florida and Texas last month, has not disclosed a commitment date. He is expected to make an official visit to LSU in December. He attended the school's spring game in April.
"They're always gonna come after me whenever I step out of state lines," Mack said of LSU to On3 earlier this year. "Their approach is that the best in Louisiana stay in Louisiana, and they've been emphasizing that this is where it's at."
LSU currently has seven of its 18 commitments from its state's top 10 rated players, according to 247. The Tigers' class is rated No. 10 per 247 and Rivals.com and No. 12 by On3.
The Tigers, led by defensive backs coach Kerry Cooks and defensive coordinator Matt House, would like to add Mack to that list. On3 and Rivals both have him rated the state's No. 2 player.
On3 ranks Mack the nation's No. 19 overall player and nation's No. 3 corner, while Rivals rates him No. 74 overall and No. 6 at his position.
Mack, the teammate of LSU defensive line commitment Khayree Lee, showed his versatility during his junior season, playing both quarterback and wide receiver on offense and corner on defense. Ehret (5-6) captured the District 8-5A title and lost 31-24 to Archbishop Rummel in the opening round of the Division I select state playoffs.
"They've been here since the beginning of my recruitment and always made me feel at home whenever I stepped foot on campus," Mack said of LSU. "Coach BK (Brian Kelly) has made it clear that I'd be a great piece to the Tiger defense and that he sees in the future that I could potentially wear No. 7 because of how much of a dynamic player he believes I am after watching my film."