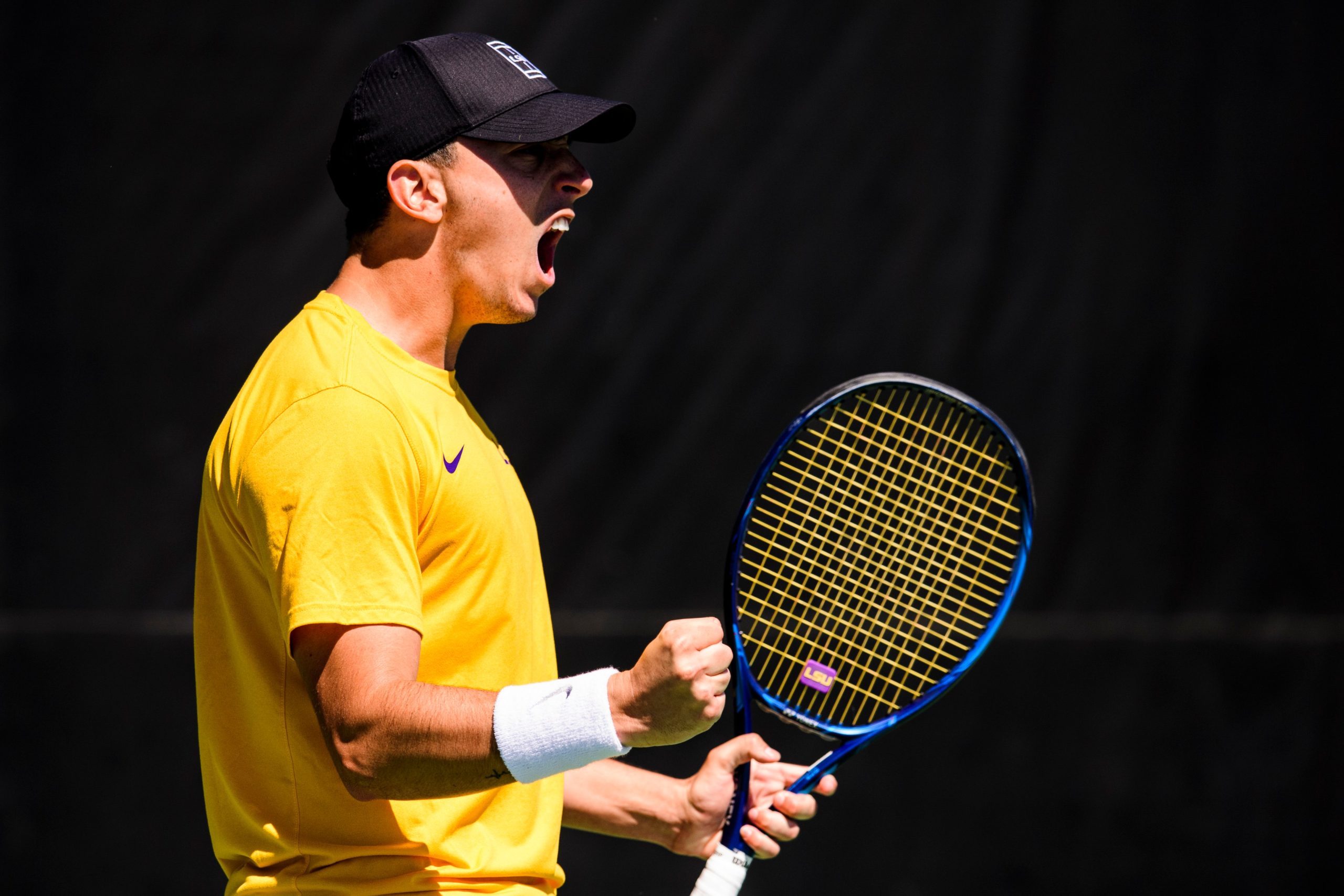 TUSCALOOSA, Ala.—The LSU men's tennis team (11-5 overall, 3-3 SEC) pushed their winning streak to four after defeating Alabama, 4-3, Sunday afternoon at the Alabama Tennis Stadium.
Singles
LSU needed four wins in singles play and that's exactly what the Tigers were able to accomplish.
The Tigers, trailing 2-0, recaptured a 3-2 lead after a win from Kent Hunter 7-6 (2), 6-1 on court three. Vlad Lobak was a winner on court two with a 6-1, 6-3 victory and Boris Kozlov also captured a straight-sets match 6-3, 6-0 for the Tigers.
The match boiled down to the result on court 4 where Gabriel Diaz Freire, an Alabama transfer, captured a marathon three-set match. He won 7-5, 4-6 and 7-5 to help his team clinch the match. The teams did not play out the match, but Joao Graca and Juan Martin of Alabama were at 2-6, 6-3, 5-4 upon completion.
Doubles
Gabriel Diaz Freire and Kent Hunter gave LSU its lone win in doubles 6-2 on court two.
Next Up
LSU returns home for a matchup with Tulsa on Thursday, March 24 at 3:00 p.m. at the LSU Tennis Complex.
#44 LSU 4, Alabama 2
Singles
Filip Planinsek (M_UA) def. #50 Ronald Hohmann (LSU) 6-3, 6-4
Vlad Lobak (LSU) def. Enzo Aguiard (M_UA) 6-1, 6-3
Kent Hunter (LSU) def. German Samofalov (M_UA) 7-6 (7-2), 6-1
Gabriel Diaz Freire (LSU) def. Patrick Kaukovalta (M_UA) 7-5, 4-6, 7-5
Juan Martin (M_UA) vs. Joao Graca (LSU) 2-6, 6-3, 5-4, unfinished
Boris Kozlov (LSU) def. Joao Ferreira (M_UA) 6-3, 6-0
Doubles
#28 German Samofalov/Filip Planinsek (M_UA) def. Ronald Hohmann/Vlad Lobak (LSU) 6-4
Gabriel Diaz Freire/Kent Hunter (LSU) def. Enzo Aguiard/Joao Ferreira (M_UA) 6-2
Patrick Kaukovalta/Juan Martin (M_UA) def. Boris Kozlov/Nick Watson (LSU) 7-5