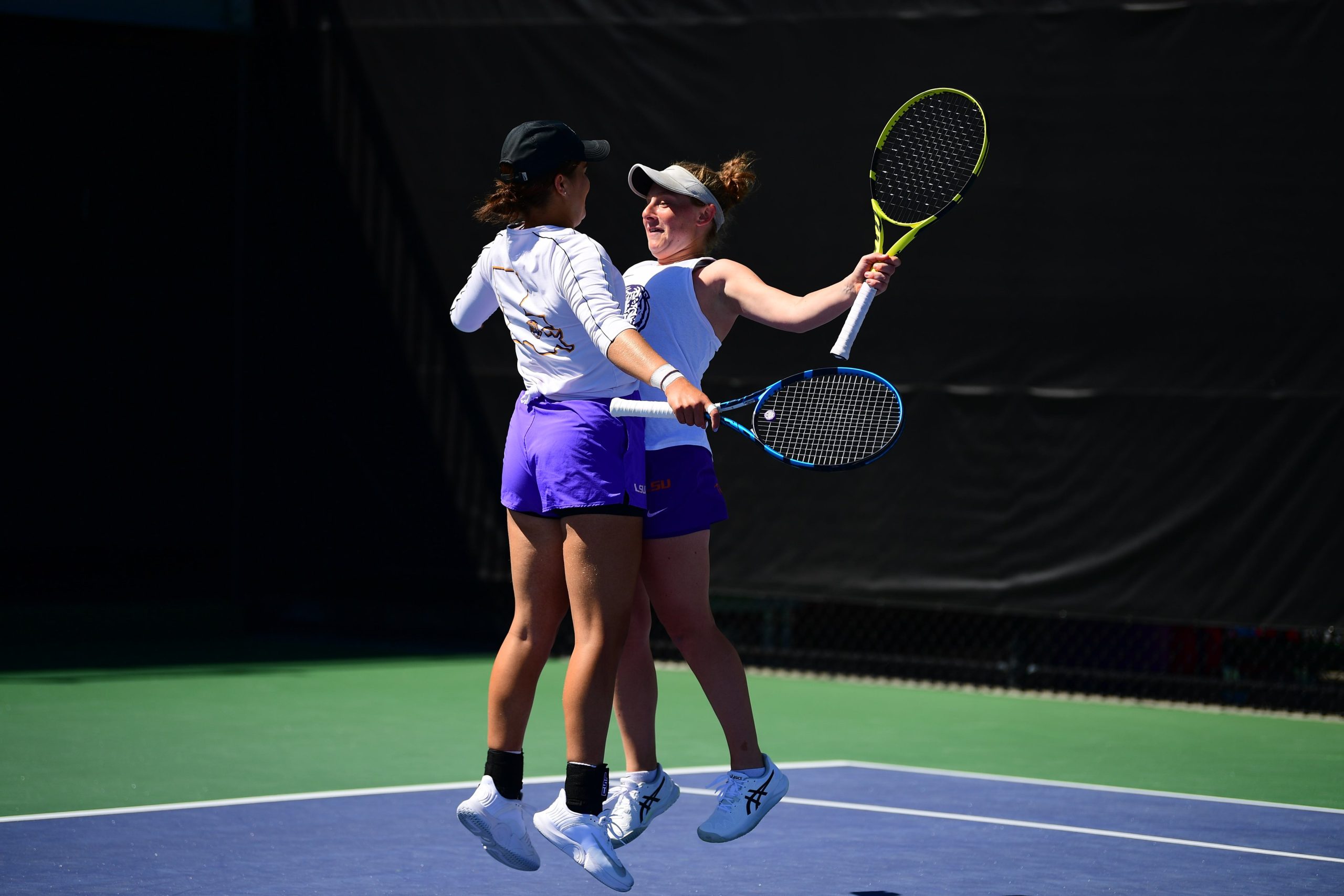 The LSU women's tennis team (4-7, 3-3 SEC) rallied to come from behind and defeat the Vanderbilt Commodores (9-6, 1-5 SEC) by a score of 4-3 on Sunday at the LSU Tennis Complex.
Selling Points
"Another match with tremendous effort and resilience," LSU women's co-head coach Michael Sell said. "We felt very confident with the match coming down to Safiya (Carrington) and Ena (Babic). They showed their upperclassmen leadership with their comeback wins to help grab the team win."
"Being down multiple and consecutive match points in both singles and doubles shows how much determination and belief this team has in each other. We're happy Mia (Rabinowitz) played as great as she did in singles to earn the win because her work she's put in every day deserves it. We'll enjoy this victory and take the momentum into our practice week."
Doubles
LSU's Taylor Bridges and Safiya Carrington brought the Tigers back into contention after edging Marcella Cruz and Anessa Lee on the No. 2 by a score of 6-4.
LSU took the doubles point after a narrow win from Nina Geissler and Mia Rabinowitz at the No. 3 over Holly Staff and Amy Stevens. Both duos traded games back and forth until it sat 5-4 in favor of the Commodore duo. The Tiger tandem came up big for their team as they won three straight games to win 7-5 and give LSU a crucial doubles point.
Singles
LSU took a 2-1 lead on when Mia Rabinowitz claimed her fifth singles win of the season with a straight sets win at the No. 5 spot with a 6-4, 6-2 victory.
After LSU's Rania Azziz dropped matches on the Nos. 6 and 4 courts, including 6-1 in the final set, Safiya Carrington completed a come-from-behind victory at the No. 1 spot over No. 46 Ross to tie the match at 3-3.
Carrington equalized with a 7-5 win in the second set and battled back against consecutive match points for a 7-5 win in the third set, her 10th win of the season and third against a ranked foe.
Babic, playing on the No. 3 court, dropped the opening set 6-1 before rallying 7-6 (4) and 6-3 in her next two sets, her ninth win of the season and first in SEC play.
Up Next
The Tigers hit the road to take on the No. 15 Georgia Bulldogs at 4 p.m. CT on Friday, March 25th.
LSU 4, #44 Vanderbilt 3
Singles
Safiya Carrington (LSU) def. #46 Anna Ross (VANDY) 4-6, 7-5, 7-5
#64 Anessa Lee (VANDY) def. Nina Geissler (LSU) 6-0, 6-1
#89 Ena Babic (LSU) def. Yufei Long (VANDY) 1-6, 7-6 (7-4), 6-3
Marcella Cruz (VANDY) def. Taylor Bridges (LSU) 6-4, 6-4
Mia Rabinowitz (LSU) def. Amy Stevens (VANDY) 6-4, 6-2
Dasha Kourkina (VANDY) def. Rania Azziz (LSU) 6-3, 0-6, 6-1
Doubles
#78 Yufei Long/Anna Ross (VANDY) def. Ena Babic/Maggie Cubitt (LSU) 6-1
Taylor Bridges/Safiya Carrington (LSU) def. Marcella Cruz/Anessa Lee (VANDY) 6-4
Nina Geissler/Mia Rabinowitz (LSU) def. Holly Staff/Amy Stevens (VANDY) 7-5