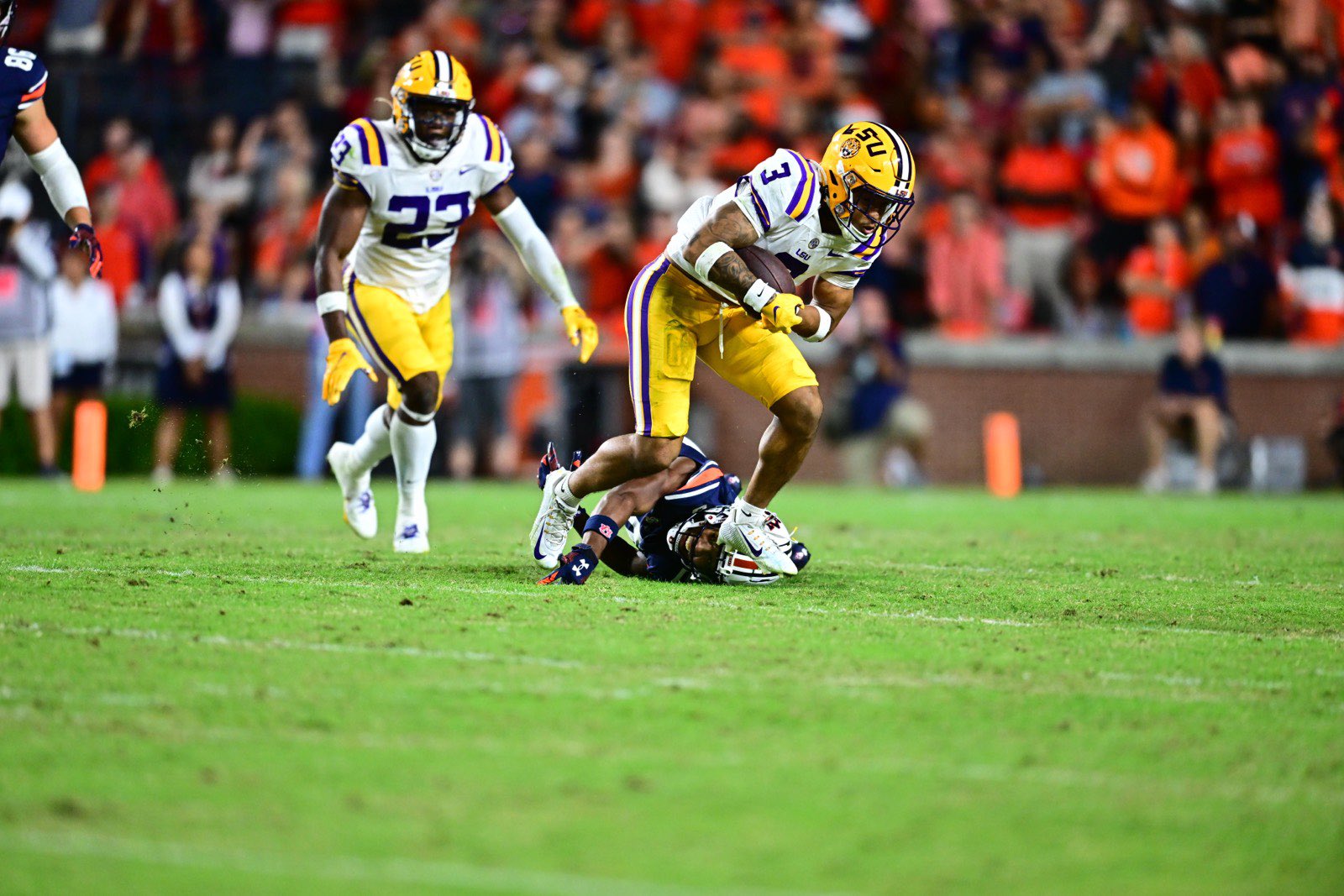 LSU defensive back Greg Brooks Jr. gave his best impersonation of former All-American Tyrann Mathieu that helped his team prevail under trying circumstances.
Brooks perfectly timed his break on a pass from Auburn quarterback Robby Ashford to wide receiver Koy Moore. Brooks was credited with an interception with 2:18 remaining, the fourth turnover produced by his team, and LSU ran out the remainder of the time to preserve a come-from-behind 21-17 victory Saturday at Jordan-Hare Stadium.
"It was an exciting win for our guys," LSU football coach Brian Kelly said. "Certainly, after coming back from a 17-0 deficit on the road, is not where you want to be, but we found a way. It's been the DNA of this group to battle – to fight. They certainty did that tonight. They found a way to win. At the end of the day, there's a saying in golf, 'there are no pictures on the scorecard, it is just what you score.' Tonight, there's no pictures on the scorecard for us.
"We just found a way to win this game. That's what you are really trying to do in the SEC West. It's tough competition going on the road with the crowd you have to overcome. Is that our best performance? I hope not. But, it was gutting. It was gritty. It was one that I was proud of how our guys hung in there after being down 17-0. That's a program win, where you are doing the right things to win a game like that."
LSU (4-1) won for the fourth consecutive time and improved to 2-0 in Southeastern Conference play. LSU, which trailed 17-0, was outgained by 168 yards and lost the services of starting quarterback Jayden Daniels with 10 minutes left to play.
Redshirt freshman Garrett Nussmeier came in and directed LSU's offense the remainder of the way which was almost exclusively on the ground. The Tigers rushed the ball 49 times for 185 yards, left by Daniels with 69 yards on 16 carries and running back Josh Williams with 68 yards on 17 attempts.
"We have been able to assert our will in the second half against most teams this year," Kelly said. "The conditioning of our football team has been better than our opponents this year. That will continue to be a challenge, as we move through the month. As the game went on, it was pretty clear that we were able to exert our will and physically control the line of scrimmage."
Despite permitting Auburn (3-2, 1-1) 438 total yards, including 337 yards and two touchdowns from Ashford, LSU's defense was opportunistic by forcing three key turnovers and the special teams unit added another.
Alabama native Jay Ward returned home and injected some life into his team with a 23-yard fumble return for a touchdown after Ojulari's forced fumble in the second quarter. Freshman Harold Perkins Jr. intercepted a pass at his own 12-yard line early in the fourth quarter and Brooks, on second-and-11, added his interception when he appeared to rip the ball away from Moore at LSU's 25.
LSU also forced a turnover when Jarrick Bernard-Converse recovered a muffed punt by Auburn's Keionte Scott at Auburn's 38-yard line with 5:31 remaining in the game.
LSU's defense turned in a superlative play, this time with Auburn threatening to regain the lead and momentum.
Auburn maintained a drive after a third-down holding penalty against Sage Ryan until reaching second-and-goal from LSU's 10. Perkins intervened on second-and-goal, intercepting a reverse pass from Moore, an LSU transfer, who was rushed on the throw by Ojulari.
LSU took its first lead of the game (21-17) with 3:32 to play in the third quarter following a fourth-down stop by its defense.
LSU covered 63 yards in seven plays, making Auburn's defense pay for a pass interference penalty. Running back John Emery Jr. finished the series by breaking a tackle near the line by Auburn's Wesley Stiner, and getting lose from having his facemask grabbed, to complete a 20-yard scoring run – high-stepping the last five yards.
LSU spent the last six-plus minutes of the second quarter digging out of a 17-point hole, scoring twice on either side of the football to trail 17-14 at halftime.
Ojulari, a preseason All-SEC selection, provided the spark with a strip sack from behind of Ashford which Ward picked up on one bounce, returning 23 yards for a score to draw LSU within 17-7 at the 6:33 mark of the second quarter.
"I thought we got really good play from our backers," Kelly said. "We didn't tackle quite as well at the safety positions. They (Auburn) were very, very active and tackled well. We made timely plays and timely stops. When they got in a scoring zone, we really tightened down and made big plays. Whether it be a tackle for loss or force them into making something happen.
"It was a combination of being really active with our backers and putting them behind the chains. Once we did that, we forced them to do some things in their passing game that they just don't want to do."
Following a missed 40-yard field goal with 1:56 showing, LSU put together its best offensive drive of the half to get within three points at halftime.
LSU drove 77 yards in 11 plays, taking advantage of a key illegal hands to face penalty against Auburn on third-and-11 to keep the series alive.
Daniels connected for his biggest play of the half, spotting Emery on a wheel route that went down the sideline to Auburn's 1-yard line. Two plays later, Daniel kept out of shotgun formation and waltzed into the end zone with 15 seconds left.
The game couldn't have started more disconcerting when LSU lost transfer cornerback Sevyn Banks to an injury on the opening kickoff. The Ohio State transfer, who was making his second appearance since returning from an injury, had to be removed from the field on a cart after a head collision with Auburn kick returner Keionte Scott required medical attention.
ESPN reported that Banks, who received a 15-yard targeting penalty on the play, had movement in his extremities. LSU released a statement before the start of the second half that said Banks was "alert and mobile", and was being released from an Opelika, Alabama hospital and would accompany the team on its return flight home.
Ashford, who threw for 71 yards in last week's 17-14 overtime win over Missouri, completed 12 of 20 passes for 247 yards and two touchdowns in the first half.
Auburn scored on its first series with Ashford finding Ja'Varrius Johnson on a 53-yard touchdown where Ryan was beaten on the play.
LSU punter Jay Bramblett pinned Auburn at its 1-yard line with a 65-yard punt, but the homestanding Tigers went 99 yards in six plays for a 14-0 lead at the 14:04 mark of the second quarter. Ashford finished the series with an 18-yard TD pass to a wide-open Camden Brown in the end zone.
Carlson added a 29-yard field goal for a 17-0 margin at the 9:38 mark.