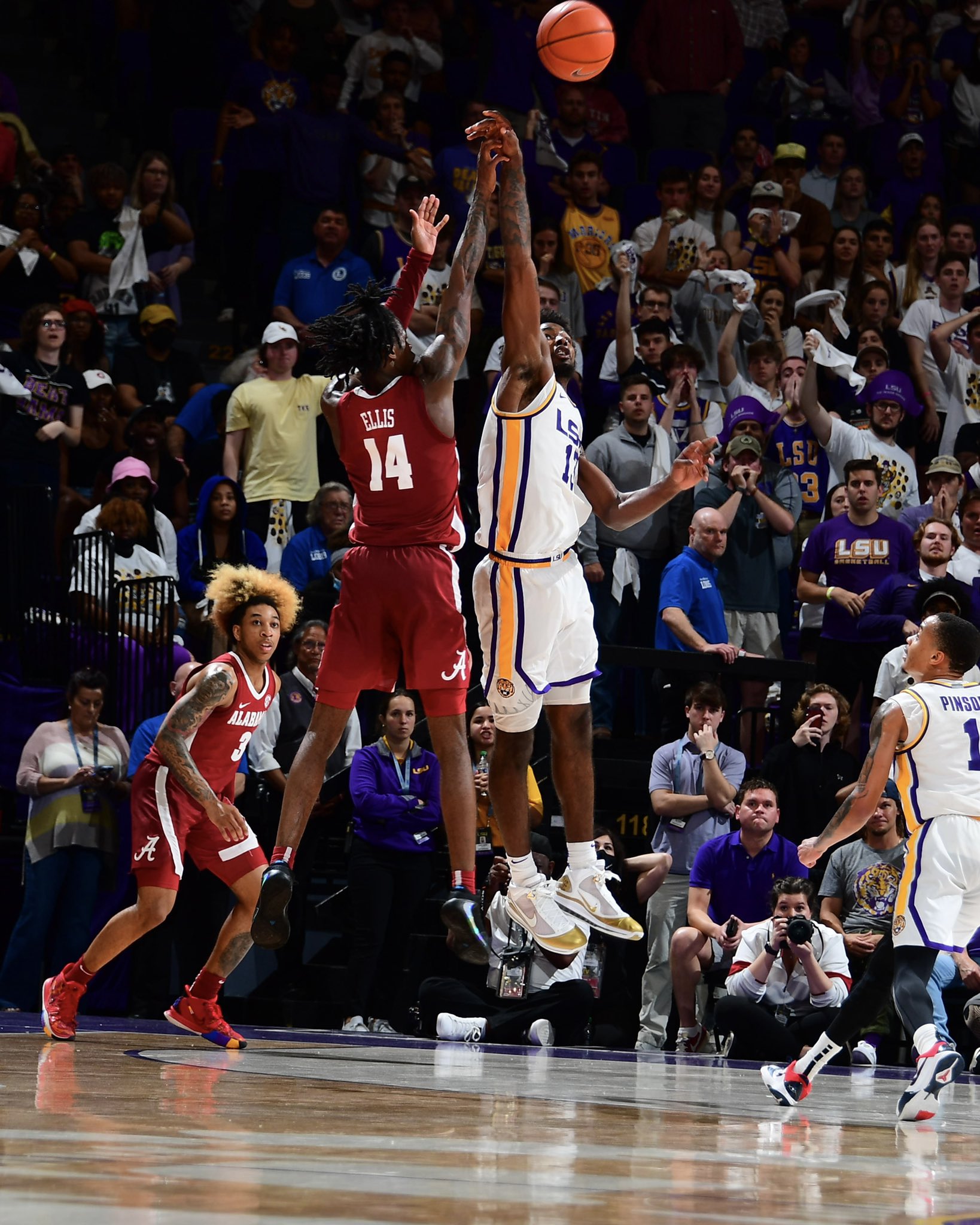 After twice removing his name from the NBA Draft and returning to LSU, these were moments senior forward Darius Days envisioned.
In his final game at the Pete Maravich Assembly, Days delivered a game-high 24 points and LSU gave itself quite a lift going into next week's Southeastern Conference Tournament with a pulsating 80-77 overtime victory Saturday over nemesis Alabama before a crowd of 11,237 in the regular-season finale.
"It was unreal," said Days, who also pulled down a test-best nine rebounds. "I came here as an 18-year-old and now I'm leaving as a 22-year-old. I really grew up here. I became a man here. It's very emotional for me today. It is what it is."
LSU (21-10, 9-9) not only snapped a five-game losing streak against Alabama, including a 70-67 loss on Jan. 19 in Tuscaloosa, but the Tigers locked up the fifth seed in next Thursday's SEC Tournament in Tampa, Fla. where they will face the Missouri-Ole Miss winner at approximately 1:30 p.m.
"This was a huge win for us," LSU basketball coach Will Wade said. "A great way for us to close the regular season."
LSU freshman guard Brandon Murray, who scored 17 points and had three steals, put his team's comeback win into more succinct context.
"We knew that we had to do what we had to do," he said. "It was a must-win. No more than that."
Each team led in overtime with Alabama (19-12, 8-10) opening a 77-74 lead on Keon Ellis' layup with 1:32 remaining after Xavier Pinson's turnover.
Sophomore transfer Tari Eason then took matters into his own capable hands. First, he knocked down a pair of free throws with 1:11 left and secondly, closed out with a blocked shot of Ellis' 3-point attempt from the left wing with 43 seconds to go.
Eason, who scored 20 points and had seven rebounds, gathered the loose ball in stride and drove to the other end of the court for a slam dunk for a 78-77 lead – the 16th lead change of the game – with 38 seconds in the game.
"I didn't want to have a bitter taste in my mouth going into overtime, especially with this being the last game in the PMAC this season," Eason said. "I did whatever I could to get it back (in overtime)."
LSU's defense forced a shot clock violation with 8.2 second left and point guard Xavier Pinson, following a timeout, was able to inbound the ball to Eric Gaines who accounted for the final score with a pair of free throws with 7.0 seconds showing. The Tigers made 10 of their final 11 free throws and were 17 of 23 (73.9 percent) overall.
Alabama, which made 27 percent of its 3-point shots (11 of 40) was off the mark at the buzzer on Jahvon Quinerly's deep 3 attempt.
"We certainly made too many mistakes down the stretch on defense in the six-minute games," Wade said. "But you know Tari (Eason) moved forward and played with four fouls the entire overtime. He didn't foul out which was huge. I thought he did a really good job and he bounced back. He knew he made a mistake and he bounced back and made plays. You can either make an excuse or make it happen and he did a phenomenal job helping us win down the stretch."
LSU rallied from a five-point deficit (62-57) with just over seven minutes to play in regulation to force overtime for the time this season.
The Tigers heavily leaned on the tandem of Days and Eason over the remaining seven minutes where they combined of 13 of their team's 15 points. It was Days' baseline drive with 51.7 seconds to go that gave the Tigers a 72-70 lead.
"I think this was, if not his best, certainly one of his best and his most complete games," Wade said of Days. "I thought he played tremendously inside and hit some big shots for us. I was really pleased with the way he played."
Alabama was whistled for an illegal screen with 42.2 seconds showing but got the ball back with 12 seconds left after Eason missed a difficult scoop shot inside and Ellis tied the game at 72-all on a pair of free throws with 12.3 seconds to go.
Following an LSU timeout, Pinson fed Days who misfired from 17 feet out with a second left, setting up overtime.
"I thought in the first half we had a couple of opportunities to pull away and we couldn't quite do it," Wade said.
Murray scored six straight points for a 13-5 lead with four minutes gone before Alabama later countered with an 8-0 run for a 13-all tie – the first of 15 ties in the game.
Neither team was able to build a lead of more than three points with Alabama leading 38-36 at halftime after JD Davison's steal and feed to Noah Gurley for a dunk at the buzzer.
LSU tied the game six times over the first 11 minutes of the season half with Pinson (8 points, 8 assists), Days and Murray all taking turns continually delivering big shots to rally the Tigers.
"I was proud of our guys," Wade said. "We gutted it out."
2022 Southeastern Conference Tournament
Amalie Arena – Tampa Florida
Wednesday, March 9 – 6 p.m. ET/5 p.m. CT
12 Missouri vs. 13 Ole Miss, SEC Network
11 Vanderbilt vs. 14 Georgia, 25 minutes following the first game, SEC Network
Thursday, March 10 – Noon ET/11 a.m. CT
8 Texas A&M vs. 9 Florida, SEC Network
Missouri/Ole Miss winner vs. 5 LSU, 25 minutes following the first game, SEC Network
Thursday, March 10 – 6 p.m. ET/5 p.m. CT
7 South Carolina vs. 10 Mississippi State, SEC Network
Vandy/UGA winner vs. Alabama, 25 minutes following the first game, SEC Network
Friday, March 11 – Noon ET/11 a.m. CT
Texas A&M/Florida winner vs. 1 Auburn, ESPN
Missouri/Ole Miss vs. LSU winner vs. 4 Arkansas, 25 minutes following the first game, ESPN
Friday, March 11 – 6 p.m. ET/5 p.m. CT
South Carolina/Miss. State winner vs. 2 Tennessee, SEC Network
Vandy/UGA vs. Alabama winner vs. 3 Kentucky, 25 minutes following the first game, SEC Network
Saturday March 12 – 1 p.m. ET/Noon CT
Semifinals, ESPN
Saturday, March 13 – 1 p.m. ET/Noon CT
Championship, ESPN