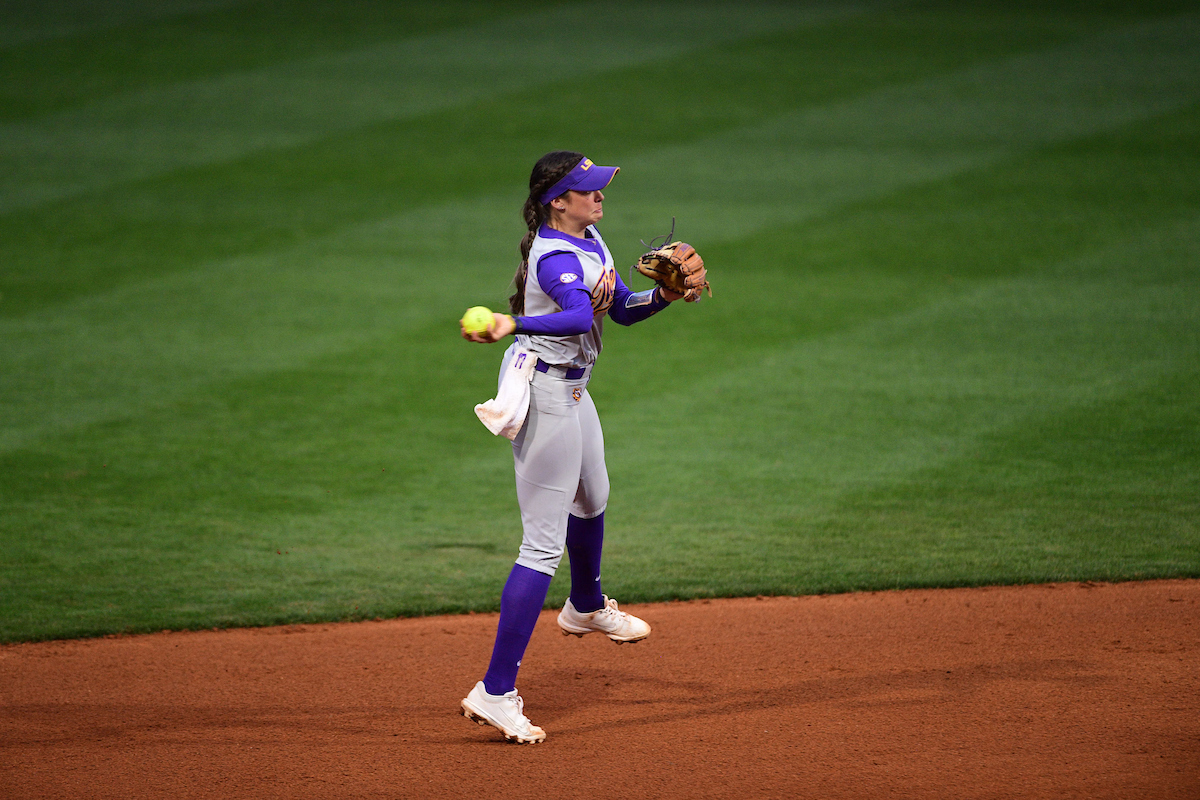 The pitching tandem of Ali Kilponen and Shelbi Sunseri worked so well Thursday, LSU decided to give UL-Lafayette another look at its top pitching combination.
The only difference this time over Thursday's combined shutout effort was that Kilponen got the start, worked into the seventh inning when Sunseri came in relief and worked a perfect frame to preserve No. 21 LSU's 5-2 victory Saturday over No. 20 UL-Lafayette at Tiger Park.
LSU (15-6) remained 4-0 in the LSU/UL-Lafayette Crossover with remaining games Sunday against Louisiana Tech (12:00) and Central Connecticut State (2:30) on the SEC Network.
"Playing UL-Lafayette is always great because of the in-state rivalry," LSU center fielder Ciara Briggs said. "We are going to take the energy and intensity from tonight and bring it into tomorrow. We need to attack whoever we play every day." 
Kilponen (8-2) cruised into the seventh, allowing two earned runs on five hits. She walked her fourth batter of the game when Melissa Mayeux drew a four-ball pass, summoning Sunseri from the bullpen.
With pinch-runner Frankie Izard having taken over for Mayeux and moved up on a wild pitch, Sunseri got three straight ground outs from Carly Heath, Stormy Kotzelnick and Maddie Hayden to strand Izard at third base and end the game.
It was the first save of the season for Sunseri, who threw seven of 12 pitches for strikes.
In much the same manner as Thursday's 4-0 win in Lafayette, LSU exploded for four runs in the bottom of the first against losing pitcher Kandra Lamb (3-2). She only recorded two outs before being replaced by Meghan Schorman.
"I think we got to see her so much in the Regional that coming into this, it made it so much easier just to see somebody we have faced. Hopefully for the SEC, it will be the same way," LSU first baseman Georgia Clark said of Lamb. "We will see people we have seen before and get more at-bats off them. We tried to treat it like an SEC series, which it kind of was." 
Third baseman Danieca Coffey and Briggs, who combined for four of LSU's eight hits, set the table for the heart of LSU's batting order with a pair of singles and shortstop Taylor Pleasants singled in a run right-center field.
"From the jump we knew what we were getting (pitch wise)," Briggs said. "We had a plan to attack and get the lead as early as possible. We knew what they were going to throw so we adjusted our swings and found what we wanted at the plate. Throughout the game they (UL-Lafayette) forced us to adjust, and we did a good job of just sticking with attacking the white parts of the plate." 
Clark then loaded the bases with a bunt single that scored Briggs for a 2-0 lead. Following consecutive outs, left fielder Raeleen Gutierrez delivered a two-run single to right field that scored both Pleasants and Clark.  
UL-Lafayette (12-4) scored single runs in the third and fourth innings against Kilponen. Laney Credeur drove in the Ragin' Cajuns' first run in 10 innings against Tigers' pitching with an infield single. Catcher Sophie Piskos, who returned to the lineup following an injury, made it 4-2 with a leadoff homer to left field in the fourth inning.
LSU picked up an insurance run in the fifth inning, finally taking advantage of a small window against Schorman to increase its lead to 5-2.
Schorman, a transfer from the University of Kentucky, had thrown 7.1 hitless innings going back to Thursday's relief appearance against LSU. Briggs beat out a bunt with an out in the fifth and Pleasants and Clark each drew full-count walks to load the bases.
"I think our offense looked a lot better off Schorman than we did on Thursday," LSU softball coach Beth Torina said. "I was happy to see the adjustment our offense made with her. We were able to score off her and make some noise with her on the mound. I think our staff does a good job of preparing our hitters. They had a good idea of what was coming and what things they were going to throw us."  
Schorman appeared to do her job with a groundball from Sunseri, but UL-Lafayette shortstop Alexa Langeleirs elected not throw over to Kotzelnick, who was covering second and instead allowed Briggs to score.
Two days after Kilponen went into the game in relief of Sunseri and picked up a save after UL-Lafayette had loaded the bases, Sunseri reciprocated the feat with a scoreless seventh to strand a runner at third.