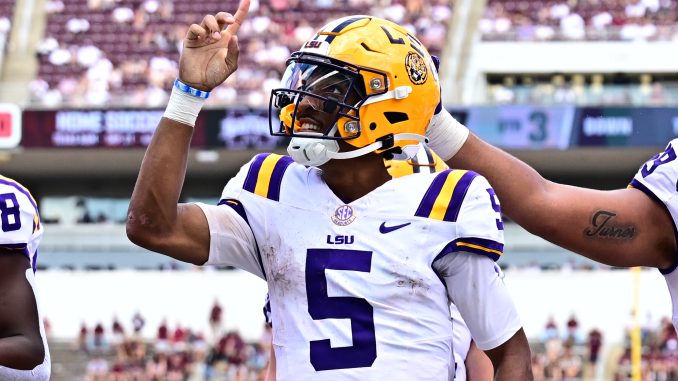 BATON ROUGE – LSU quarterback Jayden Daniels continued his record-setting play on Saturday in LSU's win over Army as the senior accounted for four touchdowns and 285 yards of total offense in only two quarters of action in the 62-0 victory over the Black Knights.
The win over Army sent the Tigers into this week's open date riding a three-game winning streak and with a 6-2 overall mark. LSU, ranked No. 15 in both national polls, will take its 4-1 SEC mark to Tuscaloosa on November 4 when the Tigers face Top 10-ranked Alabama (7-1, 5-0 SEC) at 6:45 p.m. on CBS.
Against Army, Daniels continued his Heisman-worthy numbers, passing for three TDs and rushing for another in just two quarters of action. His three TD passes against Army moved him into the national lead in that category with 25 in eight games. The 25 TD passes through eight games rank second in LSU history to only Heisman winner Joe Burrow, who had 30 during that span in 2019.
In addition, he's accounted for 30 total touchdowns (25 passing, 5 rushing), which ties him for the national lead with USC's Caleb Williams. His 30 TDs responsible for through eight games stand behind only Burrow's 33 in 2019.
Daniels, a three-time winner of SEC Player of the Week honors in 2023, continues to lead the nation in total offense with 386.8 yards per game. He's averaging 321.6 passing yards a game – No. 3 nationally – and 65.1 rushing yards a contest. His 521 rushing yards are the fourth-most among FBS quarterbacks.
Daniels also leads the nation in pass efficiency (204.3 rating), passing yards per attempt (11.54) and he's one of only two players nationally to have rushed and passed for TDs in the same game four times.
Daniels is the only 5,000-yard passer, 1,000-yard rusher in LSU history and he's one of only two players in FBS history with 11,000 passing yards and 2,000 rushing yards. In 51 career games, Daniels has passed for 11,510 yards and rushed for 2,694 yards. In his 22-game LSU career, Daniels has accumulated 1,406 rushing yards and 5,486 passing yards.
Daniels' top two targets – Malik Nabers and Brian Thomas – are national leaders in receiving categories. Thomas ranks first in the FBS with 11 touchdown receptions, while Nabers is first nationally in receiving yards with 981. LSU is the only school in the nation with two receivers ranked in the Top 10 in receiving yards – Thomas is No. 10 with 732.
Nabers enters the Alabama contest needing only 19 yards to join Josh Reed as the only players in school history with two 1,000-yard seasons. Reed did it in 2000 and 2001. Last year, Nabers led the SEC with 72 receptions for 1,017 yards.
Offensively, the Tigers have scored 48 points or more in four straight games – a first for LSU during the SEC era – and lead the nation with 47.4 points a contest.
LSU has also cracked the 500-yard mark in total offense in seven consecutive games – another first for the Tigers – and lead the nation in total offense with a 552.9 average. LSU is averaging 340.0 passing yards and 212.9 rushing yards a contest. The Tigers are No. 4 nationally in passing offense and No. 11 in rushing.
LSU's offensive continues to lead the nation in total first downs (217), an average of 27 per game, and the Tigers have converted a nation's best 57.8 percent (52-of-90) of their third-down opportunities.
Other Top 10 statistical rankings for the Tigers include: No. 2 in pass efficiency and No. 6 in yards per completion (15.4).