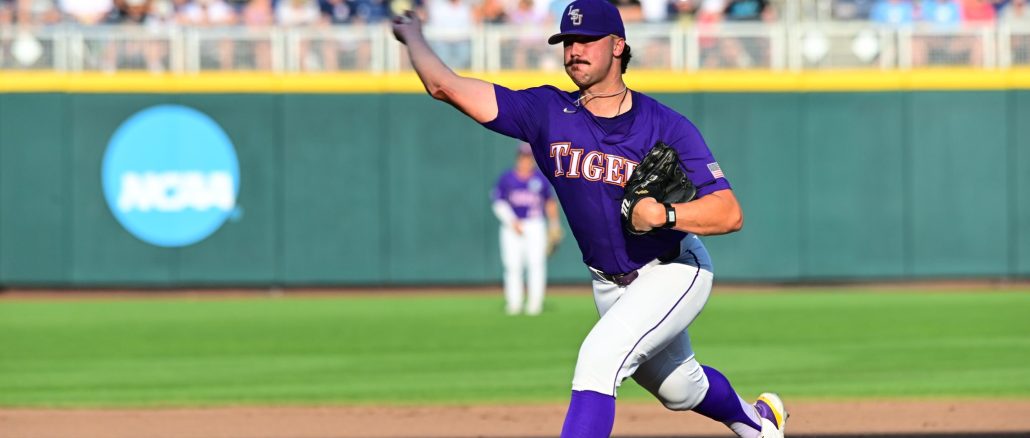 ---
LSU baseball coach Jay Johnson said his pitching plans for the week were somewhat etched on a white board in the team's hotel Tuesday.
That's the day after the Tigers were knocked into the loser's bracket of the College World Series, facing the daunting task of having to win three consecutive games to reach a best-of-three championship series.
LSU began that stretch with a superb starting performance from reliever-turned-starter Nate Ackenhausen in a 5-0 win over Tennessee. A trio of relievers – Griffin Herring, Gavin Guidry and Riley Cooper – helped the Tigers continue to blaze a path through the World Series in a 5-2 victory on Wednesday over Wake Forest, setting up a rematch with the nation's top-ranked team with the winner to face Florida in the start of Saturday's championship series.
Dick Howser Trophy winner Paul Skenes made his second start of the World Series on four days of rest and combined with reliever Thatcher Hurd on a three-hit shutout, and Tommy White cranked out a two-run homer to left field for a dramatic 2-0 victory in 11 innings at Charles Schwab Field.
Hurd (7-3) picked up the win with three scoreless innings of relief. He allowed one hit, walked one and struck out one on 47 pitches.
"I asked anybody if they had any questions whether we could win this is or not," Johnson recalled of Tuesday's team meeting. "I said, 'Great. Let's get on the bus.' That was basically the announcement Paul was going to pitch today."
Skenes matched Wake Forest ace Rhett Lowder pitch for pitch, a battle of projected top 10 picks in next month's Major League Draft. Both of the team's aces carried shutouts into the eighth inning when the Demon Deacons went to the bullpen for Michael Massey to begin the ninth.
Skenes yielded two hits and one walk in eight innings, striking out nine in a 120-pitch outing in which he threw 82 strikes.
"There was no doubt," Skenes said of his start in his team's third elimination game of the CWS. "I knew our strength coaches, (pitching coach) Wes (Johnson), they were going to do everything in their power to get me ready. Everyone else was going to do everything in their power to get ready. There was no doubt in my mind. To be honest there wasn't a lot of conversation."
Lowder was equally effective, shutting out LSU on three hits over seven innings. He walked two and fanned six before leaving after throwing 88 pitches.
"The best pitched college baseball game I've ever seen from both sides," Jay Johnson said. "Obviously what Paul did was spectacular. What Thatcher did was spectacular. You might see four pitchers that were on that mound tonight from both teams that will pitch in Major League Baseball All-Star Games. And hat tip to (Wake Forest) Coach (Tom) Walter and Wake Forest. We just slayed a giant tonight. And that was special."
Skenes became the SEC's single-season leader in strikeouts with 203 in 116.2 innings when he fanned Wake Forest's Justin Johnson to end the second. The 6-foot-6 junior broke the 34-year-old mark of former LSU All-American Ben McDonald who did it in 151.1 innings.
The NCAA's record is 234 strikeouts in 174.1 innings held by Hawaii's Derek Tatsuno in 1979.
"Obviously, he had a really good career at LSU and in the Major Leagues," Skenes said of McDonald. "It's cool. It's cool to leave a legacy."
Skenes allowed a one-out single to Jack Winnay in the third but LSU's defense, led by White, turned a double play to get out of the inning. Justin Johnson doubled into the right-center gap in the fifth when White picked up an assist on a grounder and Tre' Morgan had an unassisted put out by stepping on first base to close out the inning.
Wake Forest came within a whisker of scoring the game's first run in the eighth when Johnson walked and reached third on a sacrifice bunt and wild pitch. Marek Houston attempted to lay down a suicide squeeze bunt when Morgan charged in from first base, gloved the ball and threw it to catcher Alex Milazzo for the tag on Johnson at the plate.
The call was upheld by video replay when the Demon Deacons challenged the play.
That was the final batter Skenes faced and Hurd was up to the challenge out of the bullpen with LSU's ace out of the game.
"It's all about execution and I was going to do anything to get the win for us," Hurd said. "I wasn't going to let us down."
Hurd retired the first eight batters he faced until Tommy Hawke singled and stole second base. Lucas Costello followed with a walk when Hurd got No. 3 batter Brock Wilken to fly out to Dylan Crews in center.
The Deacons' Nos. 2-4 batters struggled at the plate, going 0-for-17 with four strikeouts.
Hurd, who's won his last four decisions, also continued a torrid stretch for LSU's relievers who have allowed one run in their last 18 innings with 12 strikeouts.
"We wanted to get Paul as long as we could," Johnson said. "I'm really proud of him for getting us through eight. I think it took that to win the game and there was only one guy who was going to get the ball after that. We would have used him (Hurd) to close out the game last night (5-2 win) if we needed to. I didn't want to do that because I knew he would be needed today. It gave him an extra day after Monday. He was spectacular. There was one walk and only one three-ball count the entire time he was on the mound."