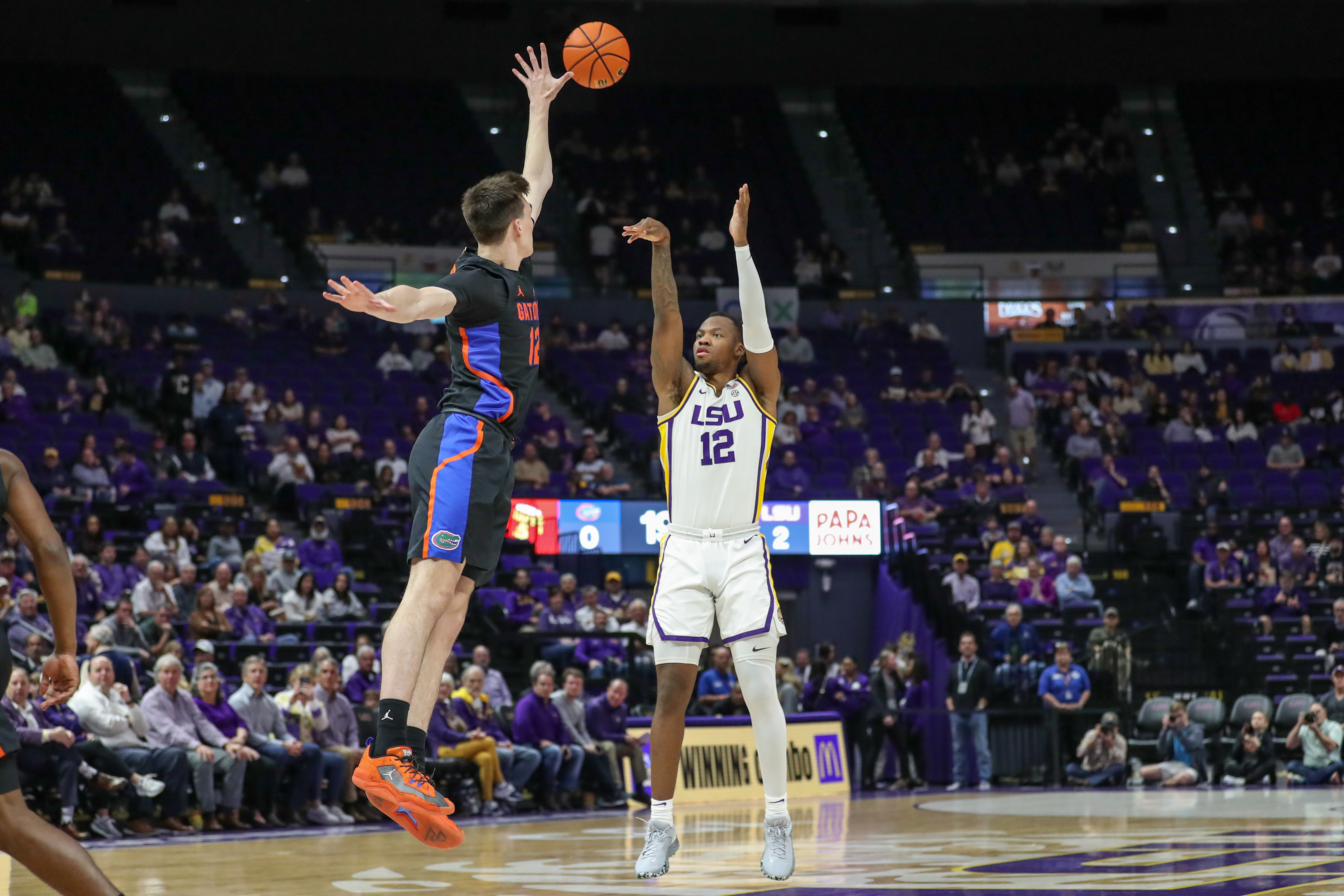 LSU began the Matt McMahon era this season at "ground zero" – with no players, a completely depleted roster.
Now, four games into its Southeastern Conference season on Tuesday night in the Pete Maravich Assembly Center in an early-season, must-win conference matchup against Florida, the Gators introduced the Tigers to another kind of zero that they could not overcome.
Namely, LSU's margin for error.
It became clear, the Tigers have "zero" margin of error.
Florida rallied from a 28-25 halftime deficit to outscore LSU by 14 points in the second half and hand the Tigers their third straight SEC loss, 67-56.
Colin Castleton scored 18 points, making a career-high 12 foul shots, grabbed seven rebounds and blocked five shots to lead Florida.
The 6-foot-11 Castleton made a career-high 15 trips to the foul line and shot 3 of 6 from the field. Kowacie Reeves came off the bench to add 11 points as the Gators had eight players score.
Both Florida and LSU had 19 field goals, including five each from beyond 3-point range, but the one big difference in the game came at the foul line with the Gators going 24 for 32 compared to the Tigers' 13 for 16.
Quick math: that's an 11-point differential for the Gators, their eventual margin of victory.
The other key to the game, however, proved even more glaring and detrimental: LSU's self-inflicted wounds.
LSU (12-4, 1-3 in SEC) turned the ball over 16 times and Florida scored 23 points off those turnovers.  Conversely, LSU scored 5 points off 10 Florida turnovers – an 18-point advantage for the Gators.
"I think we all knew, going into the season, our margin for error is almost zero," McMahon said.
KJ Williams scored 23 points to lead LSU while grabbing seven rebounds. LSU had no other players score in double figures and managed to shoot only 32% for the game.
LSU plays next at No. 4 Alabama at 3 p.m. Saturday. The game will be by ESPN.
LSU jumped out to an early 7-0 lead and led the entire first half except for three ties during the first 20 minutes action. The Tigers built their biggest lead of eight points at 24-16 with 6:49 left on a 3-pointer by Adam Miller. Florida, however, tied the game at 25-25 with 1:54 remaining in the half after scoring consecutive baskets off LSU turnovers.
Freshman Tyrell Ward's 3-pointer with under a minute to play gave LSU a 28-25 halftime lead.
Castleton hit a free throw with 14:03 left to play to put Florida up, 37-36, and the Gators (9-7, 2-2 SEC) never relinquished the lead again.
"Obviously, I'll start off by giving Florida great credit for coming in here and getting a big road win.  I think for us, you have opportunities to win games. We got to find ways to eliminate self-inflicted wounds," McMahon said. "You look at 16 turnovers that go to 23 points on the other end. Our inefficiency on the offensive end from a shooting standpoint. I thought there were a couple stretches that really hurt us. Number one, I thought our start, while terrific, you're out 7-0. I thought our defense followed the gameplan and did the things we needed to do there. I don't think we took advantage of it.
"I thought we had some opportunities to execute offensively there and build on the lead. We had some turnovers and some iso-ball," McMahon said. "One-on-one iso-ball – that's not going to be the strength of our team and that's okay. But we've got to move the ball and execute, and I thought that stretch hurt us. After a really good first half defensively where we were able to protect our paint better, limit some of (Colin) Castleton's touches, force them into, I believe, 17 of their 28 shots behind the arc in the first half. I thought in the second half, they really put their head down and drove (on) us. Our ability to protect the paint was not effective, and I think that shows in the free-throw line. Their two-point shooting in the second half, which I believe was 9-for-12. We're not going to be able to win games turning the ball over like that and then having some of those breakdowns around the rim."
McMahon credited Florida's defense, the Gator's length and overall athleticism as being particularly bothersome to LSU, but he said, in the end, the self-inflicted wounds did the Tigers in more than anything.
"How can we find a way to eliminate turnovers because the first two opportunities in league play we had to win (a 60-57 win over then No. 9 Arkansas and then a 74-71 loss at Kentucky) – you split those, we average nine turnovers a game," McMahon said. "Our last two games, 31 turnovers in the two games. It's just not going to give us a chance there."
Williams, who scored 16 in the second half, acknowledged LSU's offensive struggles during its current three-game losing streak, but said the Tigers are determined to stop the trend and he explained how they would avoid that continuing to happen.
"Go out and find ourselves as a whole. As a team we have to come together," Williams said. "I think we slipped up in that part a little bit. Come in and talk about whatever and get through whatever as a team instead of wandering off as one and having small groups. We have to come in together.
"Our leaders, me as well, have to come in and help the team to build it to where when we are in situations like this being down by eight, being down three, we can put that to the side and keep playing and pushing through adversity," Williams said. "I just think we have to find ourselves as a whole and keep playing basketball and it's going to work out."