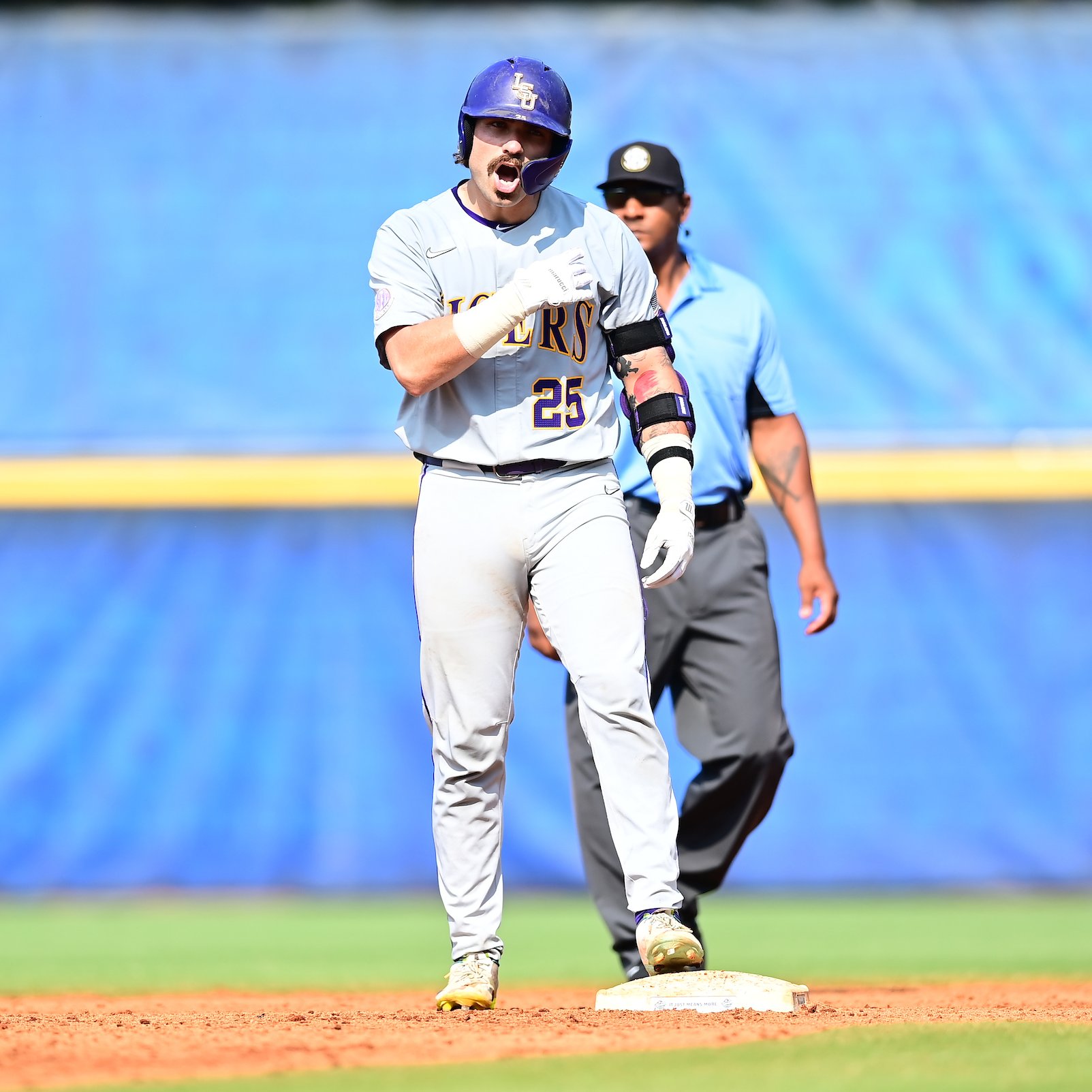 LSU, armed with the SEC's top offensive team, went down to the wire with an opportunity to pull even in the top of the ninth with Texas A&M in Friday's SEC Baseball Tournament.
The Tigers shaved off a run of a two-run deficit when Hayden Travinski scored from third on a wild pitch and pinch-runner Josh Stevenson moved to third on the play.
That left second baseman and fifth-year senior Gavin Dugas with the responsibility of trying to get Stevenson home against A&M reliever Evan Aschenbeck. Dugas quickly fell into a 0-2 hole, took a ball and fouled off a pitch before striking out swinging for the second out.
Third baseman Brayden Jobert, who had two hits in the game and drove in a team-high two runs, followed with the opportunity to keep LSU's rally going, but fell behind 0-2 and fouled out to third baseman Trevor Werner in a 5-4 setback that eliminated the third-seeded Tigers from the tournament.
"We've just got to do better, and then we've been phenomenal at runners on third and less than two outs for years, and were not very good today," LSU baseball coach Jay Johnson said. "We'll get better at that."
LSU's inability to perform in the clutch in the ninth was reminiscent of its game-long struggles with runners in scoring position. The Tigers hit a paltry .150 (3 for 20) and left 12 runners on base, eight of which were in scoring position.
LSU finished with 12 hits, eight for singles, and were led by designated hitter Cade Beloso's 4 of 5 outing, including a single to right in the ninth following Travinski's infield single to deep shortstop.
Jobert, Travinski and Dylan Crews all had two hits, but the Tigers followed up an alarming 17-strikeout performance in Thursday's 5-4 loss to Arkansas by striking out 11 times against A&M's Will Johnston and Aschenbeck.
Such hitting woes weren't as glaring over the first five innings of the game in a 3-1 lead when Travinski doubled in Tre' Morgan with a ball that caromed off the left-field wall.
"I thought Ty had pitched well again, which was great," Johnson said. "I think we were in control of the game for five innings. I think we could have put ourselves in more control of the game, and against a good offense. I mean, it's the same team that was in Omaha last year, as old a team as there is out there. You want to create distance, and we didn't do that."
LSU was unable to stretch that lead when Dugas' failed safety squeeze bunt attempt resulted in Travinski getting thrown out at the plate by Johnston for the second out.
"So, they can out-physical you, but coach Johnson coming from the West Coast, they'll also safety squeeze and do those things, and I don't remember Coach Bertman ever doing that," Texas A&M coach Jim Schlossnagle, a former assistant coach at Tulane for eight years. "I think they do put pressure on you that way, and the guy got down and it was just back towards the pitcher just enough to give us a chance to make a play."
Johnson saw the bunt as a means to help his team add to its lead.
"It was 3-1 at the time and trying to get it to 4-1 and try to get some separation between our team and Texas A&M, and I actually thought the pace on the bunt was great," he said. "He got it to the ground. Just the angle wasn't very good. We almost got it done anyway. It was a close play.
"We had more chances than that, though. Gavin was up in the ninth," he added. "We had three or four other times, we had at runner at third with no outs and he didn't score. Very uncharacteristic. Some of it's experience, having some younger players playing today, and some of it's Texas A&M's pitching, and some of it's guys getting out of plan, and we'll look at each one of them and get better."
Starting pitcher Ty Floyd enjoyed a solid outing, limiting Texas A&M to a run on three hits in five innings. He walked one and struck out seven, departing after a 93-pitch outing.
The Tigers' turned to relievers Sam Dutton Griffin Herring but were unable to solve the Aggies' batters who scored four runs on four hits, taking the lead for good at 5-3 on catcher Hunter Haas' three-run homer off left off Herring.
LSU continued to apply pressure without results.
Beloso had a one-out single in the seventh to right and moved to second on a passed ball but was left stranded Jared Jones lined out to left and Dugas popped up to second base. Right fielder Paxton Kling singled with two outs and advanced to second on a wild pitch when Crews struck out swinging to end the inning.
"It's something that we have to take a lot of pride in and something that we've been very good at, and we were not today," Johnson said of his team's inability for a key hits with runners on base, 'and against that caliber of team, it's going to cost you, and it certainly did today."