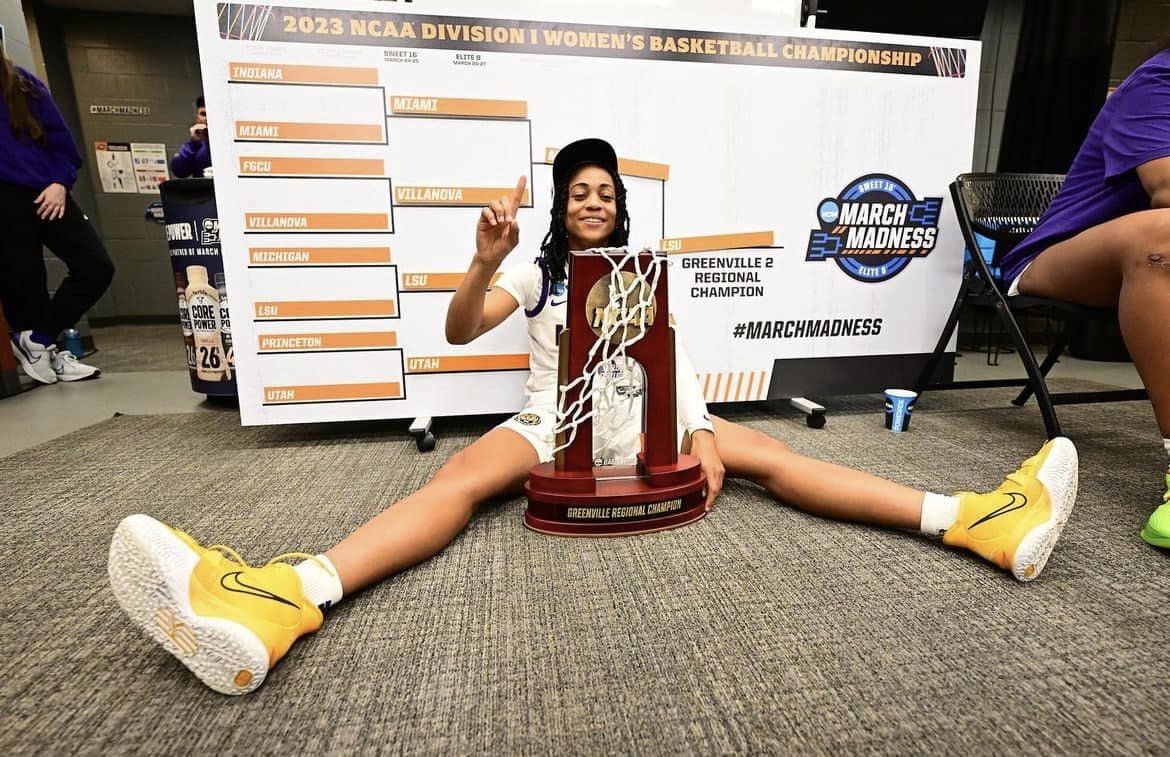 LSU fifth-year point guard Alexis Morris remembers broaching the subject late in the regular season.
The native of Beaumont, Texas had one final request in a career that's rivaled that of a basketball odyssey with previous stops at Baylor, Rutgers and Texas A&M. She wanted to end her career 280 miles away from her hometown in Dallas, the site of this year's Women's Final Four at American Airlines Center.
"At one point when I left Rutgers, I wasn't even going to play basketball anymore," Morris said. "So, this moment is literally everything to me. I am the comeback kid. I went through so much adversity. The world counted me out. Media writing bad posts, portraying this image of me. Now I can just let it all go. I beat it. I beat the odds."
Morris will be afforded the chance of playing in her first Final Four after scoring a team-high 21 points and being a spot on the all-tournament team following LSU's 54-42 victory over Miami in Sunday's Greenville Regional 2 Championship game.
The Tigers (32-2) advanced to their first Final Four since 2008 and will face Virginia Tech at 6 p.m. Friday.
"I love this game," Morris said. "I'm just happy to be able to do it with coach (Kim) Mulkey and my teammates and for this program, and the people who came before us. I said it and just spoke it into existence. God did. Texas, I'm coming home, baby."
Morris, the team's second leading scorer and first team All-SEC selection, didn't enjoy a banner NCAA Tournament with a total of 17 points in her team's two wins at the Pete Maravich Assembly Center. She endured another subpar shooting game in Friday's 66-63 Sweet 16 victory over second-seeded Utah but was instrumental in helping the Tigers get across the finish line.
With LSU trailing by a point and time dwindling, Morris secured an offensive rebound and was fouled on the play. Her two free throws with 10 seconds left gave the Tigers a 64-63 lead which she extended with 2.0 seconds left with two more free throws and wound up with 15 points.
The Tigers were in their first Elite 8 in 15 years where Morris had never been during a nomadic career, but appeared to be locked in mentality with her team's first six points Sunday.
Miami was intent on slowing down LSU's interior game led by Angel Reese and LaDazhia Williams with either double teams or clogging the lanes.
For the first time in the postseason Morris took her cue. She was more of a featured part of the team's offense at the off-guard position which opened up her mid-range range game around the free throw line, a staple during her first season at LSU alongside point guard Khayla Pointer.
Morris scored 10 points during the first half, including a fastbreak layup off a feed from Reese, to give LSU a 26-20 halftime lead.
She also played a vital part in the Tigers' defense, holding Miami's leading scorer Haley Cavinder to two points or 10 below her season's average on 1 of 6 shooting. The Hurricanes were also limited to a season-low in points scored, 30.3% field goal percentage and 0 of 15 shooting from 3-point range.
Morris resumed her offensive efficiency in the second half with a 15-footer jumper for a 34-23 lead at the 4:36 mark of the third quarter. She also closed the quarter with two free throws in the last 50 seconds for a 38-27 advantage going into the fourth.
"Alexis Morris is the reason that they're out there and I'm sitting here right now," Miami coach Katie Meier said. "It was Morris."
Her influence would be even greater on the game's final 10 minutes, not because of her ability to score, but for her leadership down the stretch.
"When it got down five minutes or less, (a) 12, 14-point game, you look at someone that has had that much experience in college and you tell them, 'this is where point guards have to lead and control the flow of the game'," LSU coach Kim Mulkey said. "They're going to press. They're going to take chances and trap you. Take care of the ball. It makes you more comfortable knowing that you have an older player out there with the ball in her hands."
Miami got within 43-35 on an 8-0 run with 4:41 to play when Morris found a seam to the goal for a layup and 45-35 lead with just under three minutes left.
Morris was also cool customer to help deal with Miami's full-court pressure, getting the ball into the front-court without incident and after being fouled, made 5 of 6 free throws to ice the game and send LSU to its sixth Final Four and conclude her career in her home state.
"Just being a leadership piece for the team, having that experience, having coach Mulkey believe in me and push me," Morris said. "Because sometimes being a leader is hard. Having to be the bad guy sometimes and the pressure, the responsibility, sometimes it's really tough. I've embraced it this year, and it's honoring, and it's paid off. I'm heading to Dallas. I'm ending my senior night where I wanted it to be. Hopefully we can go cut (the) nets in Dallas."