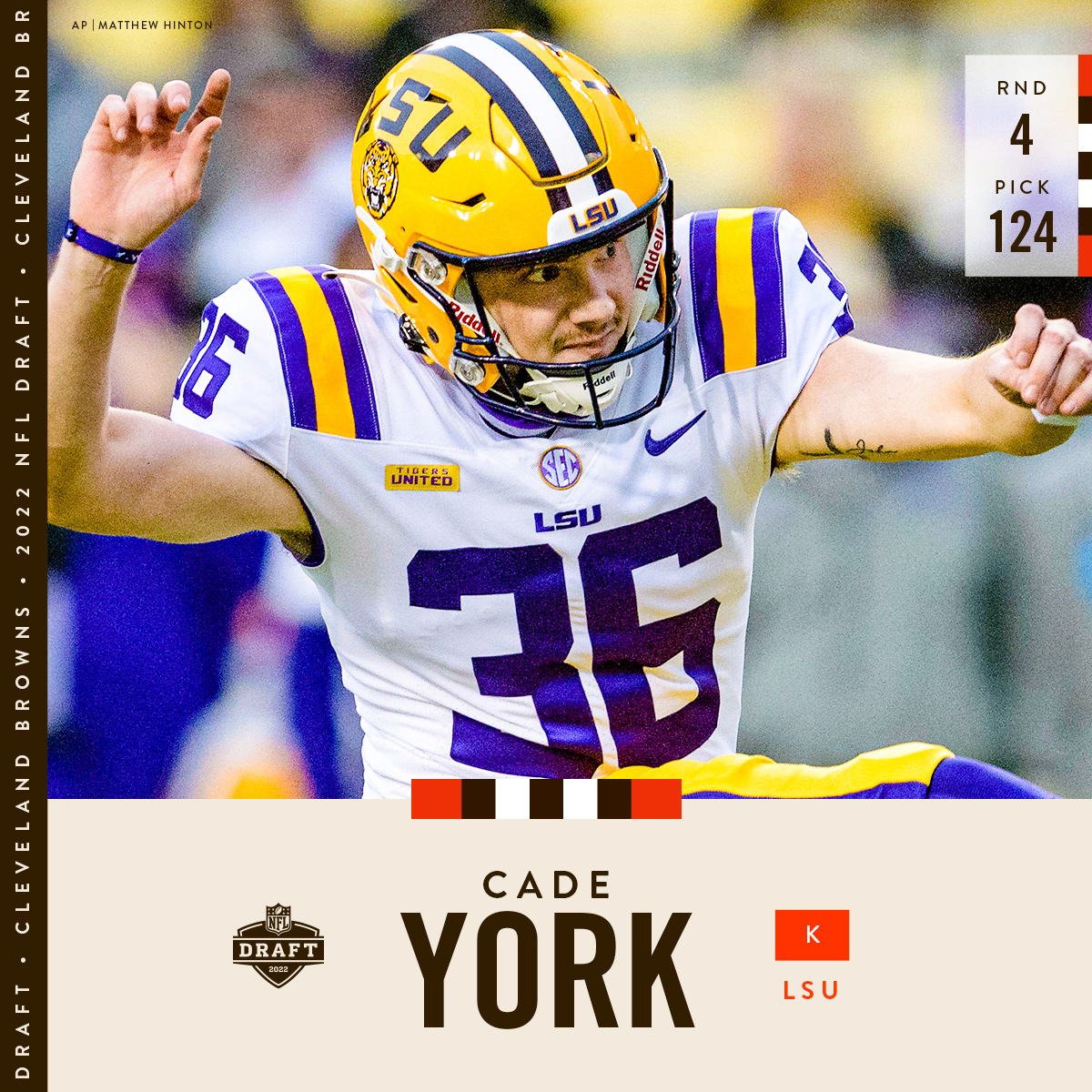 Former LSU kicker Cade York was selected by the Cleveland Browns in the fourth round of the 2022 NFL Draft.
He went 19th in the round and 124th overall, becoming the first kicker taken in this year's draft and the first kicker in LSU history to be drafted.
York left LSU as the school-record holder for longest field goal in program history after connecting on a game-winning 57-yarder in the fog to help the Tigers beat then-0No. 6 Florida 37-34 on Dec. 12, 2020.
The three-year was a first team All-SEC coaches pick and 2020 and second team coaches selection as a junior last season.
A product of Prosper High from McKinney Texas, York made 54-of-66 field goals and 164-of-168 PATs during his LSU career.
That includes an LSU record 15 field goals of 50 or more yards, with a single season school record six of them coming in 2020. He's also the only player in program history to make two field goals of 50 or more yards in a game, doing it in 2019 against Texas A&M and again in 2021 against McNeese.
York was 15-of-18 on field goals and 39-of-39 on extra-point attempts last season, 18-of-21 on field goals and 36-of-36 on PATs in 2020 and 21-of-27 on field goals and 89-of-93 on extra points as a freshman during LSU's 2019 national-championship season.
He became the fourth LSU product taken in the 2022 draft.
Cornerback Derek Stingley Jr. went No. 3 overall to Houston in Thursday night's first round, and cornerback Cordale Flott (New York Giants) and running back Tyrion Davis-Price (San Francisco) both went in the third round Friday night.
Two picks after York went to the Browns, Las Vegas took former LSU defensive tackle Neil Farrell.