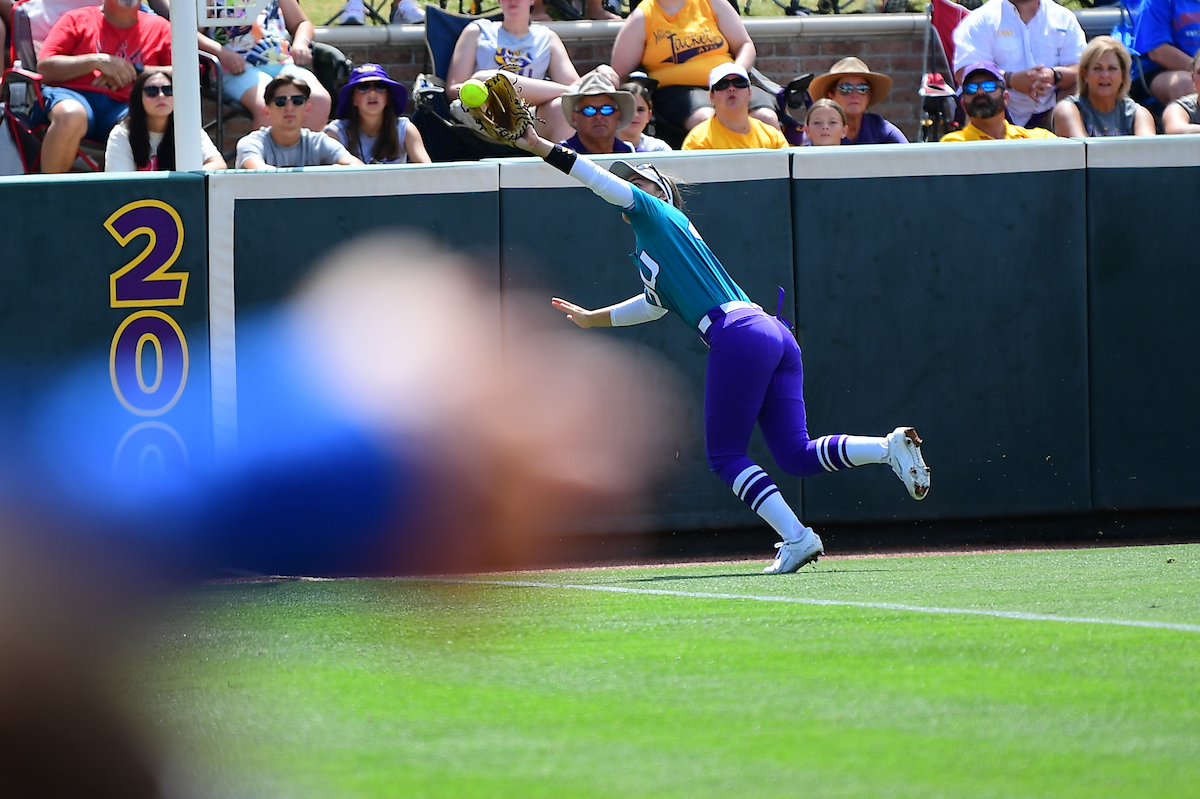 With the game already out of reach LSU's Shelbi Sunseri unloaded with one swing to help the Tigers avoid another unflattering distinction.
Sunseri led off the bottom of the seventh with a home run to left field, not only putting the No. 19 Tigers on the scoreboard for the first time but ruining the no-hit bid by Florida pitcher Lexie Delbrey in a 6-1 setback Saturday to the ninth-ranked Gators at Lady Tiger Park.
The series finale is scheduled for 11 a.m. Sunday and will be broadcast by 107.3-FM and televised by ESPN2.
"It was bad softball," LSU softball coach Beth Torina said. "We just did not play well at all. I mean, when you look at the scoreboard we allowed twelve hits, four errors, and had two hits on our side. It was just a poorly played game." 
LSU, which had a season-high 17 hits in Friday's 9-1 mercy-rule win, threatened with two runners on in the first with Danieca Coffey and Georgia each drawing walks, but Sunseri struck out to end the inning.
Taylor Pleasants was hit by a pitch in the fourth and Ciara Briggs drew a walk in the sixth before Sunseri collected her team's first hit off Delbrey in the seventh. The last time LSU was no-hit was 2012 and the last time to get no-hit at home was the year before in '11.
Pinch-hitter Morgan Smith picked up LSU's second hit in the seventh inning.
"Honestly, it was lazy," Sunseri said. "I think we just came out and didn't have a lot of effort. We made errors, and we just didn't have a lot of energy. We didn't play LSU softball like we normally do. Our thing is 'can't be crazy here', and I definitely don't think we brought that energy today, collectively. Really, I just think we played bad softball today."  
Florida, which was limited to two hits in Friday's opener, picked up two runs in the first and added single runs over the next four innings.
Pitcher Shelby Wickersham (2-5) was honored before the game as part of LSU's senior weekend but only lasted a full inning before being relieved by Raelin Chaffin. Florida picked up five of its 12 hits against Wickersham who was charged with three runs (two earned) and one walk. Chaffin pitched 3.1 innings and allowed seven hits and three runs (one earned).
Sunseri finished up with a scoreless 2.2 innings, including a strikeout.
LSU committed four errors which led to three unearned runs.
"I don't know that we got comfortable; we just didn't just show up today. It could have been a lot of things," Sunseri said. "I think, collectively, our dugout wasn't in it, people on the field weren't in it. I think as a whole, we didn't play well. We didn't make the routine plays we should've made, and it spiraled from there."