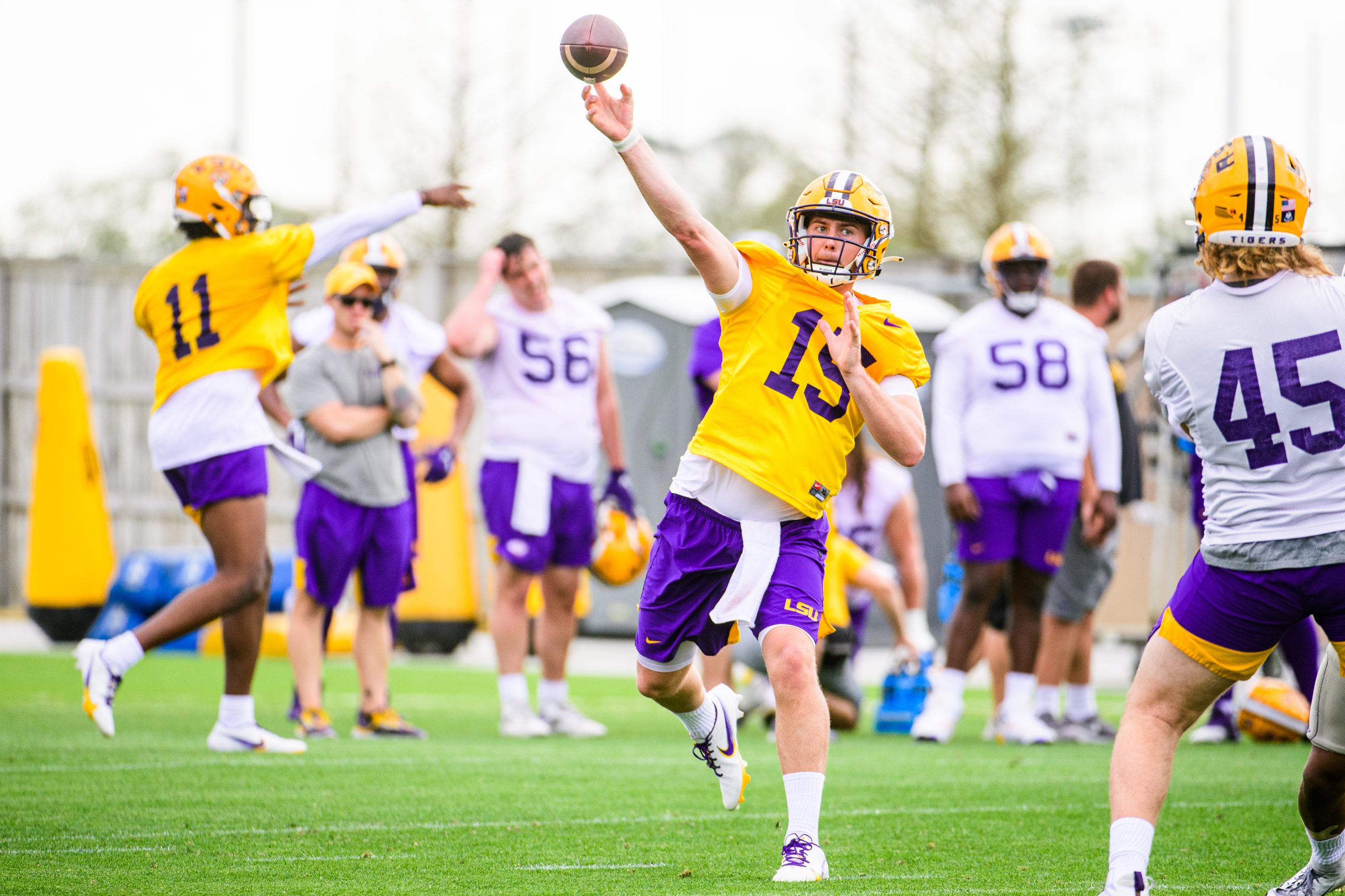 By deciding to take up LSU's new football coach on his offer to return to the team, quarterback Myles Brennan may have established another milestone.
Not only will the Long Beach, Miss. native take advantage of a rare sixth year of eligibility but the 6-foot-4, 234-pounder may find himself the footnote to the following question:
Which LSU player had played under the most head coaches?
For Brennan, who accepted Kelly's invitation to return for the 2022 season, will play for the third head coach during his career which began under Les Miles and continued under Ed Orgeron.
"Out of the blue on Monday, coach Kelly called me and that's how I got back into the mix," Brennan said during Friday's appearance on ESPN Radio's Off the Bench. "So, I feel like a weight has been lifted off my shoulders, and I can take a deep breath now and this is place that I've always wanted to be, and I didn't want to leave."
Orgeron floated a potential timeline of Nov. 6 for Brennan to return from a broken left arm, an injury he suffered prior to start of LSU's fall camp August. That never happened, though, and instead Brennan announced Nov. 1 that he was entering the NCAA's transfer portal with the expectation of finding a program where he could start, lead his team to a successful season and prepare for the NFL draft.
The Tigers appeared set to return two scholarship quarterbacks Max Johnson and Garrett Nussmeier for next season to go along with the anticipated arrival of five-star quarterback Walker Howard of St. Thomas More.
However, Johnson entered the NCAA transfer portal and landed at Texas A&M on Friday and Howard followed through on his pledge and signed with LSU on Wednesday.
Sandwiched in between those events was Kelly's phone call to Brennan, who thought enough of the overture to remove himself from the transfer portal and rejoin the team in January.
"I felt like I needed to be in a situation that I felt comfortable that I could do that and at the time LSU was not a situation I thought would best fit me and this opportunity with one year left," Brennan said. "That's why I went forward with the transfer portal. And I narrowed it down to a few schools. And then, like I said, out of the blue it just it all came full circle. And you know, I know that the Lord works in mysterious ways, and I am not going to second guess."
Brennan indicated he's close to 100 percent recovered from the injury to his non-throwing arm but said that after missing the entire season, he would not play in the Jan. 4 TaxAct Texas Bowl against Kansas State.
"I'm going to return in January with the team and I want to do that because I wanted to come back on a fresh start with him (Kelly), his staff and his team," Brennan said. "When you think about it, I haven't practiced or played all year. Trying to get my mind ready mentally, physically to go and play the game January 4 in Texas for one game … for us to possibly go 7-6. I know I have too much ahead of me to risk anything for that one game."
Brennan started the 2020 season, getting three straight starts, before sustaining a season-ending abdomen tear against Missouri. To that point, he threw for the most yards (1,112) in school history through the first three games of the season.
Brennan went through this past spring and offseason in preparation for the '21 season, expecting to battle Johnson for the team's starting quarterback job when he suffered the pre-camp injury.
Brennan, who completed 79 of 131 passes for 11 touchdowns in 2020, has thrown for 1,712 yards in his career with 13 TDs.
Kelly, who has hired four on-field coaches in Frank Wilson, Brian Polian, Brad Davis and Kerry Cooks, made Brennan feel at ease despite the current lack of an offensive coordinator. He plans to draw on his three-plus decades worth of coaching experience, attend meetings with the quarterbacks and try and mold an offense based on available personnel.
"He said there's no limitations to this offense," Brennan said. "They really kind of gave me a flashback point. It was like, if we got the guys to do X, Y, Z, I really thought that we could take that and run with it."