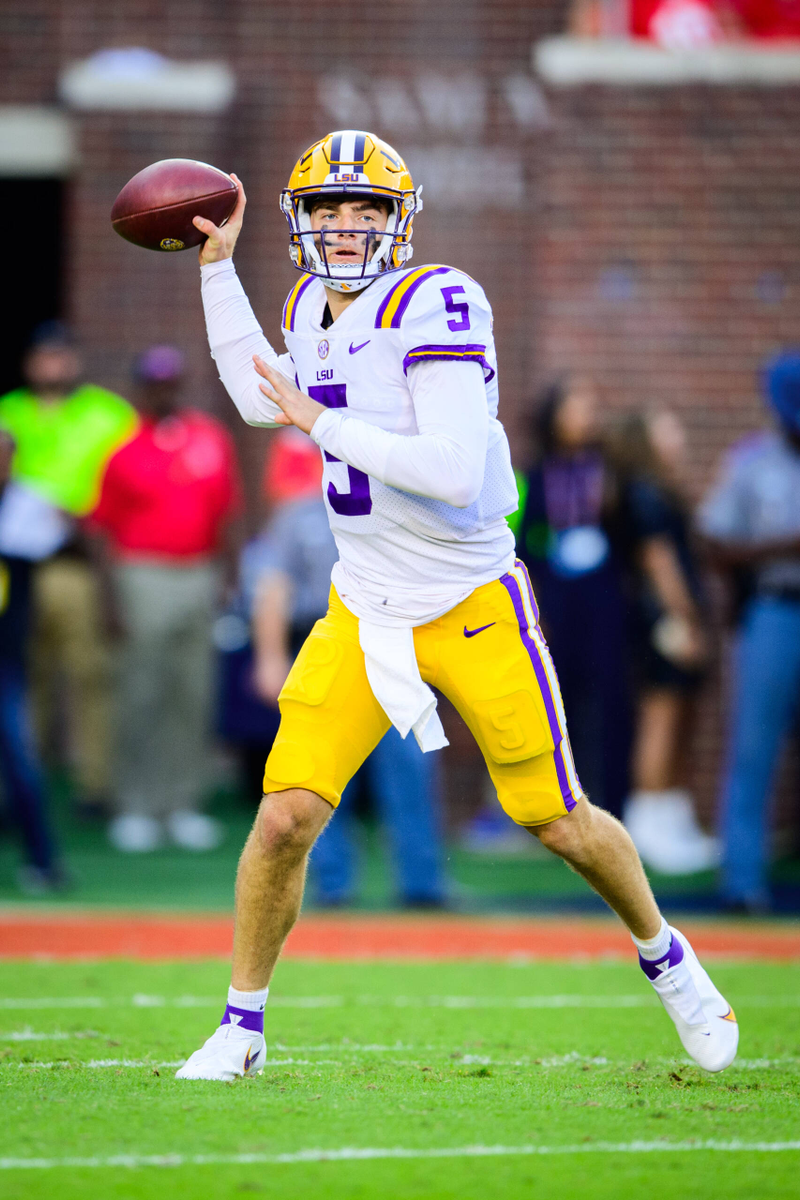 The only advantage of being a wildly, unpredictable inconsistent team is an opponent doesn't know what to expect either.
That's the case for LSU this season, which started the year ranked No. 13 in the preseason polls and is now a 4-5 team crippled by lame-duck head coach Ed Orgeron and the loss of 15 players for the season due to injury, academic suspension or entering the transfer portal.
One week, LSU is embarrassed by Kentucky in a 21-point loss, then rushes for 328 yards in a 49-42 win over Florida, then allows 470 yards in a 31-17 loss at Ole Miss and then holds No. 2 Alabama to an astonishing 26 yards rushing in a 20-14 Tide win.
So, how do you think SEC West rival Arkansas feels as it visits Tiger Stadium on Saturday night at 6:30 in the annual battle for The Golden Boot?
Will the all-out blitzing LSU defense show up for the second straight game after rarely blitzing in the Tigers' first eight games? Can running back Ty Davis-Price carry the load for an offense that has an open quarterback competition heading into the last three regular season games?
"LSU played as physical and as hard as they have all year last week," Arkansas second-year coach Sam Pittman said. "Coach Orgeron certainly has the team still. They're very, very talented. They're LSU. From what I saw on film compared to the other weeks, they've always played hard, but I thought they played extremely well and physical Saturday against Bama."
Orgeron believes his team, no matter the record, has something left in the emotional and physical tank the way his team battled 'Bama until the final play of the game.
"I feel good about the mindset of the team," Orgeron said earlier in the week. "I told them, `You play like this, we may win the rest of our games and go to bowl.' They deserve that.
"I think this team is going to finish strong. I see a lot of fight in them. I see a lot of guys getting their opportunities and playing their butts off. Not only does the record mean a lot but these guys are playing to go to the NFL. They want to have a good showing."
It has been difficult for LSU's players, at bottom of the SEC West at 2-4 compared to the bowl-eligible 6-3 Razorbacks and 2-3 in the SEC West, to maintain faith about a mostly new coaching staff that has been slow to make adjustments.
Like taking eight games to figure out during an open date week before the Alabama game that the Tigers were too predictable offensively and defensively.
Last Saturday at Alabama, LSU blitzed 24 times, more than half the total of how many times it had blitzed all season. Tide quarterback Bryce Young was sacked four times and pressured the entire game.
Alabama, usually a fast-starting team and a devastating finisher, didn't score in the first and fourth quarters.
"Everybody on the whole defense was happy to be sending the house," LSU linebacker Mike Jones said. "I've seen the way that can flush the offenses. I think that's a great step forward, let's keep our foot on the pedal, let's keep these guys guessing on third down. We now have shown we can do a lot of different things and do them at a high level."
LSU is facing another dual-threat QB for the second straight week in Arkansas' KJ Jefferson, who has thrown for 1,848 yards and rushed for 433 yards.
Arkansas, which leads the SEC and is fourth in the country in rushing averaging 243.8 yards, is one of two FBS teams with four rushers gaining 400 or more yards each.
The Hogs have an offensive identity. But LSU? Not so much.
"I wish we had more of an identity," Orgeron said. "Things break down obviously. I thought our run game came alive against Florida, we're still having problems in our protections, we're still not efficient on third-down. That's more or less some play calling, more or less execution."
Because the Tigers have scored 21 or fewer points in their last four of five SEC games, Orgeron immediately made an announcement Monday that freshman reserve quarterback Garrett Nussmeier will get "significant snaps" against Arkansas.
Both sophomore Max Johnson, who'll make his 12th straight start, and Nussmeier received equal reps in practice this week.
"They were competing, one day Max will do well, the next day Garrett would do well," Orgeron said. "Both will get their chance."
Previously injured starting defensive back Cordale Flott is expected back in action for LSU. But the Tigers will be without senior starting offensive guards Chasen Hines and Ed Ingram.
Ingram will miss the game after taking a hard blow to his head in practice this week. Hines is done for the rest of the season with an undisclosed injury.