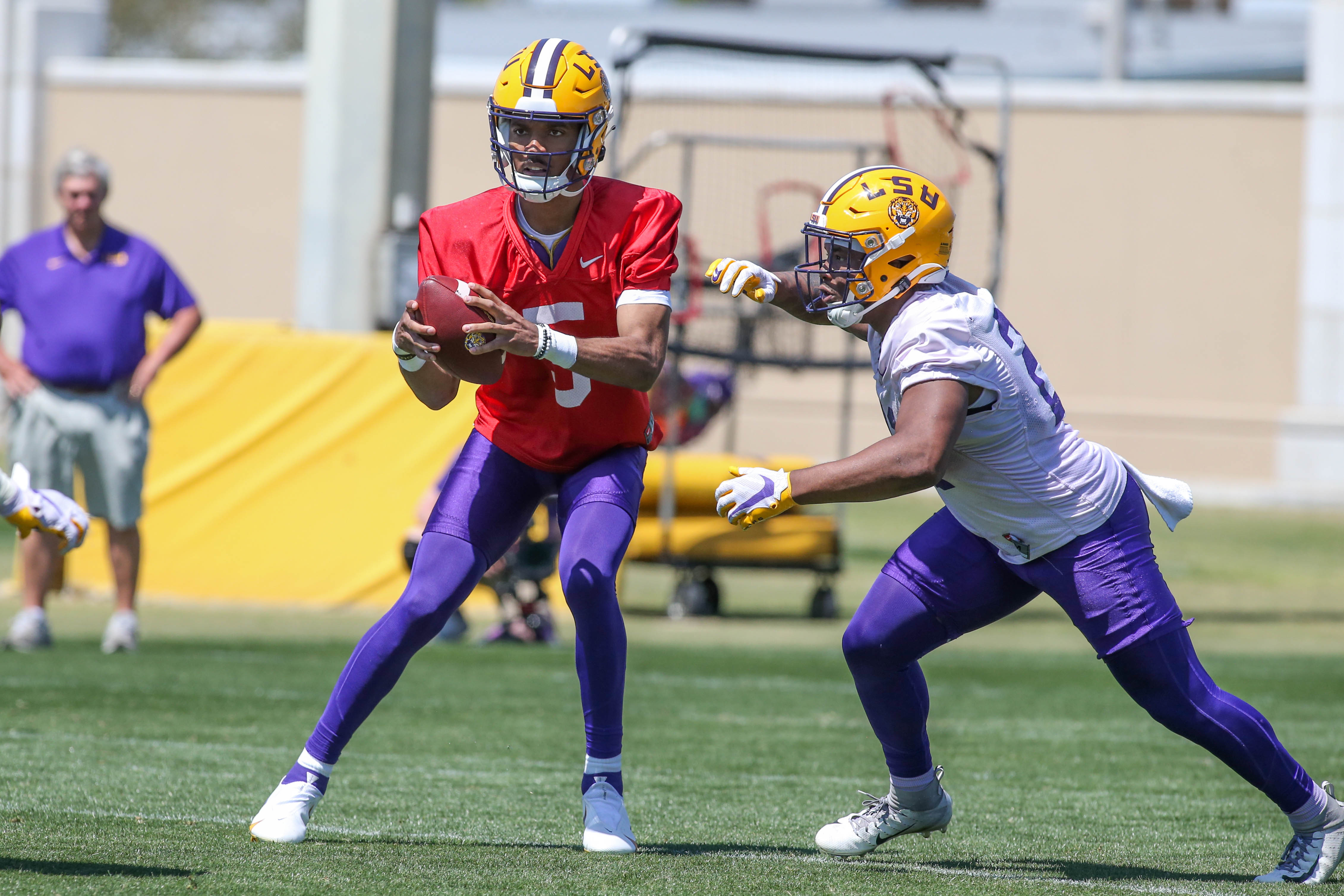 (Editor's Note: This is the third and final in a series on LSU quarterbacks. Today: Jayden Daniels)

Jayden Daniels has a go-to phrase.
Sometimes he prefaces comments with it, sometimes he closes them with it. Other times he drops it mid-sentence.
Ultimately, however hackneyed the expression may be, it's all about where – and what – the new LSU quarterback wants to be.
At the end of the day.
Daniels, a three-year starter at Arizona State, didn't come to ride the bench in Baton Rouge.
   But the California kid understands, and accepts, the fact he's in a competition with Myles Brennan back for a sixth season at LSU after a brief visit to the NCAA transfer portal, Garrett Nussmeier still around after redshirting as a freshman and highly regarded recruit Walker Howard taking part in spring practice as an early high school enrollee.
Daniels didn't have the best of showings in LSU's April 23 spring game, going just 3-of-9 passing for 68 yards and one touchdown while also rushing seven times for 21 yards and another TD.
But with no starter named in the spring, Daniels remains in the battle with Brennan and perhaps Nussmeier too for the job.
   But Brian Kelly, who left Notre Dame to succeed Ed Orgeron at LSU, plucked the fleet-footed Daniels from the portal for a reason, but his offer to join the Tigers came with no guarantees.
"He had (former Cincinnati quarterback) Desmond Ridder last year – you know, a mobile guy," Daniels said of first-year LSU offensive coordinator Mike Denbrock, who held the same job last year at Cincinnati. "But at the end of the day they're going to play the best quarterback.
"If it's me, if it's Myles, Nuss, whoever, they're gonna play the best quarterback – who is their best fit, who they think fits their offense, a scheme."
Daniels' skill set seems to be a match made in heaven for the RPO-heavy offense Kelly evidently prefers.
But there's much more to it than just fast feet.
   "He brings more than extending plays," Kelly said March 23, the day before LSU opened spring practice. "He was in an offensive system which was really built towards more ball control this past year playing to a very good defense. We think there's a lot that has not been tapped into his ability to be a dual threat quarterback."
Kelly really does see the whole package, not just a one-dimensional threat.
And he's not alone.
"He's got arm talent," the Tigers coach said. "He's got IQ and he can run the football. We think there's much more to it than what he's brought over the last couple of years."
Throughout spring practice, Daniels has taken off often in pre-planned runs and shown a knack for making the most of quickness and speed.
"They all throw the ball great," LSU receiver Jaray Jenkins said. "Daniels, you know, he can run. He can throw it and everything, just a like a few of the other ones, and I feel like the competition in the quarterback room is gonna be great."
Brennan and Daniels, not necessarily in that order, appear to front-runners for the job. But LSU coaches, who expect the battle to extend far beyond spring ball, aren't tipping their hand as to who's ahead.
Once he eventually makes his pick, Kelly will tailor LSU's offense accordingly.
Whatever form it takes, Kelly knows what he really wants. He made that known during his pitch to Daniels.
A sampling the conversation, according to Daniels: " 'Come here, we want to have an explosive offense, we want to be one of the top-scoring offenses in the country, and in order to do that in the SEC you've got to have good quarterback play.' "
"So, at the end of the day it's not really about me," Daniels said. "But, at the end of the day, they're just gonna play the best quarterback who fits the offensive scheme."
…
Daniels sparked some fireworks as a freshman in 2019 at Arizona State, going 205-of-338 – a 60.7 completion percentage – for 2,943 yards and 17 touchdowns while also rushing 125 times for 355 yards and three more TDs. He was intercepted just two times.
Arizona State went 8-5 that season and beat Florida State at the Sun Bowl in El Paso, Texas, where Daniels won MVP honors.
His, and Arizona State's, 2020 season was limited by COVID-19 to just four games.
The total passing numbers – 197-of-301 for 2,381 yards and 10 touchdowns with 10 interceptions – weren't nearly as impressive in 2021, however.
Daniels' completion percentage went up to 65.4. His rushing numbers – 138 attempts for 710 yards and six TDs – soared as the Sun Devils again finished 8-5, this time with a 20-13 loss to Wisconsin in the Las Vegas Bowl. But the overall body of work wasn't what it was in 2019, and Daniels had his share of critics.
At that point, enough was enough.
Daniels was ready to embrace a new challenge.
   Toiling in a league, the Pac-12, which operates in relative obscurity compared to other Power 5 conferences had worn thin.
"A lot of people don't get to really see our games," Daniels said. "But coming here (to LSU) and competing at the highest level with all these weapons here, all these resources, it's very intriguing for me to come."
Yet two months after leaving Arizona State, despite the way some teammates reacted to his departure, Daniels has nothing bad to say about what he left behind in Tempe.
"I always enjoyed my time at Arizona State," he said. "Loved Coach Herm (Edwards) and those guys over there. But just for my career, my future, I decided to go somewhere else, you know, so I can reach the untapped potential. They did a great job over there at ASU. But just coming here, coming to LSU, I get to showcase my talents on the national stage now."
…
Landing Daniels doesn't seem to have been all that difficult for Kelly, who convinced Brennan to remain at LSU not long after the 60-year-old coach left South Bend for Southeast Louisiana.
With one BCS national championship game appearance with Notre Dame, two CFP appearances with the Irish, two NCAA Division II national titles at Grand Valley State and 263 career victories behind it, the Kelly name alone did much of the selling.
"He knows how to win, he knows how to get his team where it needs to be," Daniels said, "so I want to be a part of that."
LSU recruiters were quite candid about what Daniels, who didn't enter the portal until Feb. 17 and committed to the Tigers two-and-a-half weeks later, would be up against.
"Coach Kelly was very transparent," Daniels said. "It's kind of like going back to when I was getting recruited out of high school."
Daniels threw for 5,136 yards and 62 touchdowns and ran for another 1,292 yards and 15 TDs as a junior – no typos there – and averaged 332.5 yards passing and 109.7 rushing for a 12-2 team as a senior at Cajon High in San Bernadino, California.
"Coach Herm and them had two other freshmen quarterbacks coming in in the same class as me (at Arizona State)," he said, "and at the end of the day they said, 'You have the opportunity to come in and play if you do the (right) things. The best player is gonna play.'
When Daniels decided Arizona State no longer was the place for him, however, certain teammates were less than thrilled.
A 10-second video tweeted out by George Wrighster III – a former NFL tight end turned sports broadcaster – shows a couple Sun Devils removing items from their former QB's locker and one of them disparaging his play, saying, in part, "He sucks anyways."
It's received more than 700,000 views.
"I came here for my future and my career," Daniels said. "It's a fresh start. What happened at Arizona State happened – you know, that video. I've still got a lot of love for those guys over there, still talk to them. At the end of the day, you know, it's beyond football for me.
"I hope they do well this season. I'm never gonna pray on their downfall," Daniels added. "Love Coach Herm. Love Coach Marvin Lewis (special adviser to Edwards at Arizona State) and those guys up there. But at the end of the day, they understood what I want to accomplish in my life, because it's my football career. It's moving on to the next step, moving forward."
…
Moving onward meant making new friends, forming new bonds.
Receiver Kyren Lacy, who transferred from the Louisiana Ragin' Cajuns to LSU in the offseason, was among the first to reach out.
"When I committed," Daniels said, "he hit me up with, like, 'I'm excited for you to be here.' "
Daniels didn't commit to LSU until March 6. He didn't arrive on campus until shortly before the start of spring drills on March 24. But he wasted no time before inserting himself into what began as a four-man fight for the No. 1 job.
"From top to bottom, those guys – you know, from senior down to freshman down to everybody in-between – continues to go out there and compete their butt off every day," Denbrock said.
Off the practice field, Daniels quickly went to work on getting to know his fellow quarterbacks.
"It's a healthy competition," Daniels said. "I ask Myles (Brennan) questions and Myles asks me questions. We're bouncing stuff off of each other. Relationships last a long time. So, coming here and being able to just be with those guys, and them embrace me, and I can embrace them right back, it was probably a big thing for me."
Sure, there are sticking points, the weather – Baton Rouge humidity is a different beast compared to Tempe dry heat – perhaps least among them.
Daniels, listed by Arizona State at 6-foot-3 and 185 pounds, is trying to bulk up to at least 200 to prepare for the pounding he may take from opposing SEC defenses.
But most of the rest are things the others are dealing with too.
Daniels is learning a new playbook on the fly.
He has improvement to make, from progression to footwork to how many mistakes the offense commits.
He has impressions to make too, not only in LSU's April 23 spring game but also throughout the summer.
Winning over the room – not just the one where quarterbacks meet, but the entire locker room – is one place to start.
The process began with a vow to simply remember who he is and what got him to this point.
"You start gaining the respect of others by working hard, doing the right things," Daniels said. "And that's probably the biggest thing for me, is being myself. Don't try to be anybody who I'm not. Those guys, they can see real from fake. At the end of the day if I'm not myself, then they wouldn't know who the real me is."
…
The penchant for dropping so many at-the-end-of-the-days – nine in less than nine minutes at one point – may have been a nervous crutch as Daniels met with media members covering LSU football en masse for the first time one Saturday in April.
It may have been his tool to buy some time for the full thought, or his next one, much like a QB dances a second or two before making a read and taking off downfield.
Or it may be he simply believes that what really does matter most is what has happened at the end of the day.
Whatever the case, this much seems certain: Daniels is prepared for however the quarterback battle shakes out.
He has two seasons of eligibility remaining, one more than Brennan, far fewer than Nussmeier and Howard. Whether his day is today, or one down the road, he's confident it inevitably will come.
"Obviously the goal is – not just for me, but any other quarterback – to start," Daniels said. "I'm not gonna say that's not what my goal is. I'm just gonna attack each and every day, each and every opportunity, the best I can. Put my best foot forward. And if it's not me (now), then I do have another year. But if it is me, I'm gonna put myself in the best position to help this team win and accomplish going after a national championship."
At the end of the season.