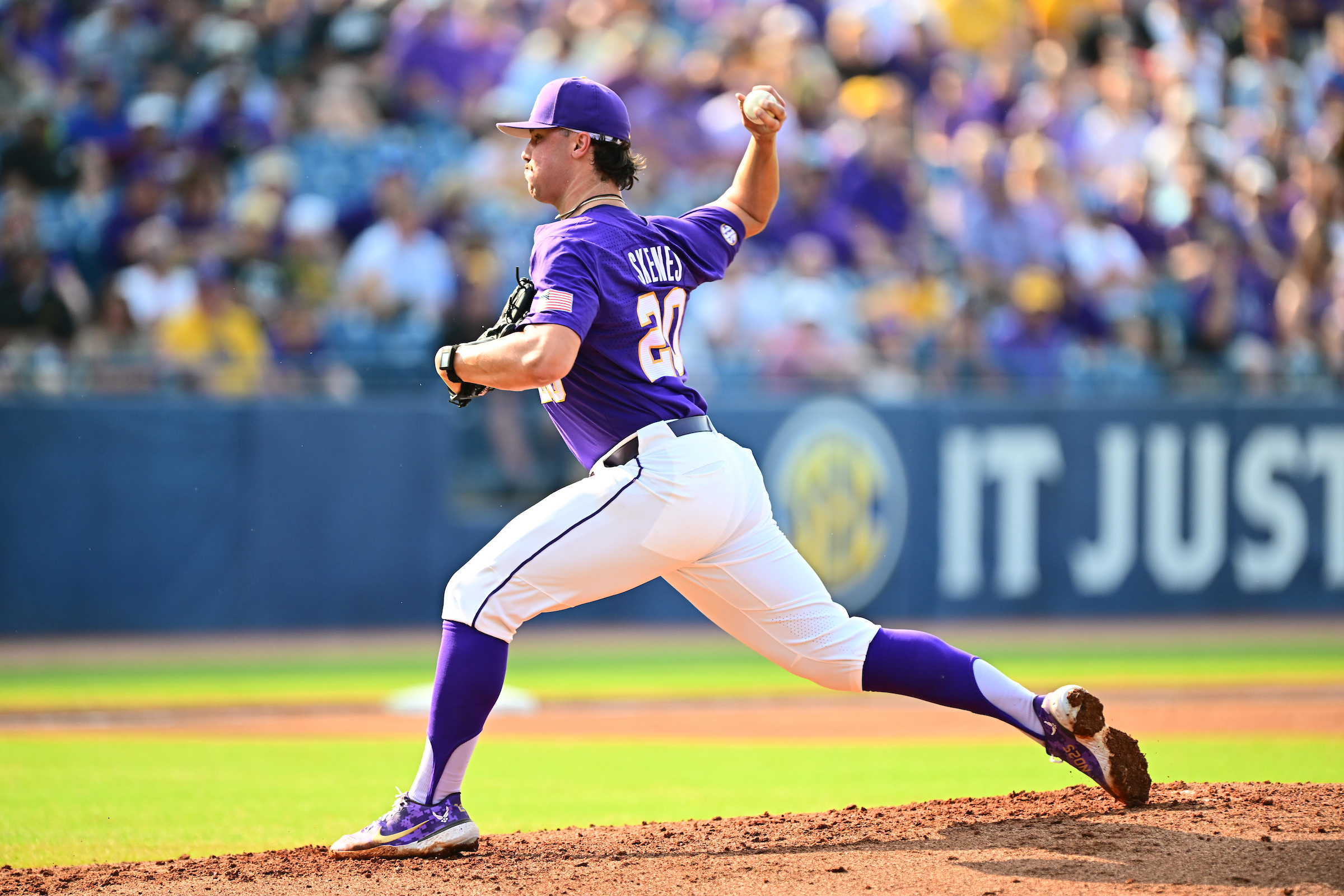 Arkansas scored all five of its runs in the bottom of the fourth inning, three coming after a controversial catcher's interference call when it looked like the inning was over, and then held on to beat No. 5 LSU, 5-4, in third-round action of the SEC Tournament at Hoover Met on Thursday.
LSU (43-14) will face Texas A&M on Friday at 3 p.m. in an elimination game, while Arkansas (42-15) will await the winner on Saturday.
"Obviously a really good win for our team," Arkansas coach Dave Van Horn said.
"You've got to give LSU's pitching credit. They did a really good job with us for most of the ballgame, as they held us to that one inning, but we put together a big inning and got a couple — at least one really big hit, catcher's interference in there, and just able to capitalize on a couple of things.
"But on our side of the ball, we played great defense. I thought that Peyton Holt made a super smart heads-up play on the double play ball. He knew he couldn't get that double play at first, ball was hit in the hole a little bit, and he spun and made a perfect throw, heads-up play by (Caleb) Cali being there at the bag waiting, and I think that really slowed them down," Van Horn said.
The five-run fourth was obviously huge for Arkansas, but Van Horn said the real story of the game was his pitchers.
"But to me, the story was our two pitchers. I thought they did a great job," he said.
"Between the two of them, we didn't have to field a lot of balls. I think we struck out 17, 18 guys, somewhere in there, and we fielded all the other ones. Just a really good team win, and get an opportunity to rest a little bit tomorrow."
Paul Skenes (10-2) took the loss for LSU after pitching 3.2 innings and giving up five runs, two earned, on four hits. Skenes, the SEC Pitcher of the Year, threw 88 total pitches, struck out three while walking two and hitting two Arkansas batters with pitches.
Riley Cooper relieved Skenes with two outs and the bases loaded in fourth. Cooper pitched the rest of the way for LSU, allowing no runs on two hits and striking out seven.
"Yeah, he looked fresh," LSU coach Jay Johnson said talking about Cooper. "He only threw to two hitters at Georgia (last weekend), and so kind of an extended break. He extended in that last Mississippi State game and gave us a chance to win.
"We didn't use him a whole lot last weekend. So I thought he looked fresh, looked rested. Other than the single to (Jace) Bohrofen, can't ask for much more right there."
Although Arkansas got out to a slow start against LSU, the five-run bottom of the fourth inning ended up being just enough offense for the Razorbacks.
Third baseman Caleb Cali and second baseman Peyton Holt each drove in a run while right fielder Jace Bohrofen drove in two runs to help the Razorbacks come back from a 2-0 deficit.
Starting pitcher Hagen Smith allowed just two runs on five hits while striking out nine in 3.2 innings. Hunter Hollan pitched 5.1 innings in relief, allowing two runs on six hits while striking out eight.
The 17 strikeouts against LSU that Smith and Hollan combined for on Thursday was the most strikeouts the Tigers have had in a game this season.
LSU nearly made a late-innings comeback with an RBI from shortstop Jordan Thompson in the top of the eighth and a solo home run from outfielder Dylan Crews in the top of the ninth, but it was too late for the Tigers as Hollan (8-2) things down to post the win for Arkansas.
The Razorbacks are now into the semifinals for the second time in three seasons. They won the tournament in 2021.

Mid 4 | Hayden comes home on a wild pitch and the Tigers plate another@haydenrt_ | SECN pic.twitter.com/68yyXCvx2B

— LSU Baseball (@LSUbaseball) May 25, 2023
Get this man a brush 🎨🖌️@Paul_Skenes | SECN pic.twitter.com/aAVHJQ5qaV

— LSU Baseball (@LSUbaseball) May 25, 2023