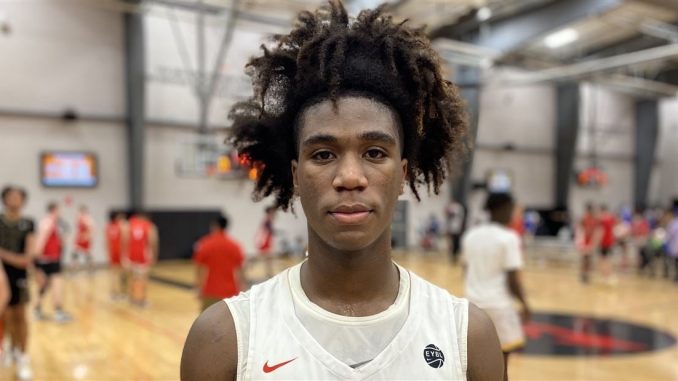 There's been certain cornerstones to each of the recruiting classes LSU men's basketball coach Will Wade has put together during his time in Baton Rouge.
For the seventh time in his five seasons at LSU, Wade's managed to add a five-star prospect to his roster and the Class of 2023 is no different with Friday's commitment from five-star combo guard Marvel Allen.
The 6-foot-5, 198-pound Allen of West Palm Beach, Fla. revealed his choice Friday on ESPN, unzipping his jacket during a nationally televised broadcast to reveal a purple LSU T-shirt.
"I'm big on relationships," Allen said. "And their playing style, I love playing defense and coach Wade let's his guards ball out, so I felt like it was the best opportunity. Me and my family prayed, and it's time to get to work.
"Coach Wade is a great coach," Allen said. "He flew down to my game and surprised me and I was shocked. He called me every day and talked to me outside the game of basketball, and he's going to help me become a man. I'm all about structure and I feel like Will Wade can provide that for me."
Allen is the first member of LSU's Class of '23 but follows a theme under Wade of becoming the latest five-star prospect to choose the Tigers. He joins Naz Reid, Emmitt Williams, Trendon Watford, Efton Reid and Julian Phillips.
Allen, who made official visits to LSU and Georgia, selected the Tigers over the Bulldogs, Alabama, Arizona State, Georgia State, Kansas, Maryland, Memphis and Ohio State.
He's the nation's No. 18 overall player, No. 5 point guard and No. 2 rated prospect in Florida.
"By doing it early I can prepare myself for their system and what coach Wade expects," Allen said. "They fit into my playing style. They're guard-focused and I like their defensive intensity. It fits me."
Allen, who averages 12.4 points and 3.5 rebounds this season for Calvary Christian, helped his team to a 17-7 record and Class 3A state championship during the 2020-21 season. He averaged 13.5 points, 4.3 rebounds, 3.0 assists and 1.6 steals.
During Calvary Christian's 85-76 overtime win over Bishop McLaughlin Catholic for the state crown, Allen had a team-high 21 points and added five rebounds.
"A great visit and great coaching staff," Allen told 247Sports in late December. "They sent guards to the league recently like Cam Thomas. I like how in their system they play freely, play crazy defense and it fits my playstyle."