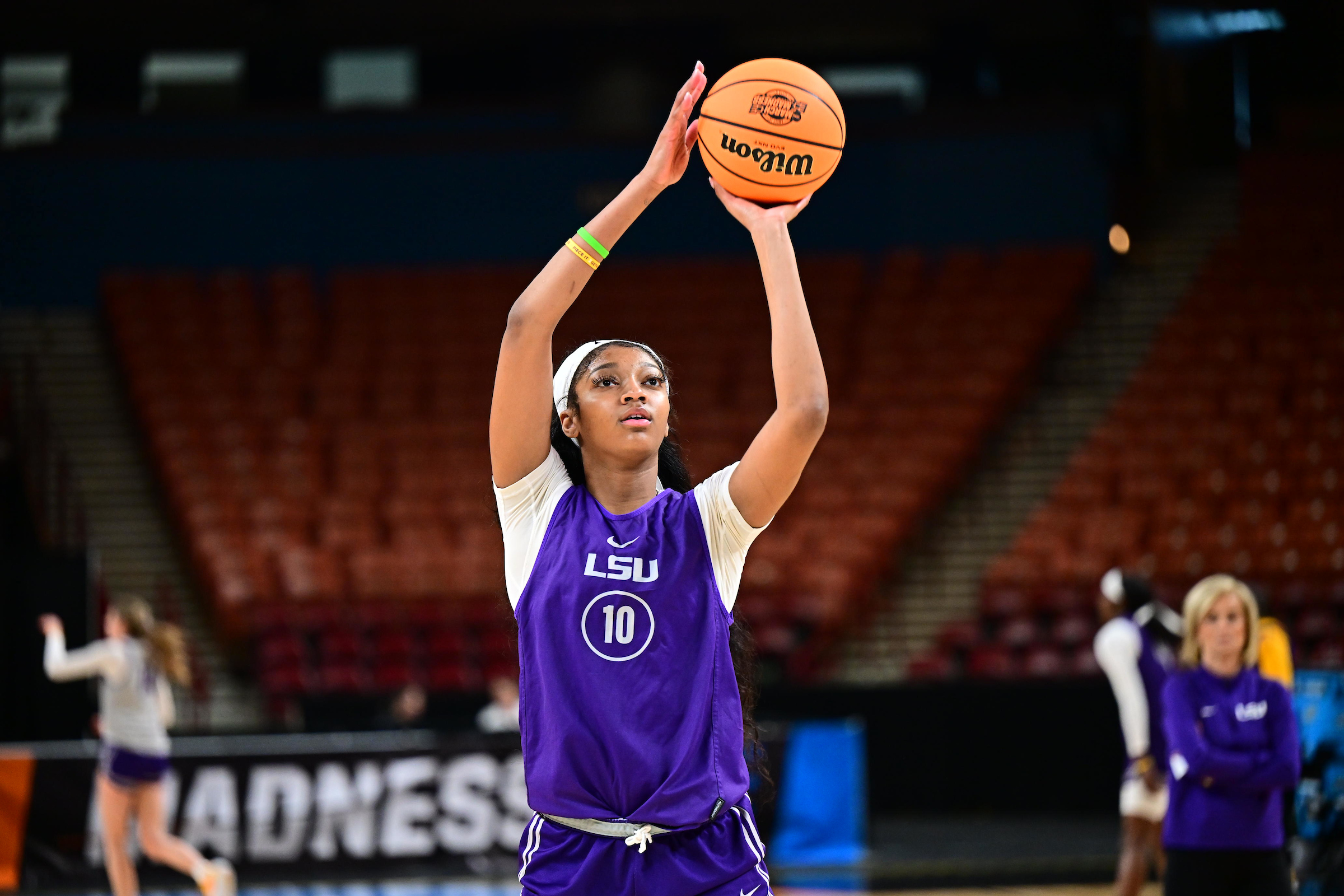 LSU coach Kim Mulkey said there's no road map for the Tigers to navigate the express lane to success they currently find themselves on.
It took Mulkey four years while at Baylor before leading the Bears to the first of three national championships. In her first two seasons there, she went 48-17 and played in the second round of the NCAA Tournament and WNIT final.
"What we have done in two years, where is the playbook for me to follow? I don't have one," Mulkey said at Thursday's news conference in advance of Friday's 4 p.m. Sweet 16 game with Utah on ESPN. "I can think about my years at Baylor where we won the national championship in five (actually four) years. To me that was unheard of. All you do is work. You just work. Whatever happens, you deal with it. You get excited about it. But you keep perspective."
Mulkey's altered the outlook of LSU's program in a relatively short period of time. In her second season, she's 56-8 and guided third-seeded Tigers (30-2) to the program's first Sweet 16 in nine years and meet second-seeded Utah (27-4) at the Bon Secours Wellness Arena in Greenville, South Carolina.
"I wanted this year for our team to show progress, and we have," Mulkey said. "I don't think there's any area that we went backwards. That's what you want to keep doing. If along the way of showing that progress, you do something unexpected, it's fun. It's fun."
Mulkey's acknowledged that with the advent of the NCAA transfer portal, LSU's further along than anticipated with only the return of fifth-year senior guard Alexis Morris from last year's NCAA second-round team.
The Tigers signed the nation's top-rated class from the transfer portal that included forward Angel Reese, guards Jasmine Carson of West Virginia and Kateri Poole of Ohio State, and forward LaDazhia Williams of Missouri.
Instead of having to rely on a younger team and build for the future, Mulkey plucked three experienced players (Reese, Carson and Williams) from the portal to plug into her starting lineup opposite Morris and freshman guard Flau'jae Johnson.
While this marks LSU's first Sweet 16 appearance since 2014, players such as Reese, Williams, Ohio State transfer Kateri Poole were part of teams at their previous schools to experience the NCAA Tournament at this level, taking a sense of comfort and transferring that to their teammates.
"We're all focused," Morris said. "We know what we need to do, and we're all clicking right now, and I think this is the perfect time of the season to be on the same page."
LSU concluded play on its home court this season with a 17-0 record, advancing a step beyond last season with wins over No. 14 Hawaii (73-50) and No. 6 Michigan (66-42) at the Pete Maravich Assembly Center.
The wins were more of a statement about the Tigers' defense which held their opposition 46 points a game, 32.6% shooting and forcing 18.5 turnovers. They also held a +24 advantage in rebounds where Reese was dominant with a 19.5 average in two games.
LSU also left home with a sense of hunger to remedy the haunting feeling of a 69-67 loss to Tennessee in the semifinals of the SEC Tournament on March 4 on the same floor in Greenville.
"I just feel like you don't get these chances twice," said Reese, who leads LSU in scoring (23.8) and rebounding (15.7). "Being able to come back here within the last three weeks, that's God's plan right here, and I believe in that a lot. And I feel like we aren't going to walk out of here with that same feeling that we felt last time, and that's just my mindset right now."
Morris averages 14.7 points and Johnson 11.7 followed by Carson at 9.2 and a team-high 57 3-pointers.
The LSU-Utah matchup, with the winner meeting the Villanova-Miami winner in Sunday's Elite 8, features two of the nation's highest-scoring teams with the Utes averaging 83.5 points, the Tigers at 83.2.
"Yeah, I have a feeling it'll be a track meet of sorts," Utah coach Lynn Roberts said. "We like to play with tempo. It makes us go. They play with tempo. You turn it over, they get a defensive rebound, they're gone. Yeah, it is fun. It's a fun style to watch. I think scoring is fun to watch. I don't want to watch them do too much of it, but I have a feeling both teams are going to push the pedal on that and play to our strengths. They've got to beat us; we've got to try to beat them."
Second team All-America center Alissa Pili, a USC transfer, leads Utah in scoring (21), field goal percentage (59) and rebounding (5.6). The powerfully-built 6-2 junior, who is capable of shooting the 3-pointer, scored a season-high 33 in the first round of the NCAA Tournament against Gardner-Webb.
Sophomore guard Gianna Kneepkens (15.1 points, 5.1 rebounds) is the top 3-point threat (68 makes) for a team that averages 8.3 3s per game, while 6-2 sophomore forward Jenna Johnson (12.1 points, 5.0 rebounds) also averages double figures.
The Utes, which have won five of their last six games, shared the Pac 12 Conference regular-season title with Stanford.
"We're excited," Mulkey said. "I think all teams that are here are excited. It's playoff time, and you're seeing a lot of upsets in the women's game like never before. We feel like if we play and play hard, and play defense and rebound and we win, we move on. If we get beat, we're going to hope that whoever beats us, you can just say, hey, 'we couldn't have done any more than we did. They were just that good today'."