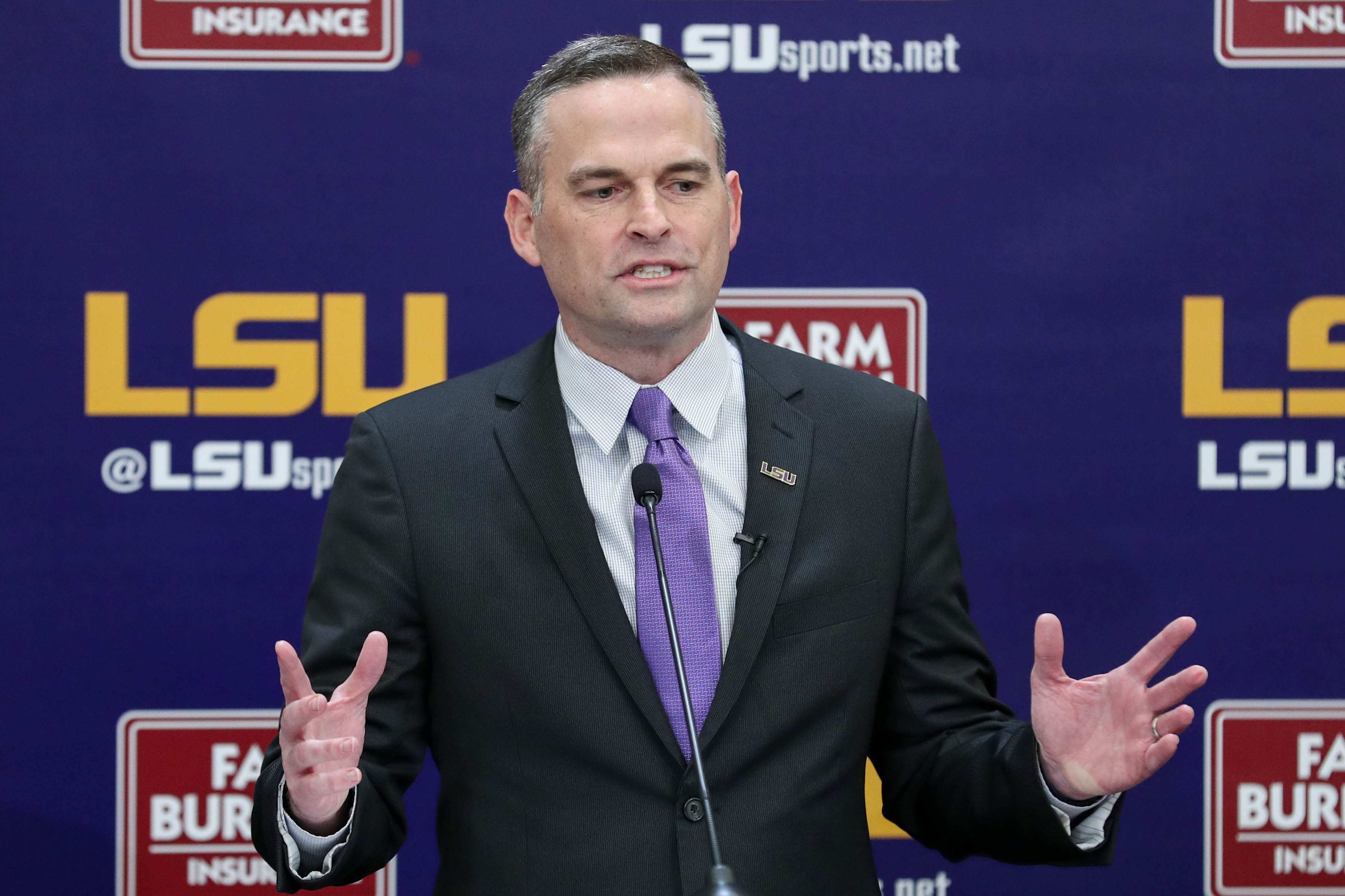 The cupboard was not bare early in Matt McMahon's tenure as coach of the LSU basketball team.
It was empty.
Each of the Tigers' 2021-22 players either entered the NCAA transfer portal or – in two cases, Tari Eason and Darius Days – had declared for the NBA Draft.
"We inherited a challenging situation, and it is what it is," said McMahon, who was introduced on March 23 as the successor to Will Wade, who was fired amid allegations of NCAA rules violations. "We started with zero players. Thrilled with where we're at right now."
McMahon, Murray State's head coach from 2015-22, had 10 players on his new roster when he spoke 1-on-1 with Tiger Rag on May 4.
One day later, he added an 11th – 6-foot-10 former Murray State forward KJ Williams, last season's Ohio Valley Conference Player of the Year.
Williams became the third former Racer to join McMahon at LSU, along with guards Justice Hill and Trae Hannibal, both of whom were on board within two weeks of McMahon's hiring.
McMahon's first addition was former Northwestern State big man Kendal Williams, who averaged a double-double as a sophomore in the Southland Conference. He signed prep school forward Corneilous Williams, a former Murray State signee, and ex-North Carolina State guard Cam Hayes in mid-April. Former Mississippi State forward Derek Fountain followed a week later.
Two Top 50 high school recruits, former Florida signee Jalen Reed, a 6-10 power forward ranked by On3.com as the nation's No. 44 recruit, and 6-7 small forward Tyrell Ward, ranked No. 23 by Rivals and No. 34 by ESPN, were signed before April flipped to May.
   McMahon, who credited his newly hired staff of assistant coaches for landing the two Top 50 recruits, also has gotten three of Wade's Tigers who entered the portal – forward Mwani Wilkinson, who started 30 games last season; reserve guard Justice Williams; and guard Adam Miller, who missed all last season due to a torn ACL – to stay at LSU. Miller became the 12th member of LSU's roster under McMahon.
Here's what McMahon told Tiger Rag editor Tim Buckley about the process, and his early days at LSU, in an exclusive interview:
TIGER RAG: (There are) so many pros and cons when you have to start from scratch. Do you feel like you're almost better off doing just that … as opposed to bringing in half of your own players, and then (having) half carryovers?
MATT MCMAHON: "It's a good question. I'm just more of a type of person who's just always going to look forward. This period of college basketball, where there's freedom of movement for players, which I fully support, guys have opportunities to move on when there are coaching changes, and things like this happen. I think whether we like it or not, that's college basketball in 2022. So, as the head coach, it's my responsibility to make sure we establish a foundation for what LSU basketball is going to be about moving forward. And for me I wanted to be very careful about not just trying to put together a team for 2022-23; I want to build a program here, and to do that you have to have a foundation in place and you have to establish your culture and you have to get the type of players who fit our coaching staff and how we want to run our organization. And that's what we've tried to methodically go about (is) the process of accomplishing that."
   TR: What about keeping guys who went into the portal? (McMahon responded before Miller made his decision on May 13.)
MM: "I have great respect for the guys going through their processes. I'm just really excited about Mwani Wilkinson and Justice Williams. They've had an awesome spring. They went into the portal, but they haven't missed a workout. (They) have done a terrific job in our player development program, in the weight room with Coach Puckett (Brian Puckett, LSU's assistant strength & conditioning coach). I think they saw how we're going to build the LSU program moving forward, and I'm thrilled they're going to be two of the foundational pieces of that. So (I) think those two guys deserve a lot of praise and respect from the LSU fan base, because they really handled things in a first-class this spring, and I'm really looking forward to coaching them."
TR: Did you have to sell (those two), or did they come to you and say, 'I want to make a case for staying,' or was it kind of a mutual thing?
MM: "No, I think when I got here it's college basketball in 2022 and when there are coaching changes players have the opportunity and the right to explore their options and look to make decisions. So, the majority of the team had already made the decision to leave before I was even hired. Those are two young men who gave us an opportunity to show 'em what the program's gonna be like, and I think they've really flourished in that. They've had a great spring in the gym. I think they've both grown as not only players but leaders. I'm excited about their futures here at LSU."
TR: With so much uncertainty for the program hanging overhead because of what's obviously still floating out there (with the possibility of NCAA sanctions), do you change your sales job when you go to recruit some of these kids? As opposed to talking about NCAA Tournament possibilities and all that, do you put more of a focus on 'What I can develop you into' and that kind of thing? How much do you have to be cognizant of what's hanging overhead?
MM: "Nothing changes for us. … I'm here to move the LSU basketball program forward, and that's my only focus. And so, you identify the right type of players, and the right type of people who want to believe in the vision that we have in this program. We've always prided ourselves on the player development program that we instill; the relationships – the genuine relationships – that we have with our players; the time, investment and care that we're gonna put into our players to help them max out all of their opportunities on and off the court here at LSU. And, so, that's how we'll continue to recruit as long as I'm blessed to do it."
TR: It just seems like kids always – not always, maybe I'm generalizing, but – a lot of kids want one of two things, or both of two things, which is 'Go to the league (the NBA), Big Dance (the NCAA Tournament).' And maybe now – since it's a brave, new world – NIL. But since you are starting from scratch, does that make it easier on you in terms of bringing guys in or does that make it tougher on you?
MM: "Um, that's a really good question. (McMahon pauses). I think what you have to have is, when you're taking over a program, and, as I mentioned earlier, my goal is not just to have a team next year, it's to build a program that's built on a rock-solid foundation, and then you just go out. We have a great opportunity here at LSU. There's an opportunity to come in here and make an impact, opportunity to play early in your career. My No. 1 goal in hiring our staff was to hire coaches who are the best of the best in player development and player investment, and that's what we were able to do. And so, I think players who want the opportunity to play at LSU, one of the great brands in all of college sports, to play in the best conference in the country at the SEC level, the opportunities that provides are second to none. And so that's our focus."
TR: Is it fair to you to expect you to be able to build 'a program' in what now seems to be more season-by-season team building, because there's no such thing as stable rosters anymore?
MM: Well, there's certainly challenges. I mean, that's the one thing. College basketball has been hit with the transfer portal, the one-time transfer exception, the NIL, with the COVID bonus years, all at one time. And so, I think you have to embrace these changes and max out your opportunities as you move it forward. So, for us, I always say it: You win in life with great people. And so, we just want to attract great people to our program and build it that way."
TR: Your point guard situation – how are you feeling about where things stand right now?
MM: (McMahon's face lights up). Oh, it's big-time. I'm real excited bringing Juice Hill (Justice Hill) in, the transfer from Murray State. He had a phenomenal season a year ago, was a first team all-league guy, really delivered on the biggest stage all season long. Cam Hayes (the transfer from North Carolina State) is a guy who was a Top 70 player in the country coming out of high school; enrolled a year early at N.C. State and I think will do great things for us. Then Trae Hannibal is a combo guard coming with us from Murray State as well, so I'm really excited about the point guard position."
TR: What do you change, being a coach from the Ohio Valley (Conference) versus now an SEC coach?
MM: "I think there's certainly changes that have to be made. I think, you know, the size and athleticism is the best in the country. That's why you see so many SEC players moving on to the NBA every year. But from a foundation, a culture, of how we're going to build our program and how we're going to operate on a day-to-day basis, how we're going to invest in players on and off the court – those things don't ever change. Those things are effective at every level, you know, all the way through to the NBA. And, so, that's how we'll continue to do it."
TR: Who was your biggest basketball influence, any why?
MM: "Biggest basketball influence, as far coaching, or …?"
TR: You tell me. Coach in the past? Somebody in the family? Old teammate? Guru?
MM: "No, it's hard to pin down just one. But, you know, I was really blessed to go to App State, Appalachian State, out of high school and play for Buzz Peterson, who played for Dean Smith, won a national championship at North Carolina. And I got to really experience that 'Carolina way.' That's been one of the great programs in college basketball history. So, I learned so much from him. And then Houston Fancher, who recruited me, was on that (Appalachian State) staff, and I worked for him for nine years. He was incredible and continues to be a mentor to me. And then getting with Steve Prohm at Murray State. He was excellent coach, real genuine, innovative offensively. (I) learned so much from him. I could name others, but those are three that have really invested a lot of time in helping me grow, not only as a coach but as a man and a father and husband, so (I'm) really appreciative of their impact in my life."
TR: What have you learned about Baton Rouge since the day you got here that maybe you didn't know about before, besides the fact the traffic is terrible?
MM: "Yeah. Another great question. I haven't gotten to explore it like I'd like to. It's just been all recruiting these first four weeks. But not only is the food really good, the portions are a lot different than I'm used to. So, the hospitality, the warm welcome from the campus and the community and the fan base across the state has been awesome to me and my family. And then I think – I've watched LSU for decades, but – until you get to experience the pride that the people of this great state have in LSU, the passion, that has really stood out here this first month on the job."