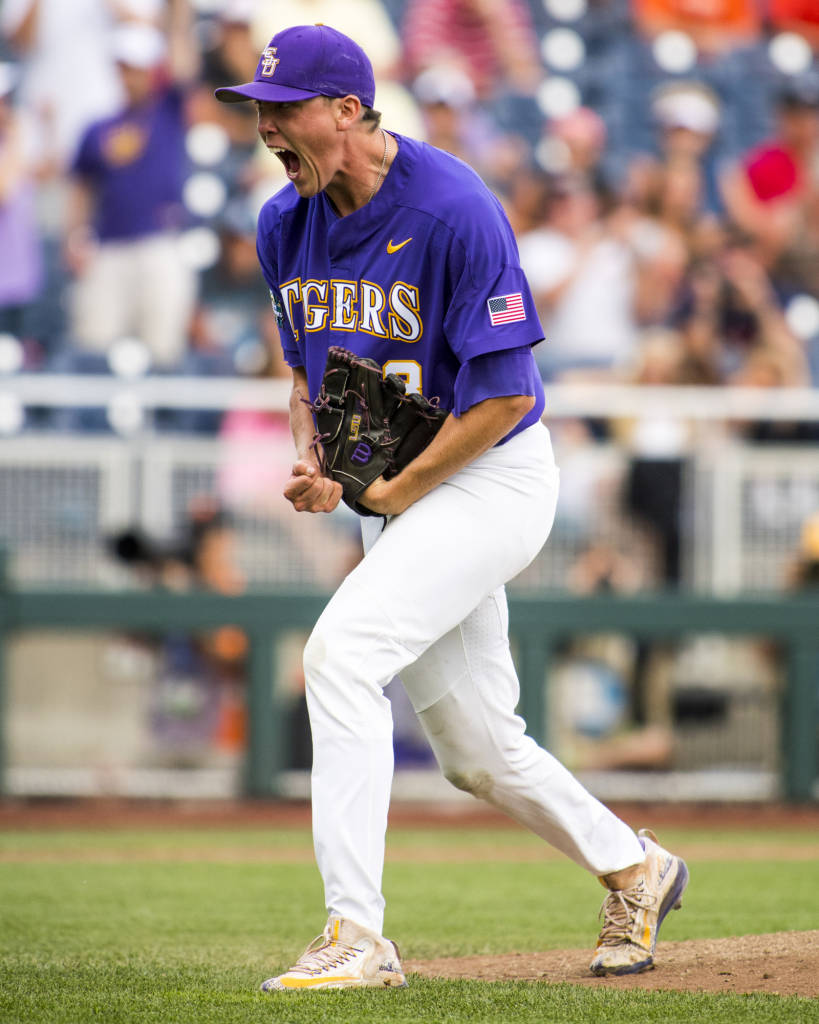 By JAMES MORAN | Tiger Rag Associate Editor
The Tigers stayed hot on a cold, blustery evening at Alex Box Stadium — Paul Mainieri even copped to breaking out the long johns for the first time this season.
LSU extended its winning streak to four in a row with a matter-of-fact 13-0 victory over Louisiana College on Tuesday night. The game was scheduled to make up for a rain out against San Diego last Tuesday.
"This was not about who we were playing, this was about us staying in a good rhythm of playing the game the right way," Mainieri said. "I was just proud of the way the guys came out tonight with a purpose and they played well … It was just good, solid all-around performance from our guys tonight."
Freshman right-hander Zack Hess fired six dominant innings of one-hit ball in a promising bounce back after struggling through a walk-filled outing at McNeese State. After working with Alan Dunn all week, Hess said his success came from a consorted effort to focus on hitting his spots instead of overthrowing.
"The biggest adjustment I made tonight was just trying to slow a lot of things down," Hess said. "I was just trying to focus more on hitting my spots, and just really slowing my windup down. Making sure I had everything timed up. Last week against McNeese I felt like I was kind of getting out of myself a little bit and was just rushing toward home."
The results were overpowering for the visiting NAIA lineup.
Hess carried a perfect game bid into the sixth inning, but lost in on an infield single that barely got past the mound. Up to that point he'd retired the game's first 17 batters and struck out six time through the order. He set new career highs for innings and strikeouts (7).
Mainieri said after the game that he would've pulled Hess after the sixth inning regardless of a perfect game bid. In fact, the coach said he didn't even realize that his rookie had yet to allow a baserunner. He reiterated the plan is for Hess to come back and pitch in relief at some point during this weekend's series against Georgia, though he "likely" won't be available until Sunday.
"I only hooked him because we need to have him ready for this weekend for us out of the bullpen," Mainieri said. "We've got to have all hands on deck for this weekend, and at least having him available for Sunday is a great thing. I thought he threw the ball great tonight."
LSU scored three times in the first inning after a hit by pitch and a walk set up the middle of the lineup. Greg Deichmann lashed an RBI double to right field, Jake Slaughter lifted a sacrifice fly to right and Zach Watson rolled a seeing-eye single up the middle to put the Tigers ahead early.
The Tigers tacked on two runs in the fourth inning. Josh Smith singled to right to break a streak of nine in a row retired by Louisiana College pitching. After a wild pitch, Beau Jordan sent an RBI single up the middle. After another wild pitch, Nick Coomes lined an RBI single to left.
Three Louisiana College issued walks loaded the bases full of Tigers in the sixth inning. Cole Freeman scored Jordan with a sacrifice fly to shallow center field.
Aided by walks and errors, LSU broke the game open with seven runs in the bottom of the seventh inning. Antoine Duplantis delivered the big blow with a bases-clearing three-run double to right-center field that extended his hitting streak to nine games.
LSU will be back in action Wednesday night against UNO. The Privateers took down the Tigers 11-8 at Maestri Field on Feb. 21. Mainieri said LSU will divide the game up among "several" relievers with freshman Todd Peterson making the start.