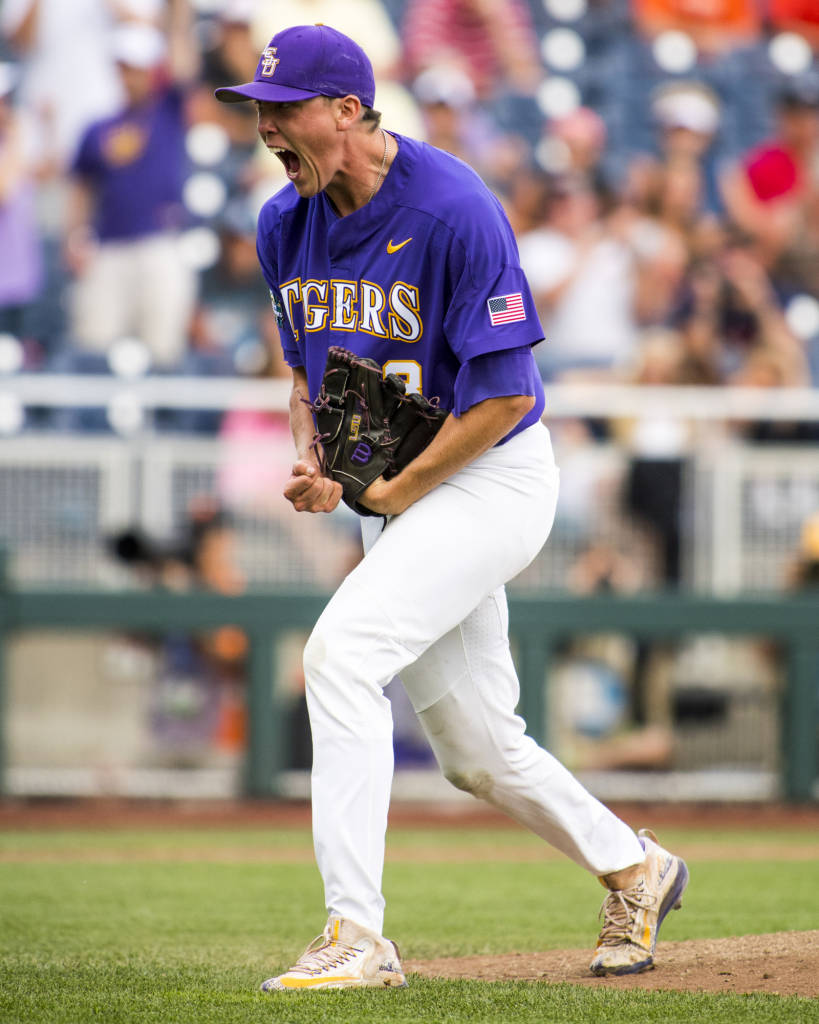 It's a blustery, damp January evening in Baton Rouge, and the faintest aroma of baseball is finally back in the air. Alex Box Stadium is still three weeks away from its opening night — spring may be even further away still after an unseasonably cold winter — and a construction crew races against the looming deadline to complete some offseason renovations. There are maybe a dozen people bundled up in the stands. The sections around home plate remain utterly barren, their purple and gold box seats removed to facilitate resealing of a leaky foundation; kind of ironic given how well the field itself drains after a Louisiana deluge. The smell of paint fills the press box whenever the wind gusts in.
Editor's Note: This is the cover story for Tiger Rag's Baseball Preview, on newsstands across Baton Rouge right now and available for purchase at TigerRag.com. You can also view the digital version of the magazine, our e-Rag, by clicking here. 
Nothing could seem farther from the promised land of Omaha. The 900 or so miles between Alex Box Stadium and TD Ameritrade Park don't quite do it justice, and four months is practically an eternity amid the daily grind of baseball. LSU is scrimmaging as a team for the first time this spring, the first step along the long road back to Omaha. Only eight teams reach the summit each summer, and only one goes home happy.
There are no bright lights, television cameras or championship stakes to speak of, but good luck explaining that to Zack Hess. He still looks like the same volatile flamethrower who captivated the baseball world last June, even if his hair has returned to its natural color and shape — he ditched the Rick Vaughn haircut once the sharp edges began to look fuzzy but let the jet-black dye job fade away naturally — and the replica 'Wild Thing' glasses sent to him by a friend of Charlie Sheen last summer remain with LSU's compliance staff.
You see glimpses of the same borderline psycho on the mound, even in this intra-squad scrimmage; the way he swaggers around after mowing down the heart of LSU's opening day lineup and throws his hands up in exasperation after not getting the call on a 3-2 changeup. His fastball is sitting 92-93 miles per hour, bumping 95, and the slider is making good hitters look silly.
So why all this intensity for what essentially amounts to a spring training outing? For most decorated hurlers, it's a time to get your work in, build up arm strength, tweak a couple things, and, most importantly, not get hurt. So why fire up the afterburners on Jan. 26?
Because he has something to prove to everyone. Even himself.
Especially himself.
After emerging late last year as Paul Mainieri's most electric and effective option out of the bullpen, Hess is in the process of transitioning back to being a starting pitcher. It's not easy for the staff to take such an impressive weapon out of the closer role that he was so dominant in, but LSU wasn't left with much of a choice after starter Eric Walker underwent Tommy John surgery last summer that'll sideline him until 2019.
His loss means the Tigers must replace the entirety of a weekend rotation that ate up 333.2 innings and won 30 games last season without any proven options beyond Hess and fellow postseason hero Caleb Gilbert.
"I want him to be a starting pitcher. I'm hoping that he can be," Mainieri says. "He's going to have every opportunity to do it. Partially because I want it for him for his own situation and partially because we don't have enough other proven guys to give that role to. But as the season rolls on, we'll see how it's going. Maybe somebody else is developing so we could put him in the bullpen. Maybe there's a need for him to go into the bullpen. But we just know that's an option. We're not going into the season thinking we're going to do that at some point. I just know it's an option."
And a damn good option at that.
LSU doesn't sniff the College World Series Finals last June were it not for Hess' brilliant heroics in relief. He was arguably the game's most imposing reliever after moving to the bullpen in early April, pitching to a 2.51 ERA with 48 strikeouts in 32.1 innings across 22 appearances. He closed out all four of LSU's wins in Omaha, his unhittable stuff and Wild Thing persona becoming a viral sensation in the process.
But can all that filthy stuff and unadulterated aggression be harnessed into seven strong innings on a given night? Just how good of a starter does he have to be to justify losing the trump card of that hammer jogging in from the bullpen at the end of tight games?
The eyes of the college baseball world and the scouting community will be watching as one of the 2018 season's most fascinating subplots plays out in Baton Rouge. Is Zack Hess a starter or reliever? will be written, debated, asked and opined upon countless times in the months and even years ahead.
And fair or not, Hess knows full well he's working against preconceived notions developed from his own electrifying 2017 highlight reel every time he takes the ball this spring.
SCOUTS RAISED ALL the same questions about Hess when he was a high school pitcher at Liberty Christian Academy in his home state of Virginia. They pointed to a violent, maximum-effort delivery with a noticeable head jerk and ultra-intense demeanor and projected a reliever, even as he had great success as a starter.
Nathan Rode, the National Supervisor for Prep Baseball Report, scouted Hess multiple times as a prep star. Like so many of his area scout colleagues, he saw the makings of a lethal closer at the next level. He noticed velocity tapering off as the games went on and felt his delivery was more repeatable out of the bullpen than it would be over the span of 100+ pitches.
"There's so many unknowns with an 18-year-old kid that it's hard to be too convicted about anything, but early on I thought of him as a reliever," Rode says. "If any teams viewed him as a legitimate starter prospect, then he probably would have signed out of high school and gotten a chunk of money.
"It's one of those things where all signs point to his future being a reliever, but none of us will be shocked if we're proven wrong. Everybody is wrong at some point in this game."
Relievers are becoming a hotter commodity in the modern game of baseball when starters rarely go past six innings, but starting is still where the biggest money rests, even at the prospect level. High schoolers, generally speaking, are the most expensive draft picks to sign because they have the leverage of going to college if their price isn't met.
Teams are loath to pay seven-figure signing bonuses to a teenager whose ceiling is a reliever instead of a prospect who could develop into a cost-controllable starter down the road. That's why Hess fell to the New York Yankees in the 35th round of the 2016 MLB Draft and ultimately enrolled in school.
"He could've been a third- or fourth-round draft pick out of high school, so we're very fortunate he came to LSU," Mainieri says. "I think he realized that if he'd signed out of high school they'd immediately have made him a relief pitcher. He wanted to see if he could be a starting pitcher. I don't think he's thinking much about this, but if you look at the Major League, who is getting the biggest contracts? Starting pitchers. Anybody would like to give themselves a chance to be the most valuable and maybe be compensated for it at some point."
Ask the Scouts | What is Zack Hess' future as a professional prospect?
But the cold reality of the amateur draft process only tells half the story of how Hess would end up on the Bayou. There was also a bit of controversy and a strange twist of fate.
Hess was a long-time commitment to Virginia Tech. His father, Karl Hess, was a prominent — or notorious, depending on who you ask — basketball referee for the Atlantic Coast Conference. The ACC unceremoniously fired Karl in 2015 after an "accumulation of incidents," according to an ESPN report, culminating with accusations that he directed an ethnically-charged remark at Atlanta hotel magnate Mit Shah after a Louisville-Wake Forest game. Shah is the former chairman of the Wake Forest board of trustees.
Zack decommitted from Virginia Tech in the aftermath of the controversy, deciding he wouldn't take his talents to an ACC school. Karl turned to former Tennessee coach Rod Delmonico, a baseball lifer and old friend, to seek some guidance on where Zack could get the best pitching coach in America.
Delmonico gave him two suggestions: LSU and Florida, two of the nation's leading developers of power arms with track records of not abusing their pitchers through overuse. A meeting with LSU pitching coach Alan Dunn during his first campus visit sold Zack that it was the place for him.
"It's the best decision I've ever made," Hess says. "There's not one ounce of me that looks back with regret. I love being here and the fans and being around the guys. Getting to work with someone like Coach Dunn, and how far he's brought me over the span of a year and a half, it's been incredible."
Hess didn't make any demands about his role upon committing to LSU, but he asked Mainieri and Dunn for one assurance: they'd give him a legitimate chance to earn a starting job instead of just pigeonholing him as a reliever the minute he stepped on campus.
Now those same scouts that labeled him a reliever two years ago are brimming with curiosity to see what Hess looks like as a draft-eligible sophomore with a year and a half of college seasoning. He's made every preseason big board of top collegiate prospects on the strength of his relief efforts alone.
"That's the thing about scouting and projecting; the beauty is in the eye of the beholder," Rode says. "I think with an arm like that and the secondary stuff that he has, you have to give him a chance as a starter in my mind. You at least try it. It's hard to turn away from that stuff and seeing what it can do over seven-plus innings."
MAINIERI IS A man of his word as much as any coach in the profession. Sometimes that means brutal and blunt honesty that can be construed as callousness, but he kept the promise he made to Hess.
LSU returned rotation stalwarts Alex Lange and Jared Poche' last season, leaving one spot in the weekend rotation up for grabs. Walker began the season starting on Sundays while Hess started in the midweek, but LSU made it an open competition in which whoever pitched better would get the weekend job once Southeastern Conference play began.
"He never asked for any guarantees, nor would he want one," Mainieri says. "He totally trusts AD and I, and he knows we're going to do what's best for the team, but if we can also do what's best for him and his career, that would be a wonderful thing."
Walker clearly won the competition through the pre-conference schedule and backed it up with a sensational rookie season, earning Freshman All-American honors from five different outlets. Hess battled his control and struggled to maintain his velocity deep in games, but was initially allowed to continue developing as a midweek starter.
That changed when a rash of injuries struck the LSU bullpen. The Tigers lost closer Hunter Newman to a back injury and setup man Doug Norman to Tommy John surgery in rapid succession, leaving only Gilbert as a reliable reliever. Eventually Mainieri went to Hess about making a change because LSU needed him to impact the more important SEC games.
Hess, a team-first guy by nature, jumped into the role with both feet. He sought out Newman, LSU's former closer and himself a converted starter, for help developing a reliever's routine. Mainieri and Dunn carefully managed his use, but it became quickly apparent that the role fit him like a glove. Hess took on an increasingly larger role before blowing away the field in Omaha.
"Last year was kind of my first introduction to a relief role on a full-time basis," Hess says. "It's kind of a different aspect of pitching because you're always coming into high-pressure situations. I thought it was a lot of fun. I've always thought that one of the stronger points of my game is the ability to rise up in some pressure situations, so being brought into those type of scenarios was awesome."
The high-speed thrill ride eventually ended in heartbreak. Hess pitched so well just to get LSU into the College World Series Finals, but closing four games in a week's time wore down the first-time reliever. His velocity dipped, his slider flattened out and Florida tagged him for four runs in the eighth inning to turn a 2-1 lead into a 6-1 victory and the program's first national championship.
Tears were shed in the LSU locker room that night. The utter devastation radiated off Hess; hat pulled down to his brow, he stared off into the distance and answered every reporter's question in the same hushed monotone.
Uncharacteristically bad defense had put the Tigers in a hole, and a combination of questionable base running, bad breaks and great pitching kept LSU from scoring more than the one run, but Hess took the full weight of the season-ending loss on his shoulders.
"That one is on me," a visibly dejected Hess said on that fateful night in Omaha. "I didn't do my job. If you don't do your job, you don't win ball games."
Instead of wallowing, Hess let the disappointment fuel him going into the summer. Mainieri and Dunn had concerns about the heavy workload he shouldered during the runner-up run, recommending he shut down for the summer, but after Walker's diagnosis was confirmed, Hess didn't take no for an answer.
Hess went to Cape Cod to prepare for his return to being a starter. It's the highest-regarded collegiate summer league, like a cross between an all-star travel circuit and the minor leagues. Lots of elite talent, but the focus is more on development than winning games. The LSU staff agreed to let him go but insisted on a strict pitch count and innings limit.
So why would a burgeoning star coming off a brilliant — albeit taxing at the end — Freshman All-American season push so hard to avoid taking the summer off?
"During the season you don't have time to go out there and learn on the fly," Hess says. "You have to produce with what you have. So being in the Cape, it gave me the opportunity to work on some things and help build toward the season. So it was great for me."
Over three starts Hess got back into his starter routine and knocked some of the cobwebs off his changeup. He'd shelved the pitch and gone exclusively fastball-slider as a reliever.
Relievers can get by on two pitches because they typically only go through a lineup one time. It's also out of necessity, since they don't have much time in the bullpen to warm up three different pitches.
It's considered far more important for a starter to have three or four pitches since they'll have to navigate a lineup three or four times over to be successful. Dunn preaches the changeup in particular because a good one can keep hitters off balance and appear to speed up every other pitch.
Dunn wants Hess' changeup to sit about eight to 10 miles per hour slower than his fastball. That, plus command and a bit of deception, would be a recipe for tremendous off-speed pitch to complement his fastball and power slider.
The speed variation isn't quite there yet, but it's getting closer, Hess says. Dunn has been working with him on a new changeup grip that tweaks what pressure points his fingers exert on the baseball. It's looked like a more effective changeup so far this spring than the 89-91 mph one he used sparingly last season.
"It's a work in progress," Dunn says. "It's hard to have three pitches out of the bullpen because you don't have time to implement those pitches. So that's something we've got to use in these scrimmages and bullpen sessions to get a feel for it. Is it behind his fastball and slider? Yes, because those are his bread and butter. But his mindset is good with it and he understands how it can be effective, so now it's about doing it in game situations. The potential is there, it's just about using it right."
The new changeup is just part of a larger refinement Dunn and Hess have been working on since the day he stepped on campus.
REMEMBER AL HRABOSKY?
The old St. Louis Cardinals closer is probably better known by his nickname: The Mad Hungarian. Baseball fans of a certain age will never forget that herky-jerky motion or the demonstrative psych-out routine he put on behind the mound before each at-bat. The rest of us have to settle for grainy YouTube clips to figure out where the moniker came from.
Hrabosky had a violent delivery and the unhinged temperament on the mound to match, but he put together some fantastic seasons as a closer during a 13-year Major League career. He saved 97 games in his career and finished in the top five of the Cy Young Award balloting twice.
It's not a coincidence that Mainieri invoked his name when asked about Hess during his state of the program address at media day. Hess' delivery isn't quite that unorthodox, but it's something scouts point to as a reason he'll wind up in the bullpen sooner or later.
"There's a lot of effort in what he does," says a National League area scout who spoke candidly to Tiger Rag on the condition of anonymity. He'd face professional repercussions from his organization if it became public that he spoke to a reporter on the record about a prospect.
The scout continued: "The thing you want to look for is can he repeat it and hit the same spot. Can he throw glove side two straight times with a fastball? Can he throw arm side two straight times with a fastball? Those are some key indicators. To me, when you look at Hess, he's going to try to out-stuff the zone. He's going to throw darts into a big area instead of trying to be fine within a little area."
"There's no doubt he's got a violent delivery," adds Kendall Rodgers, the managing editor of D1Baseball.com.
Repeatability isn't the only concern. Despite a powerful 6-foot-6, 216-pound frame, scouts still worry about how well he'll maintain his stuff deep into games with such a taxing delivery. Hess' velocity dipped below 90 miles per hour in the middle innings of some of his six midweek starts last season.
It also raises questions about his durability in an age when arm injuries to pitchers are a costly epidemic for Major League organizations.
"I don't think it's necessarily how good he is as a starter. I think it's how well he holds his velocity," Rodgers says. "Remember when he started in the midweek last year, the concern of some people was his velo dropped after a few innings. I think the big thing for Zack is proving he can hold his velocity. If he can show he can maintain 91-93 (miles per hour) and bump 94 as a starter, you start to look at him a little bit differently as a prospect."
What people may not know is that Dunn has been working diligently with Hess to refine that delivery since his first bullpen session at LSU in the fall of 2016.
Not a full-scale rebuild by any stretch, but little adjustments to take some of the stress off of his right arm and allow those tree trunks he has for legs to provide more of the power.
"He's learning how to slow his body down," Dunn says. "He's got kind of a max-effort mentality anyway, and when he got here his motion was very aggressive. He'd get in some bad habits of trying to bully the ball a little bit. So we just tried to tone it down a little bit and make it more repeatable.
"He's really figured out some things about himself and how to maintain that maximum amount of stuff with somewhat less effort."
THIS WON'T BE the first time Mainieri has had to replace an entire weekend rotation from a team that made the College World Series. The last time he did it LSU went right back to Omaha and won the 2009 National Championship.
Mainieri has a way of providing historical context for just about anything. It's a byproduct of spending 35 years in the coaching business; you've pretty much seen and done it all before. In this case, he points to Louis Coleman's transition from 2008 reliever to 2009 ace as an example of the leap LSU is hoping Hess can make this season.
Coleman was brilliant out of the bullpen in 2008, posting an 8-1 record with a 1.95 ERA. He wasn't a pure closer, but Mainieri deployed him similarly to how he used Hess last season before the freshman supplanted Newman as the closer during the NCAA Tournament. Coleman worked primarily as a starter in 2009 and went 14-2 with a 2.93 ERA to help lead the Tigers to a championship.
LSU isn't planning on using Hess as an occasional reliever in between starts like Coleman did in 2009, but Mainieri posits there's value in having pitched those high-leverage innings out of the bullpen that can be beneficial in the transition to starting. He saw a similar jump from Aaron Heilman during his days at Notre Dame.
"It made them better starters because they recognized that moment during the game, it might've been in the fifth inning, when the game is on the line and they had that closer mentality they could go to," Mainieri explains. "I remember Heilman and Coleman talking about how being a reliever helped them recognize those moments when they had to raise their game a little bit more. Maybe that'll help Hess. We'll see."
Hess buys that logic. He recalls Mainieri mentioning Coleman when he first approached him about moving to the bullpen last season, and says his ability to rise to those high-adrenaline situations is what made him such an effective reliever.
The key to Hess making the same successful transition will be how well he can manage the games so he still has sufficient gas in the tank whenever those pivotal moments arise.
It goes back to maintaining his stuff as games go on, but the challenge is as much mental as it is physical. Conventional baseball wisdom says a starting pitcher can't put his all in every pitch like a reliever can.
He's got to play the long game and not invest the kind of emotion that Hess put into every mighty heave at the College World Series. That means understanding that you can't strike everyone out and that the occasional one- or two-pitch out can go a long way toward getting deep into games. You've also got to field your position well and be quick enough to home plate that opposing baserunners don't rob you blind.
"When you're coming in at the end of games you can definitely put the gas pedal all the way to the floor," Hess says. "As a starter you have to cruise at about 80-90 percent and pace it out, but that part is something I'm not too worried about. You can be a little bit of a lunatic, but you have to bottle it up a little bit more. Pick and choose your spots and save your best stuff for those big moments."
"You've got to manage the pitches," Dunn adds. "That comes with maturity."
But until Hess does it consistently for six or seven strong innings a weekend, there will always be those who wonder if his talents wouldn't be better served as an uninhibited lunatic throwing 100 mph at the end of games.
"Honestly I think the bullpen is Zack's wheelhouse. You look at his swagger and approach, it's such a reliever mentality," Rodgers says. "So all these guys get enamored with being a starter, but you look at how electric Zack is in the bullpen, he projects as a reliever at the next level, and personally I think that's the best fit for him. Then again, maybe he just blows everybody away this year and things start to change. I hate to discount him because he's such a hard-nosed guy. He's one of those guys where you discount him and he'll make you look like an idiot."
WHAT DOES A starting pitcher look like? Guys have gone to the Hall of Fame being as imposing as Randy Johnson or as diminutive as Pedro Martinez, but for whatever reason, scouts always seem to want to find one that acts like Greg Maddux.
Maddux was the quintessential pitcher's pitcher. He had a seamless, almost effortless delivery that left him in the fielding position you'd learn from a Tom Emanski video. Nothing every seemed to bother him on the mound and you couldn't tell from his expression if he was twirling another gem or getting whacked around the yard. They called him 'The Professor' for a reason.
Needless to say, nobody is confusing Hess for Maddux.
"Here's the thing: you'd love to see his stuff in a starter's role, but starters are more low pulse," says a National League scout. "There's not a lot of high-pulse starters in the big leagues. His demeanor is definitely closer-like. He depends on every pitch. Starters don't depend on every pitch."
Now, Hess is one of the more agreeable people you'll come across. He's among the most engaging and friendly personalities on LSU's roster, even if the way he flips a switch from psychopath to charmer during a short walk from the mound to the dugout is like something out of a serial killer flick.
"He's one of the more intelligent guys on our team," Mainieri says. "He's no crazy man. If people want to think that and it helps him pitch, then great. But it's really not who he is."
Hess understands the list of reasons why so many scouts and writers think he'll eventually end up back in the bullpen, and he doesn't take it personally. He hears them, for sure, but says he's not motivated by the idea of proving them wrong.
He turns inward to find that drive and feeds of an intense desire to reach his ceiling as a ball player. That's why he's been grinding every day since that heartbreaking night in Omaha last June; why he pushed so hard to go to the Cape and refine his changeup; why he's got daggers coming out of his eyes starting an intra-squad scrimmage with nobody in the stands.
If that ceiling turns out to be Hess dusting off the Wild Thing routine and going back to the bullpen, so be it. It was a blast last season, and if it's what will help the team win, Hess is all in. But he's going to take this opportunity to start and run with it as fast as he can.
Perhaps that's why he finds the notion that he's too intense or too emotional to be a starter utterly ridiculous.
"I think there's this misinterpretation that a starter has to be relaxed," Hess says. "I think that's a little bit of an old school mindset. You look at Max Scherzer, David Price, Chris Sale; those are some of the most dominant starters in baseball. At the same time those guys aren't low pulse. They're able to bottle up their aggression, but those guys aren't the cool, calm, collected Greg Maddux types. Those guys are notorious for being emotional competitors and living that persona while being a starting pitcher. It's not impossible. There's a lot more of those kind of guys in baseball today than you'd think."
Dunn, his Sherpa through this transformation, is about as old school as they come. He makes his pitchers run far more than most current coaches as a way to build endurance and discipline. He only drinks water out of a large plastic Newk's cup — a holiday-themed one, lately — because it's free and less ostentatious than a Yeti or Nalgene.
Still, the 56-year-old coach agrees that the trope of all starting pitchers being these laid-back guys is one that needs to be left in the past. That little bit of crazy is part of what makes Hess special, and he'd rather teach him to harness it rather than suppress.
"I don't want him to change," says Dunn, an animated communicator in his own right. "I don't want him to go out and say 'I'm a starting pitcher so I have to change my mentality.' I don't want that. That's what makes him who he is and I want that to be his strength. You see Max Scherzer? Do you think Max Scherzer is a relaxed dude on the mound? Negatory. But you've got to make that work. You can't get out of control because the game is about managing the game. You're slowing it down, but you've got to be who you are. I want him to be that guy. He's not all the sudden going to be a finesse guy."
Scherzer's name popped up in almost every interview that went into this story. He's a big-bodied, in-your-face competitor who made fools of everyone who said his violent delivery wouldn't hold up well enough as a starter.
The three-time Cy Young Award winner is Hess' professional idol — "We shared a lot of the same knocks coming out of high school," he smiles — Dunn's example and was independently cited by Rode, Rodgers and the National League scout as the exception to every rule that projects Hess will end up a reliever.
"It's kind of a loaded gun question. You don't know," the National League scout says. "It's going to be one of those things as a scout where you sit there and ask yourself if you believe in this kid as a starter. And until we see him start at LSU, it's going to be a 50/50 shot."
You can bet he'll be tuned in along with the rest of the baseball world every time Hess takes the ball this season to find out.