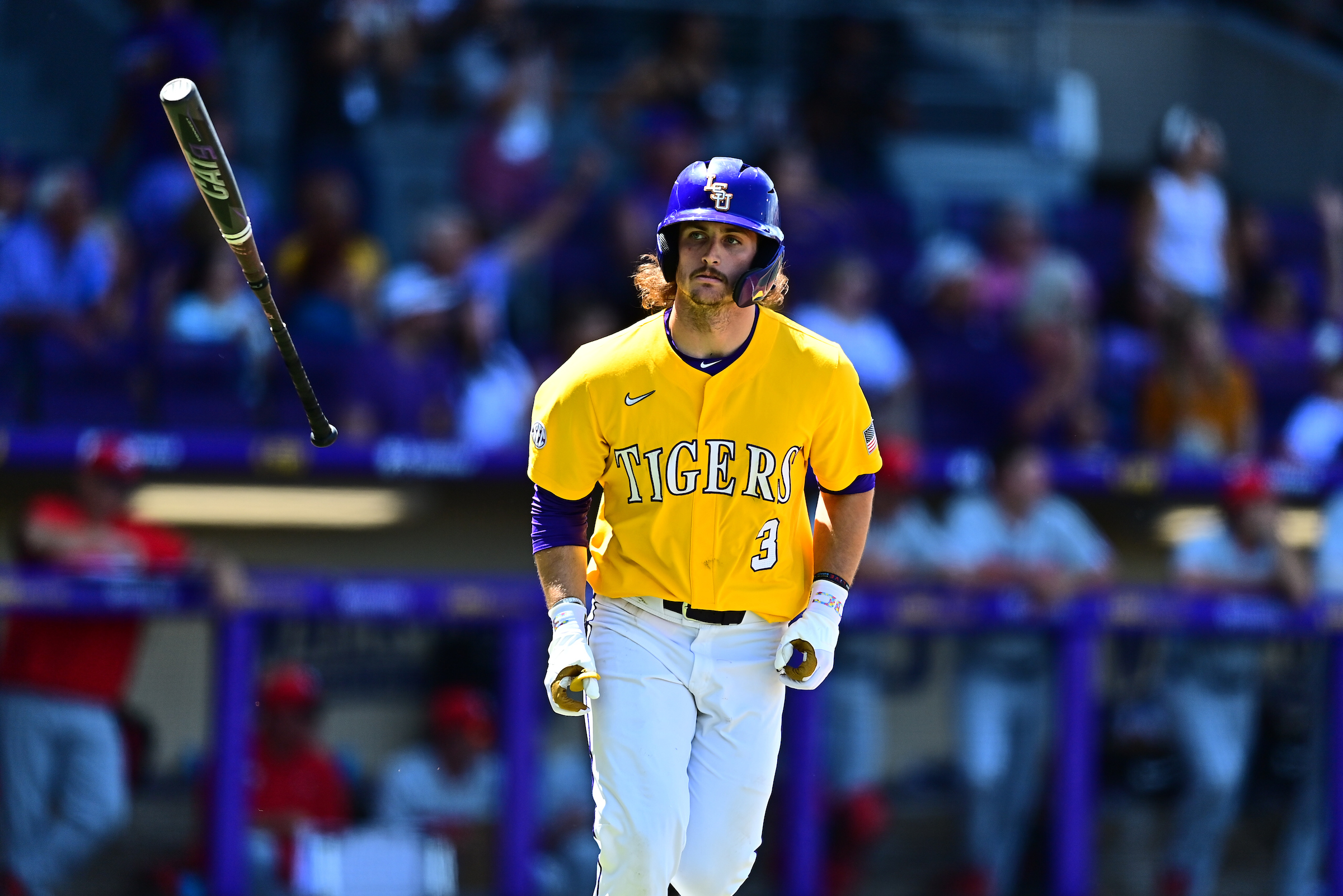 It may not have enough quality arms or clean defense to go deep into NCAA Tournament play and contend for its first College World Series championship since 2009.
But the LSU baseball team might just have enough talent available and days remaining to have its act together before the 2022 SEC Tournament is played May 24-29 in Hoover, Alabama.
A strong close to April and an even-stronger opening day of May is evidence of that – just in the nick of time.
Because for a while it looked like LSU, highly regarded and nationally ranked before the season started, could be headed south in its first year after former Nevada and Arizona coach Jay Johnson succeeded ex-Tigers coach Paul Mainieri.
After getting swept 3-0 at then-No. 7 Arkansas April 12-14, previously No. 24 LSU – ranked No. 10 to start the season, and as high as No. 8 before beating Oklahoma but losing to then-No. 1 Texas and unranked at Baylor at the early March Shriners Hospitals for Children College Classic in Houston – had fallen out of the Top 25 in major college baseball polls.
The Tigers did take 2-of-3 in a March 25-27 series at then-No. 9 Florida and did sweep a three-game series at unranked Mississippi State April 8-10.
But they dropped 2-of-3 in an opening SEC series March 19-21 against unranked Texas A&M and 2-of-3 against unranked Auburn on March 31-April 2, both at Alex Box Stadium.
The series-sweep loss at Arkansas, a true test against a legit Top 10 team, ratcheted the voices of the doubters.
Hearing too many cries of "Sooey," however, may have served as a jarring wakeup call – as hard on the ears as that can be – for a club much in need of one before heading to Hoover.
LSU went on to win four straight following the debacle in Fayetteville, including an almost requisite home series sweep April 21-23 of sub-par-in-the-SEC Missouri.
But then it dropped an April 26 midweek game at New Orleans, no huge deal as a standalone event but something the Tigers could ill-afford in the larger context of a season in peril.
An April 29 through May 1 home series against then-No. 16 would be telling indeed, with LSU's season arguably hinging on it.
Get swept by the Bulldogs, and it could lead to a death spiral. Lose 2-of-3 to Georgia, and doubts would linger. Sweep the Bulldogs, and it's a whole new ballgame.
None of that happened.
But LSU did take 2-of-3 against Georgia, and did it in memorable fashion, giving hope to a team some figured would have little going into regular season-ending SEC series at Alabama, against Ole Miss and at Vanderbilt.
Ma'Khail Hilliard limited Georgia to two runs through six innings in the series opener, and LSU got three home runs – one each by catcher Tyler McManus, leftfielder Connor Tate and second baseman Cade Doughty, all two-run shots – in a 6-2 win.
Hilliard isn't a classic Friday night starter capable of going seven or so innings with just two or three hits allowed each outing, but with super arms in short supply the senior right-hander has been performing above and beyond.
   After the win over Georgia, he was 12-0 in his last 12 career decisions.
"Ma'Khail was exceptional and demonstrated again why we call him the ace of our staff," Johnson said. "He competes with such poise and confidence, and he delivered for us in a huge way against a very good team."
Georgia took the middle outing 12-7, breaking open a one-run game with a four-run ninth inning. The Bulldogs homered six times in that one, evidence of a less-than-stellar bullpen susceptible to the long ball.
"Our pitching staff," Johnson said, "will have to focus on executing pitches."
Without a doubt.
LSU lifted its own spirits in the season finale, using Doughty's two-run homer in the ninth – his 10th of the season, and second walk-off hit of the year including a game-winning single against Missouri – to win 4-3 on the first day of May.
Johnson called it "a great victory against a Top 5 RPI team."
"And to win two out of three here at home is awesome," he said after a series in which third baseman Jacob Berry hit .462 (6-of-13) with one double, one homer and three RBI. "I felt like we deserved to win the game with the way we played today."
LSU didn't play its best. It took quite a bit of true grit against a quality opponent. But the Tigers had a will to win. They also had a coach back in the corner of their pen.
"I'm proud of our pitchers. They've done a great job for us all year," Johnson said after LSU's third game against Georgia. "What you can't quantify is how mentally solid they are and how competitive they are."
   Which, combined, may be all it takes down the stretch for LSU to get hot at the right time and have a shot at its 36th CWS appearance overall and its sixth postseason trip to Omaha, Nebraska, since 2008.
Only eight other programs in addition to LSU – Vanderbilt, Arkansas, Florida, Florida State, Texas, TCU, North Carolina and Virginia – have made it there at least five times since 2013.
There's no guarantee, and perhaps even no reasonable expectation, LSU can make it six. But at least they shouldn't spend an entire offseason hearing Sooey in their heads.