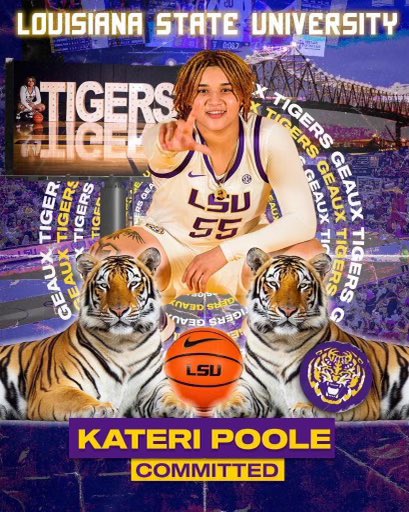 LSU first-year women's basketball coach Kim Mulkey has picked up some nice shiny pieces through the NCAA transfer portal for her 2022-23 team.
One element, mysterious by its absence, has been a point guard until Monday when point guard Kateri Poole of Ohio State announced on her Twitter page that she had committed to LSU.
The university later released Poole's signature to one of the nation's top recruiting classes.
"I'm excited to welcome Kateri to the LSU family," Mulkey said in the release. "She is a tough, physical guard that brings energy and excitement every time she steps on the court! Having played in the PMAC during March Madness for Ohio State, I know Kateri is looking forward to returning and playing in front of our amazing fans!"
Mulkey has already announced the signings of 6-foot-3 forward Esmery Martinez and 5-10 guard/forward Jasmine Carson of West Virginia and 6-4 forward/center LaDazhia Williams of Missouri.
"I believe in Coach Mulkey, and what we want together as a program," Poole said in the release. "With her passion and love for the game, I can only work harder. Geaux Tigers!"
The 5-8 Poole spent two years at Ohio State before entering her name in the transfer portal March 28 after the Buckeyes lost to Texas in the Sweet 16. She started in 13 of 25 games but did not start again upon her return from an injury Jan. 27.
Poole did play 10 minutes and scored a point in the team's 79-64 second-round NCAA Tournament win at LSU on March 21. She was the team's starter in 13 games, averaging 20 minutes, 7.2 points, 3.3 assists during that span before suffering an injury Jan. 9 against Northwestern. After missing four games, Poole returned to the court but was a reserve to Jacy Sheldon the remainder of the season.
Poole averaged 4.8 points and 2.6 rebounds for the season. She added 60 assists and 23 steals.
Poole, a first-team All-Freshman Big 10 selection that averaged 6.6 points, 2.6 rebounds, 2.0 assists, was rated the nation's No. 24 prospect by EPSN Hoopgurlz and was a five-star recruit out of South Shore High School in the Bronx, N.Y. She was the state's two-time winner of the Miss New York basketball award, averaging a career-high 18 points, six rebounds and five assists in her final season which included a rare quadruple-double with 13 points, 11 rebounds, 10 assists and 10 steals against Truman.