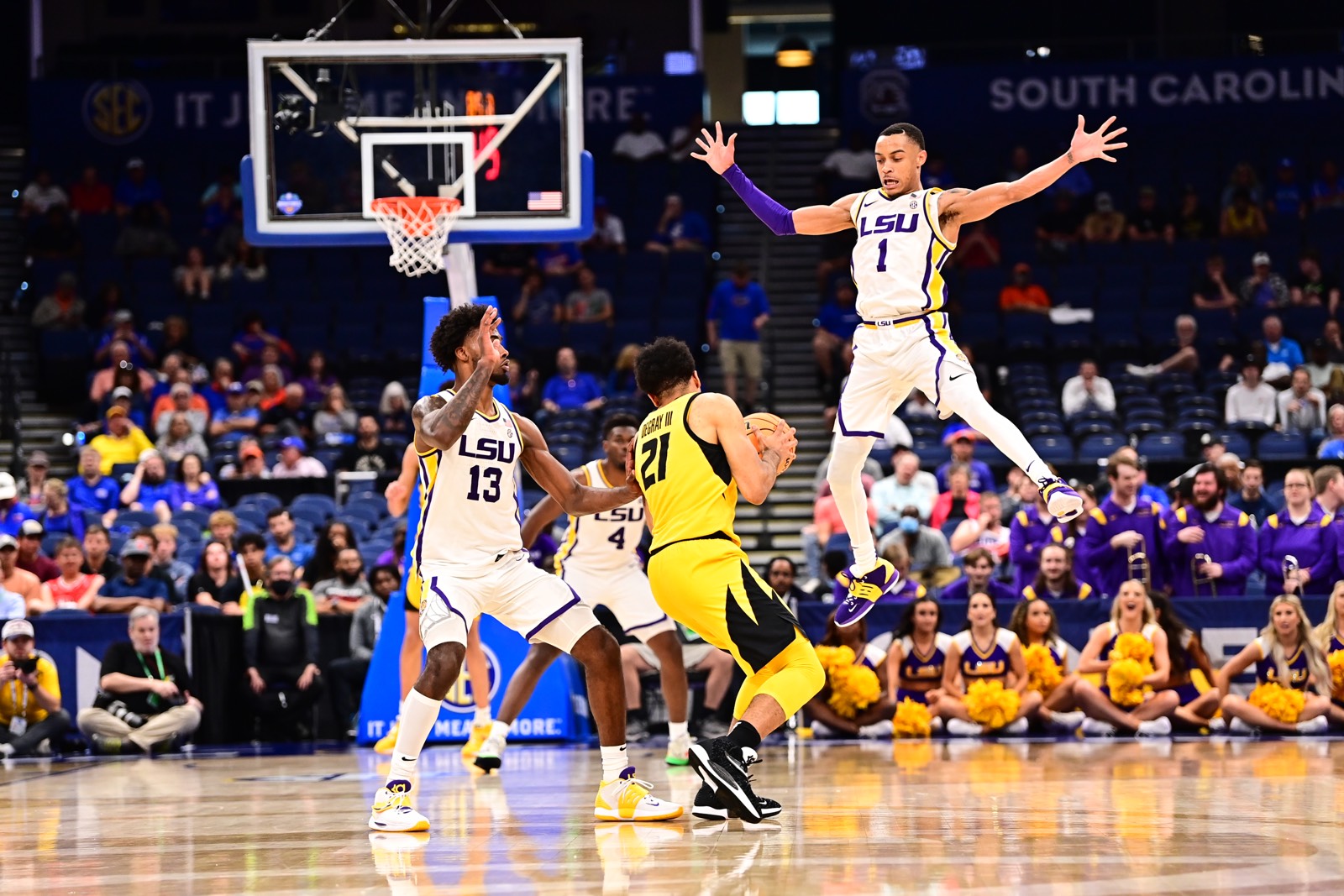 LSU's fifth-year men's basketball coach Will Wade said he planned to have plenty to say in the wake of the NCAA handing down its notice of allegations against the school's basketball and football programs hours before the Tigers departed for the Southeastern Conference in Tampa, Fla.
On three occasions when asked Thursday about the NCAA's report into his program for allegations into alleged improper payments to players, Wade issued no comments with one caveat.
"I can't comment on any of that stuff," Wade said after LSU' 76-68 victory over Missouri in the second round of the SEC tournament. "We hadn't been able to comment about it since everything started. I certainly look forward to commenting when it's all over. Until then, they won't allow us to comment."
Fifth-seeded LSU (22-10) certainly didn't play like a team inhibited by the most recent headline circling Wade and the program. Missouri transfer guard Xavier Pinson pointed his Tigers in the right direction with 11 points during 15-minute stretch that resulted in a commanding 34-9 lead.
Thereafter, LSU did just enough to distinguish itself from 12th seeded-Missouri (12-21) to advance to Friday's SEC quarterfinals against fourth-seeded Arkansas at approximately 1:30 p.m. The Tigers twice lost to the Razorbacks during the regular season by a total of eight points.
"It's an SEC tournament game, it's a game to set to the semifinals," Wade said. "It just happens we're playing Arkansas who's clipped us twice at the buzzer. It should be a really good game."
Said LSU sophomore forward Tari Eason, one of five double-figure scorers with 19 points: "The thing that stands out is that we lost. I'm hoping to look forward to a win. That's what we're gearing up for."
LSU's big start only later led to head-scratching moments over the remaining 25 minutes of the game that were played without sophomore forward Shareef O'Neal who is away from the team because of a death in his family.
That meant Wade had to rely on a rotation of seven players, five of which scored in double digits led by Eason, who scored 12 of his 19 in the second half, Darius Days (16 points, 7 rebounds), freshman center Efton Reid, who scored 10 of his 12 points in the second half), along with 11 apiece from Pinson and sophomore guard Eric Gaines.
Of particular interest was the performance of Reid who made all six of his shot attempts from the field in 22 minutes, including all five he took in the second half. It was seventh time he scored in double figures this season but it was his highest scoring performance in his last 21 games.
"It's March," Reid said. "I talked to my mom and brother and they both told me what I had to do. I just focused on the things I needed to do in this game. Try not to foul early on and not worry about my rebounds or points but worry about winning every possession."
LSU, which led 39-23 at halftime, made 50 percent (13 of 26) of its shots in the first half and scored 21 points off 15 turnovers.
"I feel like we executed most everything coach said," Days said of his team's early uprising. "We've got to be better. Distractions don't bother us at times. We've got to lock in and be ready for Arkansas."
Missouri (12-21) had no trouble defeating LSU's full-court pressure in the first four moments of the second half, reducing LSU's lead of 43-33 at the 16:28 mark. The visiting Tigers, who also lost a 75-55 decision in Baton Rouge on Feb. 26, remained as close as 10 points (45-35) with 15:06 remaining in the game.
Eason scored five points and Reid contributed a block that led to a layup from Eason in transition, also powered his way inside for a basket and made a 15-footer from the baseline for a 57-35 lead that capped a 13-0 run with 9:09 left to be played.
A three-point play from Eason, who took a pass from Pinson in the trail position and finished at the rim, gave LSU a 68-49 lead with 5:09 to play when Missouri, which shot 62.5 percent from the field, made it an eight-point game at the end.
LSU scored only six points over the last five minutes, didn't have a field goal after Days' lay-in with 2:54 showing and were outscored 9-0 in the last 1:31 of play.
"When stuff's swirling around you've got to narrow your focus," Wade said of his team's philosophy during turbulent times. "You can't worry about everything going around you. You've got to narrow your focus. We're here to play basketball. Whatever's going on doesn't affect anyone one on our team. Not one of our players was here hardly. It doesn't affect anybody. We're here to play basketball. They're focused on basketball. We talked to them about narrowing our focus to basketball which we did."