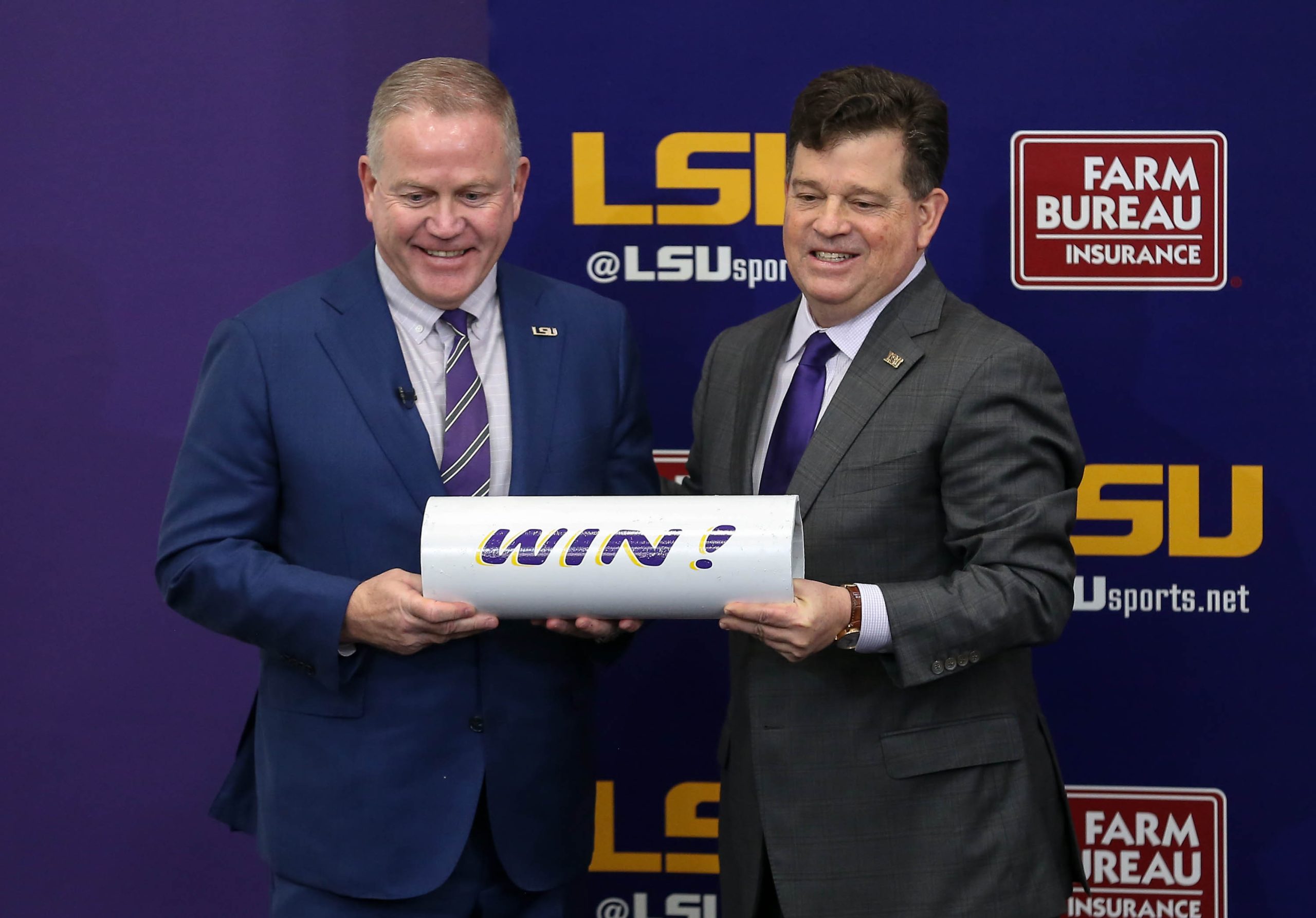 LSU athletic director Scott Woodward stepped to the podium at the Lawton Room on Dec. 1 to provide perspective on the hire of the most qualified football coach ever hired in school history.

With 284 wins, Brian Kelly's the nation's winningest football coach where for the past 12 years he breathed life into one of the nation's most storied programs, Notre Dame. He became the school's career leader with 113 victories – surpassing Knute Rockne during an 11-1 record with the Irish this season.
There weren't any other football coaches with such an achievement as taking down the record of such football royalty as Rockne when Woodward introduced a new era in LSU football that he handed off to Kelly.
"There was a lot of interest in this job from coaches with incredible pedigrees, but none of them held a candle to Brian Kelly," Woodward said during his news conference.

There wasn't much perspective from Woodward on the search he conducted to replace Ed Orgeron, a coach that led LSU to the 2019 national championship with a 15-0 record before the program slipped to such depths of an 11-11 record since the confetti fell on the Tigers in the Superdome.

This was a proud moment for Woodward and LSU's administration but instead he chose to allow the school – and its ardent fan base – to bask in the afterglow of such a landmark day.
It also capped off an impressive 219-day span in which Woodward totally changed the landscape of LSU's athletic department with three forward-thinking, championship-level additions to his coaching staff, placing the Tigers in the enviable position of trendsetters.
In just over seven months Woodward acquired the services of three of the nation's most successful head coaches in their respective sports – Kim Mulkey in women's basketball, Jay Johnson in baseball and Kelly.
The reputation Woodward established in previous stops at Washington and Texas A&M for not only identifying elite coaches but convincing them to leave their respective jobs for LSU placed him in a high-rent district among his peers.
Since taking over LSU's athletic department on June 4, 2019, Woodward remained quiet and more in the background until this past April when he came out of the starter's blocks on a dead sprint for some of the nation's best coaches.
Mulkey has joked on more than one occasion she was Woodward's easiest hire because he was offering the native of Tickfaw the opportunity after 21 years at Baylor to return to her Louisiana roots, along with sacks of crawfish and Ponchatoula Strawberries to be named later.
Regardless, Woodward successfully targeted one of most successful coaches in women's basketball where Mulkey built Baylor into a powerhouse that included three national championships and becoming the fastest coach ever to 600 career wins (in 700 games).
A day after the school officially announced the departure of Nikki Fargas, Woodward had just the person for the job in Mulkey, a sitting, three-time NCAA champion ready to uproot and move to Baton Rouge.
A year after winning just nine games, Mulkey has her first LSU team off to a 7-1 start that was highlighted by a 69-60 upset win on Dec. 2 over then No. 14 Iowa State. The fast start and initial win over a ranked opponent served as a springboard for a No. 24 national ranking on Dec. 6, the first for the program in two years.
Finding the next leader of the six-time NCAA championship LSU baseball program required a little more time when Paul Mainieri said on May 28 he would retire after 15 seasons. The baseball team held onto Mainieri until June 13th where the Tigers were swept in two games at Tennessee in an NCAA Super Regional series.
Less than two weeks later, after widespread media speculation covering an array of candidates, Woodward remained mum until the end when he announced Johnson's hiring on June 25.
Johnson's final game at the University of Arizona wound up at the College World Series in Omaha. He guided the Wildcats to a Pac 12 championship and their second CWS appearance in his five years in Tucson.
One of the hallmarks of Johnson's teams at Arizona was the ability to put together potent offenses which gave a small sample size of their prowess during the fall season. He's also regarded as an elite recruiter and along with the quality coaching staff assembled, the Tigers 2022 recruiting class was ranked No. 1 nationally, another sign of optimism already swirling around the program.
Woodward and LSU's administration finally had enough of the nosedive football program and put into motion an exit strategy following the team's 42-21 loss at Kentucky on Oct. 9 and a day later after a 49-42 home win over Florida, he announced that the school and Orgeron had entered into a separation agreement worth $16.9 million. Orgeron coached the team over their last five games that included a 27-24 win over No. 14 Texas A&M, but that turned out to be the final game in his five-year stay, agreeing not to coach the team in its upcoming bowl game.

Woodward, after concluding his news conference alongside Orgeron, went to work and was very methodical in his approach, drawing the disdain of his fan base who wanted a new coach the next day.
For the most part Woodward avoided the public eye, showing up on the team's sideline before its final three home games and was also on hand Nov. 8 to show his support for LSU's soccer team which celebrated its first bid to the NCAA Tournament in three years.

Coach of that team? Sian Hudson, another of Woodward's hires, who's turned around the program in two short years.

Woodward never once uttered a word publicly about the football search, artfully dodging inquisitive media types and conducted a search on his own timeline, working from a list of candidates that he prepared. He conducted the search outside of the media's tentacles and in a baseball analogy often used to evaluate such hires, he delivered a home run.

He cleared the fences with apparently one persuasive pitch, living up to his mounting reputation as a big-game hunter and not because of his love of the great outdoors.

In the span of 219 days, Woodward brought three of the nation's top coaches in their respective sports to LSU with contracts for a combined 23 years totaling $125 million plus incentives. He not only elevated status of each sport but also changed profile of his alma mater.

"When you talk to Scott Woodward, he has a clear way of communicating," Kelly said. "It was 45 minutes, and I had an understanding of where LSU was from a commitment and how this was going to look. I'd say that's pretty quick."