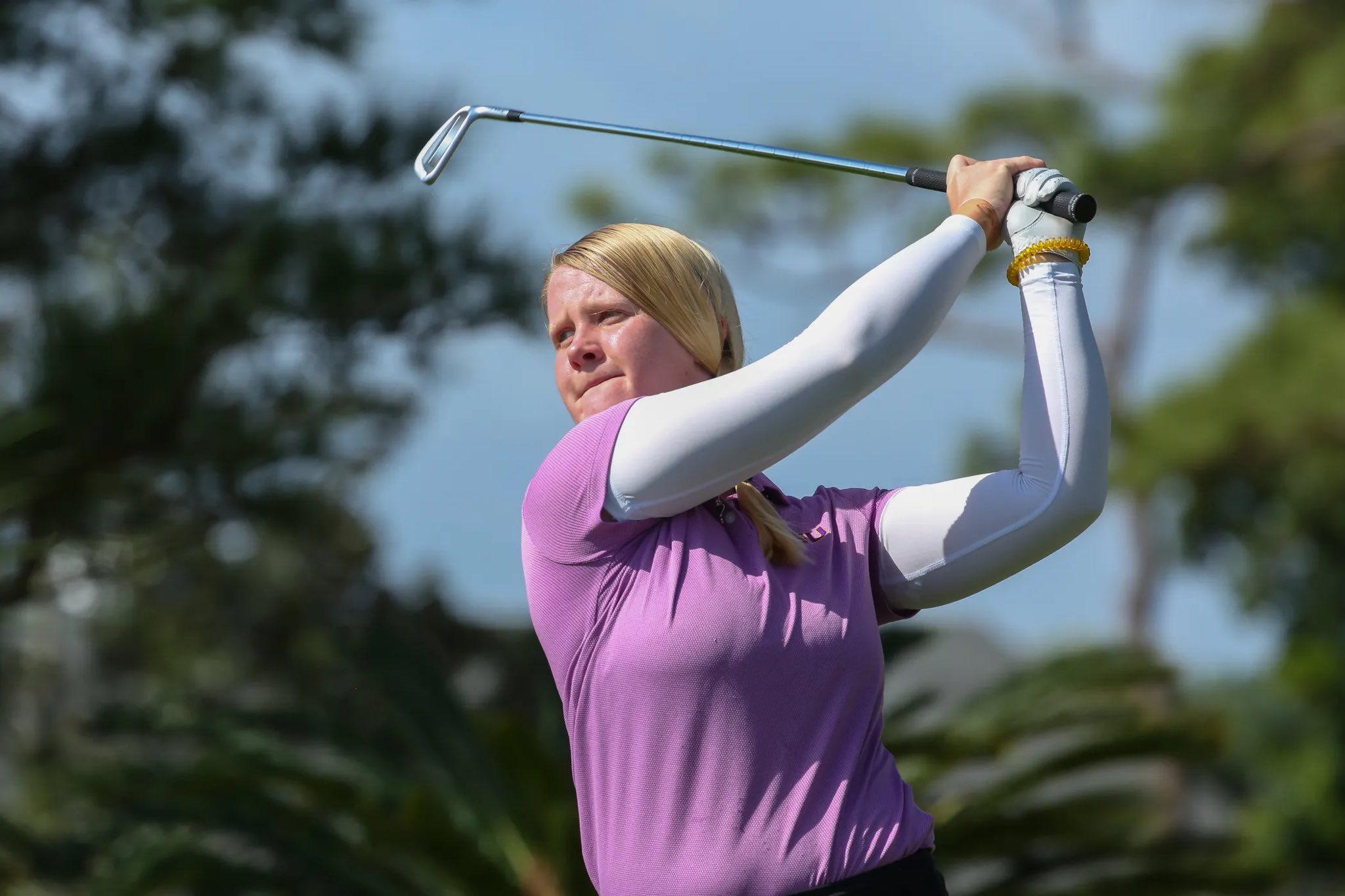 More than a week after taking on the best in women's college golf and finishing
in a tie for third, LSU's Ingrid Lindblad set her sights a little higher this week.

Lindblad, a native of Halstad, Sweden, was amongst the world's greatest golfers on one of the grandest stages, taking part in the U.S. Women's Open at Pine Needles Lodge and Golf Club in Southern Pines, North Carolina. She thrived with a 6-under 65 for the lowest score in tournament history by an amateur and stood in second place going into Friday's second round.

She's already enjoyed a scintillating spring at LSU with five tournament titles that increased her school-record total to nine. The highlight of the impressive stretch of play came April 13-15 when she won medalist honors at the Southeastern Conference tournament, becoming the first player from the school in 31 years to do so.

The Tigers were also crowned team champions for the first time in three decades.

But the Joe Burrow of LSU women's golf is hardly done with the college game.

Lindblad's comparison to Burrow, quarterback of LSU's 2019 national championship team, has been one LSU women's golf coach Garrett Runion has often referenced when describing the play and impact Lindblad's had on the program since the time she stepped foot on campus in 2019.

"She continues to be so consistent and so good," Runion said after Lindblad's NCAA performance, the first time in 10 years an LSU player tied for third or better in the tournament. "She finished in top 10 in every event but one. She broke the all-time individual record (nine wins) for LSU which was pretty cool. She will probably go down as the Joe Burrow of LSU women's golf, the greatest female golfer to come through here."

That's pretty rarified air for an LSU program that's produced 1986 national player of the year Jenny Lidback, who, before Lindblad came along, was the school's leader with seven tournament wins. Austin Ernst remains the school's lone player to win the NCAA's medalist honors in 2011 and after this year's tie for third, it appears Lindblad will be back for more where she will try to become the school's sixth, three-time winner of the SEC Player of the Year.

And, for a true fan of college athletics, that's the beauty of Lindblad. Not the length of her driver or Midas touch of her putter.

The college game and college life suit her fine. The camaraderie of a team still deeply exists and if you watched LSU's convergence on the 18th green April 17th in Birmingham, Alabama to celebrate its SEC title, Lindblad is the one in full sprint toward her teammates.

It was refreshing to see the team's best player gush about the accomplishments of those around her, not just her own exploits.

She competed against some of golf's giants, including being paired on the first day of the U.S. Open with fellow countrywoman and legend of the game, Annika Sorenstam, whose name adorns college golf's biggest award a female golfer can win. It's an honor, as a finalist for the third consecutive year, Lindblad's still chasing.

But don't expect the experience of a professional tournament to deter Lindblad from the task at hand. It's a big picture approach to improving her game where one day she'll turn professional and make a comfortable living.

Until then, there's still the business of LSU where Lindblad is set to return after the summer, begin her senior year and try and lead the nationally ranked Tigers' program to greater heights. Runion believes he could hang onto the two-time All-American (this season's team hasn't been released yet) and career leader in stroke average (70.56) for two more years, an option now afforded college athletes with a COVID-19 exemption from the NCAA.

Imagine if the best athletes at LSU decided against professional riches to remain in school just for the love of the game. Name, image and likeness has made it plausible for some athletes to consider staying in school, but in the case of Derek Stingley Jr., Tari Eason and Jacob Berry, the choice of life-changing money is a no-brainer.

She's uber-talented with an abundance of notoriety, but you wouldn't know it by her stoic presence. She's the No. 2 ranked World Amateur who's remained grounded with the intention of continuing to ply her trade at the collegiate level where the team's goals supersede that of her own.

So Lindblad, one of four finalists for the prestigious 2022 Honda Sport Award for women's golf, doesn't appear to be changing her stripes anytime soon.

"Jim Gallagher of the Golf Channel asked me before interviewing her if she was coming back to school," Runion said. "I thought the cat was already out of the bag. She's made it pretty well known that she loves LSU, she loves her teammates and she's getting better. I don't think if she wasn't improving, she would be hanging around."