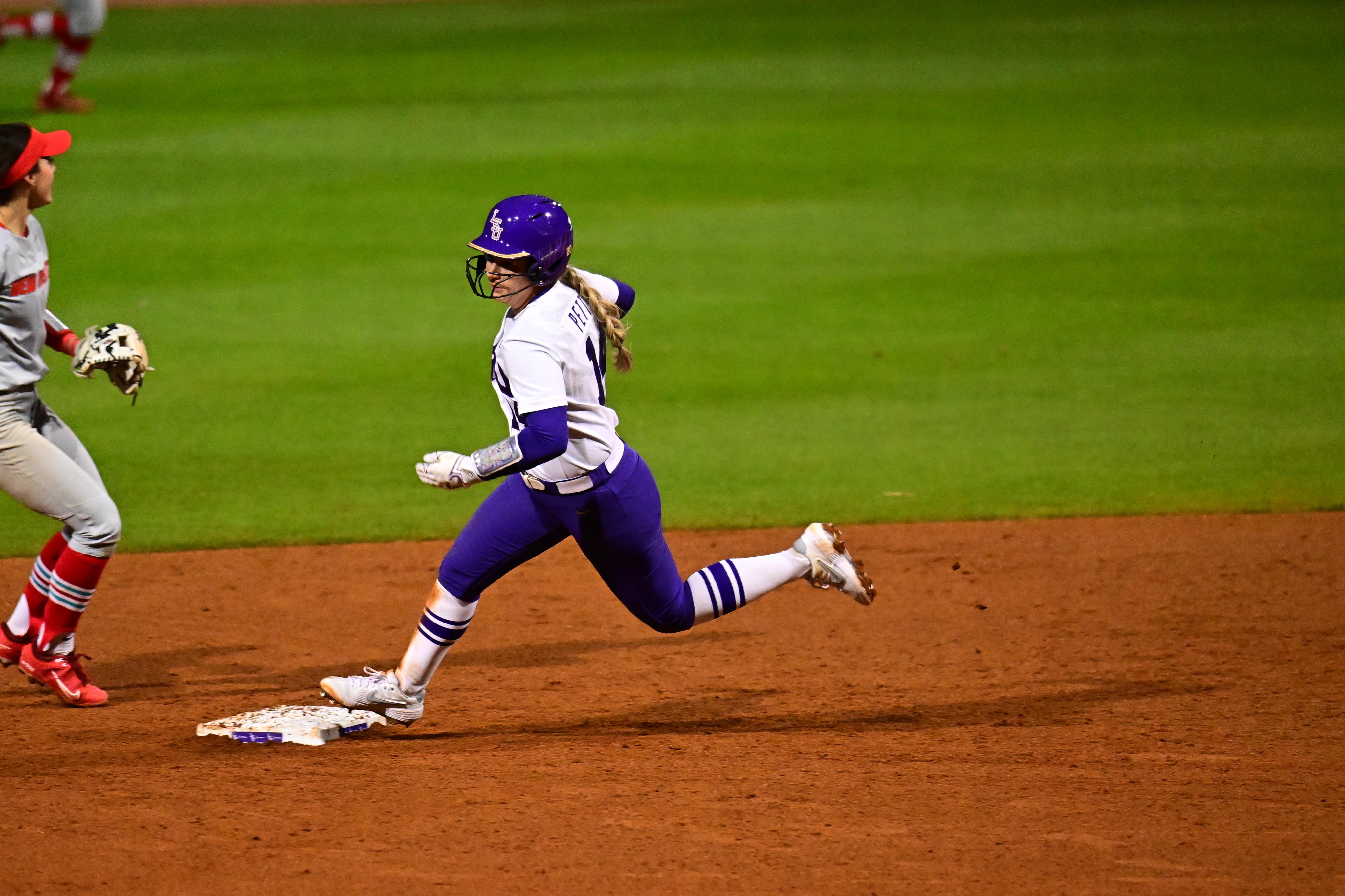 Fifth-year senior pitcher Ali Kilponen was dominate in the circle and No. 20 LSU's offense responded with a mercy-rule 11-3 victory Friday over New Mexico in the season-opening game before a crowd of 1,867 at the LSU Invitational.
The Tigers (1-0) return to action Saturday with a doubleheader at 2:30 against Oregon State and 5 p.m. against New Mexico at Tiger Park.
Kilponen turned in her 35th career complete game, allowing three runs on five hits. She struck out seven and walked one in a 116-pitch outing.
"It wasn't my best performance, but I think my team has been outstanding," Kilponen said. "Our offense was crazy, our defense was solid and I'm going to be better, but I thought it was a good start."
Seven of LSU's starters registered multiple hits in leading the Tigers to a 16-hit outing in their first game.
Junior shortstop Taylor Pleasants was 2-for-4 and had a three-run double in the fourth inning to help LSU open a 8-1 lead. Transfer portal signees Karli Petty of Oklahoma State and Hannah Carson of Michigan paid huge dividends in their first game in purple and gold with each going 2-4 with Petty driving in a team-high four runs and Carson adding a double and three RBIs.
"It's an awesome feeling to come to Tiger Park and get a win," Pleasants said. "We had a lot of fans here for opening night. I think that was the largest crowd we've had on opening night. They really brought the energy. I think it was a good night for us. We have a lot to build on."
Fifth-year graduate student Georgia Clark had a hit and two RBIs and junior left fielder Ali Newland ended the game with a run-scoring single to right that scored freshman McKaela Walker.
Freshman catcher Maci Bergeron also went 2-4 for LSU in her collegiate debut and Newland added two hits.
"I like the pieces we added to go along with our core. From our transfers to our freshmen, you will see them a lot," LSU softball coach Beth Torina said. "They will start, they will play in big games, and they will play in big situations. And I am fully confident in them."
Petty gave LSU a 2-0 lead in the first with a two-run single and added a fielder's choice in the third that scored Ciara Briggs (2-4, 2 runs). Carson also added a run-scoring single through the right side in the third.
The two biggest innings for LSU was in the fourth and sixth innings with four runs apiece.
Pleasants made it 7-1 with a bases-clearing double to highlight the fourth and Petty added another run in the inning on a groundout.
Carson drove in a pair of runs in the sixth with a single up the middle and Newland added a run-scoring single to stop the game with two outs in the sixth.