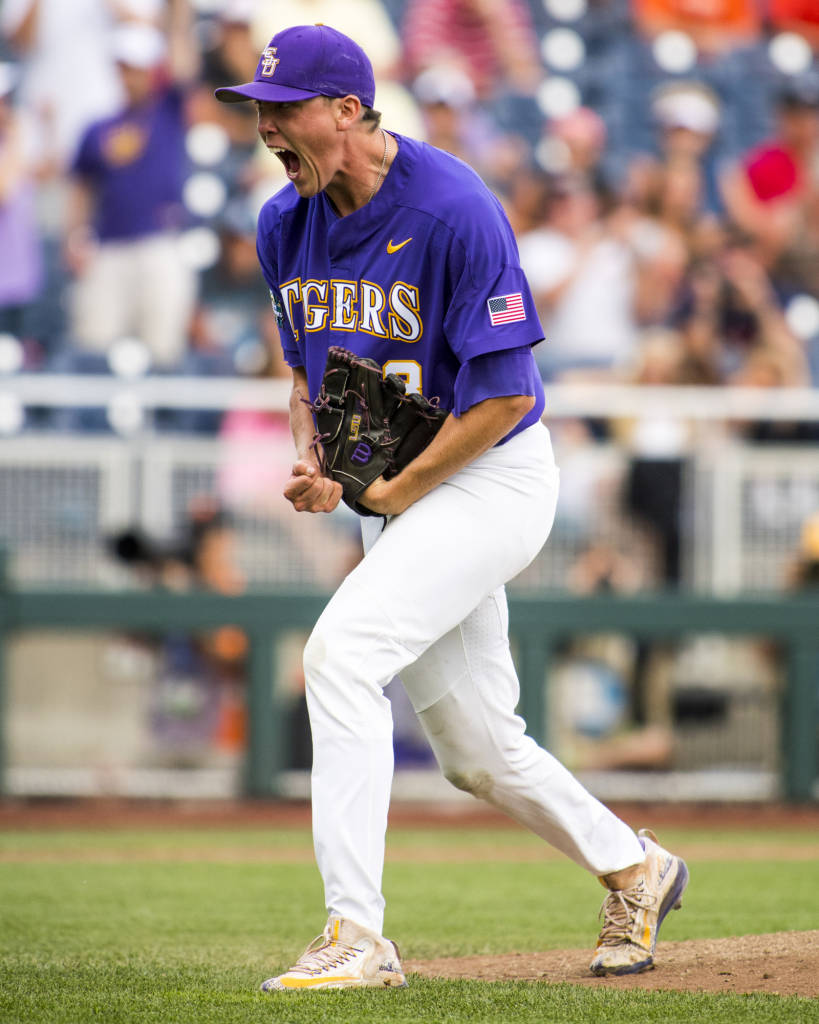 By JAMES MORAN | Tiger Rag Associate Editor
NEW ORLEANS — The LSU bullpen unraveled in a five-run seventh inning as Tulane stormed back to secure a historic season sweep and fourth consecutive victory over the Tigers.
Tulane has won four in a row against LSU for the first time since 1975-77 and has swept regular season series against the Tigers for the first time in the history of either program.
LSU took a 6-4 lead into the seventh-inning stretch, but Tulane batted around against setup men Caleb Gilbert and Zack Hess. The Green Wave then held on to defeat LSU 9-6 in a wild back-and-forth affair at Turchin Stadium on Tuesday night.
Tulane sent 11 batters to the plate in the inning. It began with a misplayed fly ball that went for a triple. Hess, who hadn't allowed a run since moving to the bullpen full time, gave up the game-tying double and took the loss after being charged with three runs while recording just one out. He forced in two runs with bases-loaded hit batsmen.
"Hey, listen, the kid is human," LSU coach Paul Mainieri added. "He's been outstanding for us, and he just had one off night tonight. I haven't lost any confidence in him and I'm sure he hasn't lost any confidence in himself."
"That one is on me tonight," Hess said. "When you come into those situations, you've got to get the job done with runners on."
Wildness was the order of the day for both sides in the game that featured seven walks and four hit batsmen by LSU pitching. Meanwhile, the Tigers didn't capitalize on enough of the eight free passes handed out by Tulane pitching.
Tulane jumped ahead after Matt Beck walked the first two batters of the home first inning. Beck induced a 6-4-3 double play to limit the damage, but former Tiger Jarrett DeHart ripped a two-out RBI single to right to put the Green Wave up 1-0.
LSU briefly pulled even thanks to a hit batsman and back-to-back errors committed by usually sure-handed Tulane shortstop Sal Gozzo. Kramer Robertson brought the run home with a dribbler to first base. Gozzo then made a considerably more difficult play on Cole Freeman to end the second inning.
Beck's control problems continued into the second inning. He was pulled with two outs and two runners in scoring position after issuing another walk and hitting a batter. The right hander also made the blooper reel by falling off mound mid pitch when his spikes slipped on the turf mound.
Todd Peterson, who replaced Beck, didn't fare much better. Grant Witherspoon dunked his first offering into shallow right field for a two-run single. Lex Kaplan then drilled one off the wall in right for a RBI double to dig LSU a 4-1 hole.
LSU began to swing its way back in the fourth inning after going hitless through the first three. Designated hitter Beau Jordan broke up the no-no with an opposite field solo shot that barley carried the fence down the right field line to bring LSU within two.
The Tigers had chances to ride that momentum into a tie game, but couldn't come up with the big hit they needed. LSU left a man at third base in the fourth and Josh Smith took called strike three with two runners in scoring position to end the fifth. LSU stranded seven runners in the first five innings.
"They gave us opportunities," Mainieri said bluntly. "We just didn't take advantage of it as much as they did … We've obviously got to tighten (the walks) up."
Up to that point, Tulane lefty Sam Bjorngjeld gave Greg Deichmann the old intentional unintentional walk two of the first three times the slugger stepped up to the plate. In hindsight, the Green Wave probably should have stuck to that strategy.
An RBI single from Freeman brought Deichmann to the plate with runners on the corners and two outs in a one-run game. Deichmann launched a towering three-run home run, his 14th of the season, off right hander Keagan Gillies to turn a 4-3 deficit into a 6-4 advantage.
That lead, however, would be short lived. And it was the fly ball Deichmann wasn't able to catch near the warning track in right-center field that sprung the decisive rally.
"I just misplayed it," Deichmann said. "I was going back and I thought I had a bead on it. I thought I was camped and just kind of faded back, thought I was closer to the way. I don't miss that ball. That's one of those things that happen tonight."
Deichmann got a chance to retie the game with one swing in the eighth inning. Tulane brought in closer Christian Colletti to face Deichmann, who represented the tying run, and the lefty induced an inning-ending 4-6-3 double play on his first pitch.
LSU (27-15) won't have any time to stew on the loss. The Tigers will depart for Tuscaloosa Wednesday to begin a Thursday-Saturday series against Alabama.