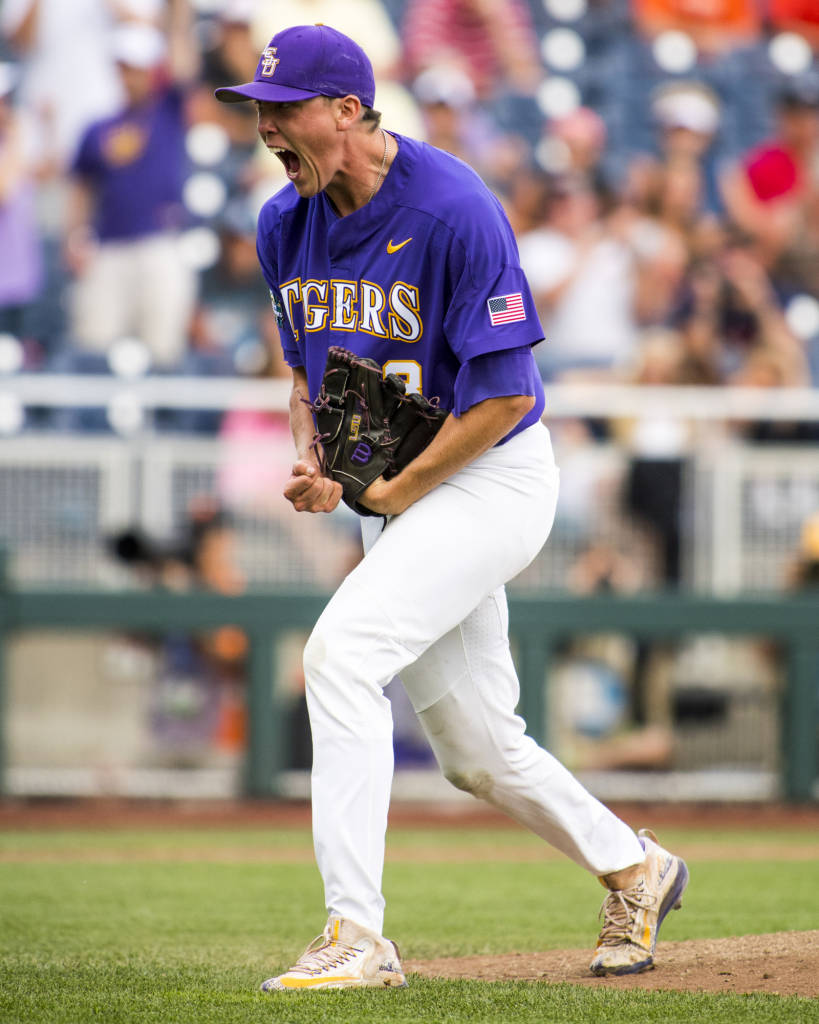 By JAMES MORAN | Tiger Rag Associate Editor
METAIRIE, La. — Zack Hess showed a glimpse of the kind of late-inning weapon Paul Mainieri is counting on him being out of the LSU bullpen.
The rookie right hander fanned four — all swinging at his sharp-breaking curveball — over 1.2 innings of outstanding relief, working out of difficult jams in the sixth and seventh innings to preserve a one-run lead. He stranded three runs in scoring position.
Shortstop Kramer Robertson drove in two runs and saved a third with a brilliant defensive play to build the aforementioned lead and key a tight 3-2 LSU victory against UL-Lafayette in the annual Wally Pontiff Jr. Classic in front of an announced crowd of 9,963 at the Shrine on Airline Tuesday night.
The Tigers, now 23-11, have suddenly find themselves on a three-game winning streak.
But the story of the night was Hess, who before Tuesday had never in his baseball life entered a game with runners already on second and third base. That's the situation he inherited in the sixth, protecting a tenuous advantage.
"That was the first real challenging relief appearance for him," Mainieri said. "I just said 'Go get the strikeout, big boy.' And he did … That was baptism by fire right there."
The newly-minted reliever came on and struck out back-to-back Cajuns to extinguish the rally with LSU's 3-2 lead still intact. Hess came back in the seventh inning and struck out the leadoff man before allowing a triple to the deepest part of left-center field. The tying run once again 90 feet away, Hess struck out Cajun leadoff hitter Ishmael Edwards and got a ground ball to second to end the inning.
"Everything kind of increase a little bit coming out of the bullpen," Hess said of the movement on his trusty breaking ball. "It felt a little bit sharper. That was a big pitch for me tonight."
Matt Beck began the pitching parade and got LSU off on the right foot with two strong innings. He struck out two and allowed just a seeing-eye single. Todd Peterson relieved him and fired two more scoreless frames, aided by a caught stealing credited to Mike Papierski in the fourth.
LSU had a chance to jump on the Cajuns early, loading the bases in the first inning, but were turned away by an awesome display of pitcher fielding. UL-Lafayette right-hander Jack Burk snatched a hot smash off the bat of Josh Smith bound for center field and threw to first base to end the threat.
The Tigers broke through against Burk with three successive singles in the fourth. Nick Coomes, who made his first start of the season at first base, stayed hot with an RBI single through the left side to score Zach Watson. He finished 2-for-4 on the night, furthering his case for regular playing time.
"That was a bit at-bat for us," Mainieri said of Coomes' RBI single.
Papierski then laid down a perfectly-executed sac bunt to move both runners into scoring position, and after a lineout to second, Kramer Robertson brought home both runners with a clutch two-out, two-run single back through the box to stretch the lead to 3-0.
The Johnny Wholestaff approach ran into trouble in the fifth. Austin Bain was promptly pulled after issuing a leadoff walk and allowing a single. Collin Strall came on and Handsome Monica greeted him with a ringing double off the wall in left field.
Brad Antchak followed with what would've been the game-tying hit were it not for an unbelieve play by Robertson. With runners on second and third, Robertson made a full-extension dive on a bouncer that reached shallowed center field. One runner scored, but he got up and nailed the tying run at the plate.
"I guess that ended up being the difference," Robertson said. "You don't think about it at the time … I really didn't think I was going to be able to get to it. It's just a hustle play."
Nick Bush, who induced a 4-6-3 double play to end the inning, ran into more trouble in the sixth. He was lifted for Hess after a leadoff single, a walk and a sacrifice bunt. That paved the way for Hess.
Caleb Gilbert, who missed the Arkansas series due to illness, came on and worked a scoreless eighth inning around a leadoff walk. Gilbert struck out two around another caught stealing, this one on a pitchout. Hunter Newman entered in the ninth and worked a 1-2-3 inning to nail down his fourth save of the season.
LSU now returns home to host Ole Miss for a three-game series set to begin Thursday night at Alex Box Stadium.