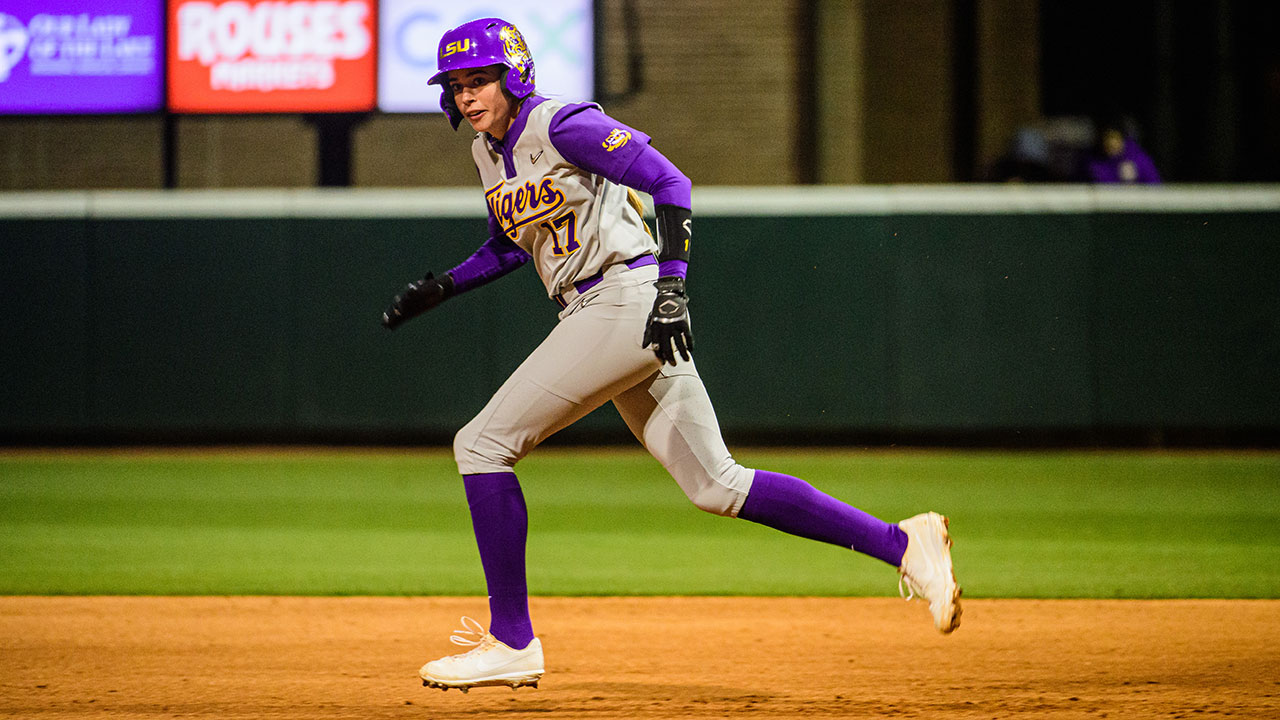 The graduation of LSU's Aliyah Andrews, Maribeth Gorsuch and Amanda Doyle represented more than the loss of three of the program's cornerstones at their respective positions.

They were also the remaining links as longtime starters to the Tigers last appearance in the Women's College World Series in 2017 – the final of three consecutive appearances for the program.

It's a realization that's served as catalyst during the offseason and preseason training for LSU pitcher/designated player Shelbi Sunseri, the lone senior on this year's team, going into the start of the 2022 which begins Friday in the Tiger Classic.
LSU will play six games in three days, starting at 3 p.m. with South Alabama and 5:30 with Illinois.

"That's something that sits heavy with me," Sunseri said. "As a little kid all I've wanted to do is play in the World Series. I've always said I wanted to be that girl. I want to make it there and step foot in Oklahoma City. It resonates with us and puts a fire under us."

That blaze was further stoked at Tiger Park where LSU watched in stunned silence as Florida State celebrated a 2-0 sweep in the best-of-3 NCAA Super Regional. The Tigers pushed the Seminoles to the brink in both games, surrendering a pinch-hit run-scoring single down the line in left field in a 4-3 defeat in nine innings in what proved to be the season finale.

It was a game LSU (35-22) led until allowing runs in the bottom of the sixth and seventh innings to send the game into extra innings where Florida State, which went on to finish as the NCAA runner-up, won in the ninth.

"We saw how close we were at the end of the year," LSU softball coach Beth Torina said. "That final game was way too close and for them to end up as the national runner-up, that left a bad taste in our mouths. I think they understand now how these little details make a huge difference through the course of your season. I feel they'll be on a mission to not let that happen again."

While she acknowledges this will is the final opportunity to achieve her childhood dream, Sunseri's adamant the hollow feeling last year's team felt will serve as a driving force for a team that's adopted the theme: 'Tigers to The Top'.

"It's done a lot for our team in general," Sunseri said. "It's motivated us to have a different perspective. It's a game of inches." Torina, now in her 11th season at LSU, has seen the byproduct of what losing a third straight super regional has done to the leadership of the '22 team.

Although LSU only has one senior in Sunseri, they've also got six of eight juniors that have redshirted and are in their fourth year in the program among a group of 21 returning letter winners also setting an example to try and push the team to reach another level.

"We have a core group that's really invested and working hard," she said. "We saw things like them calling practices without coaches this fall, doing a lot of things on their own and showing how motivated they were."

LSU went 35-22 against the nation's toughest schedule which resulted in a top 8 national seed and kept the Tigers at home throughout the postseason.
LSU returns nine of its top 10 players offensively, its top four pitchers and added a six-member recruiting class ranked sixth nationally. The Tigers are ranked No. 14 in the USA Today/Coaches' preseason Top 25 poll.

"One of my takeaways from the fall that while we still have a lot of time left with some of these players, we feel significantly older than last year," Torina said. "It was a lot easier to integrate the freshmen into the system because we have a lot of people comfortable with the system where in the last couple of years there were young people running everywhere and not a ton of experience or leadership.

"They've been in big spots which is the great part about it," Torina said. "They've been in a lot of pressure-filled games. We sent them through the gauntlet of a schedule last year. They've seen it all. They're not going to be surprised by anything that happens to them. They've been through it."

LSU returns one first team All-SEC performer in sophomore shortstop Taylor Pleasants, who earned a spot on the U.S. national softball team in January. She batted .316 with team highs in homers (13), RBIs (49), total bases (107) and slugging percentage (.605).

"Leadership and her ability to be more vocal on the field is the greatest area of growth for her," Torina said. "The experience is just going to be awesome for her."

Pleasants will serve as one of the anchors in the infield along with junior first baseman GEORGIA CLARK who hit .252 with 10 homers and 32 RBIs. Her team-high .995 fielding percentage included just one error in 188 total chances.
Sophomore Raeleen Gutierrez (.250, 3 HRs, 18 RBIs) will split time with Clark at first base. Sophomore Danieca Coffey (.226, 3 2Bs, 6 RBIs) is expected to replace Doyle at third base with junior Jordyn Perkins (.250, 3 RBIs) also contending at that position. There's a greater battle at second base with redshirt freshman Presleigh Polin, sophomore Kennedi Houshmandzadeh and true freshman Sydney Peterson competing to replace Taylor Tidwell who is redshirting this season.

Torina said the race for the team's starting catcher is "wide open" where junior Morgan Cummins (.186, 5 HRs, 15 RBIs) started in 41 games a year ago, but you can also expect to see sophomores Cait Calland (.125, 1 HR, 2 RBIs), Ali Newland (.200, 1 HR, 3 RBIs) and Hayden Brown (.143) pushing for playing time.

LSU's outfield will have a new look with first team All-SEC and All-American Aliyah Andrews no longer in center field.
Sophomore Ciara Briggs (.339, 4 HRs, 17 RBIS, 11 SBs), shifts from left field to center with plenty of competition going on to fill the corner outfield spots. Junior Savannah Stewart (.192, 3 RBIs), junior Karrington Houshmandzadeh (.200) and true freshman McKenzie Redoutey are competing for the top spot in left field, while Gutierrez and Newland are battling sophomore Morgan Smith (.111) and true freshman Baylea Brandson in right field.

True freshman speedster Kaylen Madrey also played center during the fall.

With four of its top pitchers back, plus the arrival of one of the nation's top freshman, LSU's pitching appears to be in good hands.

Junior Ali Kilponen (15-9, 2 saves, 2.00 ERA, 124 Ks in 139.2 innings) was a first team All-South Region selection and with Sunseri (11-7, 2.04 ERA, 84 Ks in 126.2 innings) gives the Tigers a solid 1-2 combination. Junior Shelby Wickersham (5-3, 3.68, 43 Ks in 53.1 innings) also returns and true freshman Raelin Chaffin, the nation's No. 9 ranked pitcher, also figures prominently into the Tigers' pitching plans.

"None of us know what it takes to get to the World Series but everyone except the freshmen know what it takes not to get to there," Sunseri said. "We know how close we've been the last three years and how much work it's been and how much work we have to put in to get there. We thought we did enough last year and ended up not doing enough."