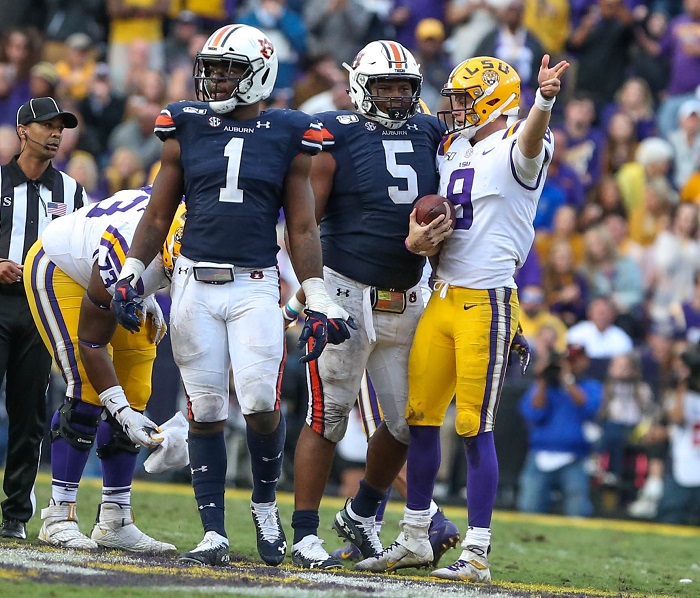 Well equipped.
It's LSU coach Ed Orgeron's succinct and accurate description of why he believes his football program is positioned to break Alabama's eight-game win streak over the Tigers when the No. 1 teams in the AP and Coaches polls tangle in Tuscaloosa Saturday afternoon.
"I do believe we're well equipped to compete with these guys," Orgeron said at his Monday press conference.
Even better, Orgeron has had a clear grasp from day one on the job what it will take to beat the Crimson Tide, who has won 31 straight home games including one of three losses suffered by Orgeron as LSU's coach.
First, recruit as many big, strong and fast linemen on both sides of the ball as Alabama has.
"I do believe we're closer," Orgeron said. "I do believe we have made up the ground, we'll find out on Saturday."
Second, acquire a competitive, playmaking hard-nosed quarterback like legitimate Heisman Trophy candidate Joe Burrow who hates losing and chases perfection.
"I'm not going to say he's a single most important recruit in LSU history, but he's one of the top five for sure," Orgeron said of Burrow, who ranks second nationally in passing yards, passing yards per game, passing TDs and points responsible for. "Joe is the reason we're able to have the success we're having on offense with the spread offense because he's leader on the field, he's a quarterback on the field."
Third, ditch the old LSU I-based run offense that Alabama didn't even have to scout to stop and replace it with a hybrid spread/RPO concept installed by 30-year-old passing game coordinator Joe Brady in which quarterbacks and receivers adjust routes after the ball is snapped. Make Alabama's defense actually guess at what's coming next from a group of LSU playmakers spread from sideline to sideline.
"We have eight to nine guys you've got to defend at any time," Burrow said. "In the passing game, you've got to pick your poison. We've got five guys on the field who can make you pay if you don't cover them."
Find a run-stopper strong and wide such as 6-3, 362-pound nose tackle Tyler Shelvin to plug the middle of the defensive line.
"He's played very good in the middle," Orgeron said. "Sometimes you don't see the nose tackle as much because he's causing double teams. But he's playing his blocks well, he's playing with leverage, he's getting off, he's had some good pass rushes, he's playing hard. I think he's become a complete player."
Have offensive and defensive playcallers who can make adjustments quickly and experienced players to handle them, especially for LSU defenders having to face someone as talented as Alabama quarterback Tua Tagovailoa.
"You've just got to be in his face all day long," LSU outside linebacker K'Lavon Chaisson said of Tagovailoa. "You have to be like a gnat, just aggravating him. Hitting him a lot and making sure he feels you throughout the game."
Know you can handle big-game pressure by conquering a schedule to date with three top 10 ranked victims.
"We've been challenged many times this year," Burrow said. "We won on the road against a good Texas team. "We've played (and beaten) Florida and Auburn. Those challenges will help us a lot this week."
Having all of the above has given LSU something it really never had when it lined up at Alabama — a complete team on both sides of the ball.
"We're way more confident than we have been in the past," LSU center Lloyd Cushenberry said. "I feel like we're more relaxed, more loose going into this game. In a big game like this, people can get uptight."
Orgeron isn't. You can tell from his voice and body language he's quietly confident about his team's chances as a six-point underdog.
"I like our quarterback, obviously," Orgeron said. "I like the way our offense is putting points on the board. We have gotten better on the line of scrimmage on the offensive side of the football. I feel like our guys have been tested against Auburn, they have been tested against Florida, obviously they are going to be tested again this week. I do believe we have better depth on the defensive line.
"This is the best football team we have had going into this game."